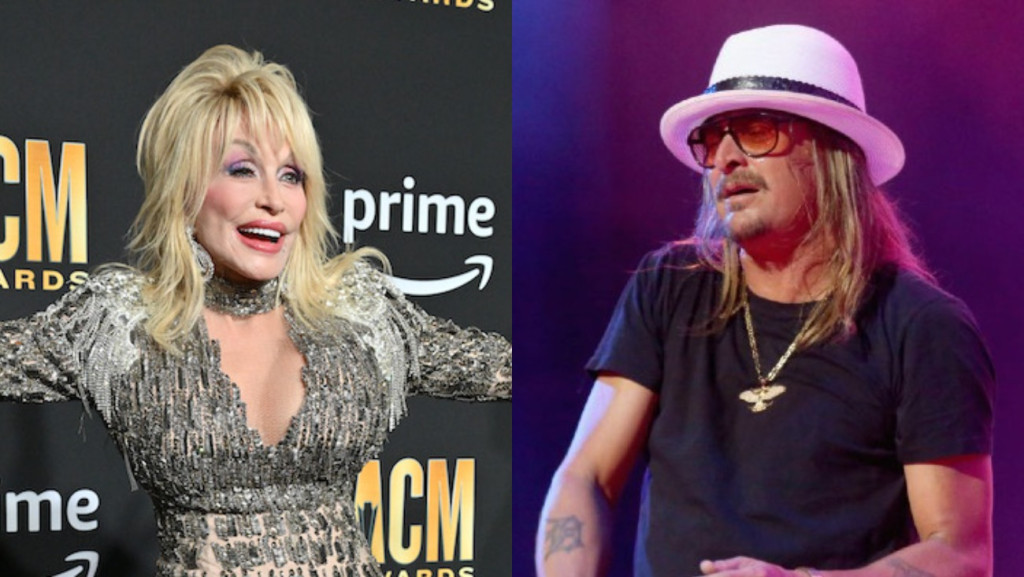 By all accounts, Dolly Parton seems like perhaps the purest soul roaming Earth. The country icon and Rock And Roll Hall Of Fame 2022 inductee still uses a fax machine to communicate (as of May 2022) with her goddaughter, Miley Cyrus. Her enduring commitment to philanthropy earned her the Bezos Courage And Civility Award and a $100 million check, promising to "do my best to do good things with this money." And this May, she released "World On Fire," the lead single from her Rockstar covers album, about politicians.
"World On Fire" was met warmly because Parton didn't specify which politicians she was displeased with. In fact, she told Today that the song is about "All of 'em!" But as uncancellable as Parton is, she was on the receiving end of some side-eying when she collaborated with the frequently canceled Kid Rock — most recently of Bud Light controversy fame — on "Either Or" for Rockstar.
With The Hollywood Reporter, Parton discussed everything from turning down the Super Bowl halftime show to collaborating with Rock. She clarified that she and Rock worked on "Either Or" before his latest controversy, but she noted, "Somebody was talking to me the other day: 'How could you do this [song] with Kid?' I said, 'Hey, just because I love you don't mean I don't love Kid Rock. Just because I love Kid Rock don't mean I don't love you.' I don't condemn or criticize. I just accept and love."
The 10-time Grammy winner continued, "Like I said, I had done that before, but I'd have probably still done it, because he is a gifted guy, and that song was about a bad boy; it was about a boy that was cheating and mistreating her. But like I say, I love everybody. I don't criticize, I don't condone nor condemn. I just accept them. But anyhow, just because I love you don't mean I don't love Kid Rock in that God way."
This naturally led into a broader question about cancel culture from THR writer Mesfin Fekadu, which garnered yet another empathetic response from Parton, as excerpted below:
"I think that's terrible. We all make mistakes. We don't all get caught at it. But also when somebody makes a mistake, it depends on who they are. That's what God is there for. Now, I happen to believe in God; I'm a faith-based person, so therefore I am able to see it like that. A lot of people don't, but even still, everybody deserves a second chance. You deserve to be innocent until you're proven guilty. Even when you're proven guilty, if God can forgive you, so can I. If God can forgive you, we all should forgive one another."
More perspective like this is guaranteed to keep flowing from Parton, who "would never retire" and rather "drop dead in the middle of a song on stage someday."
Rockstar is out 11/17 via Butterfly Records. Find more information here.