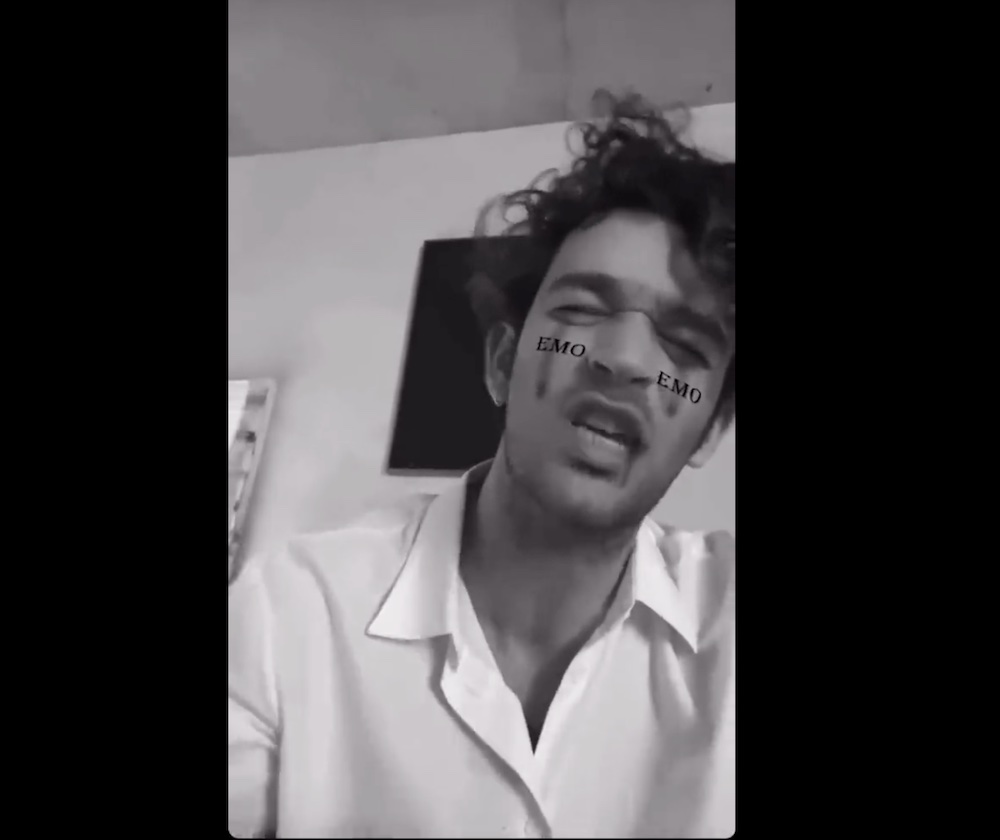 The 1975's Matty Healy impersonated the pop-punk musician Yungblud in a recent Instagram story.
"Guys, I'm so fucking angry because someone's blowing themselves up in the fucking air … in the Ukraine .. we're not gonna stand for that because we're the fucking children, the fucking underrated fucking youth generation, and that's what we stand for…" Healy rants in an exaggerated accent, with EMO written across his cheeks. "I don't stand for stuff, I stand against stuff, it's not a particular thing that I stand for, I just stand against stuff and it tends to be the most morally obvious stuff y'know that like everyone stands for… Fuck the patriarchy!"
The impersonation followed a TikTok video that Healy shared to his story that featured footage from a recent Yungblud show in Cardiff in which the musician dramatically reads a book while sitting on a toilet. "I feel a bit responsible and I am really sorry," Healy wrote when he shared the clip.
Earlier this month, Yungblud made a dig against Healy after the 1975 frontman's controversial appearance on the Adam Friedland Show in which Healy and the podcast's hosts mischaracterized viral rapper Ice Spice's heritage and mocked numerous accents. "love listening to three privileged white dudes sit around and objectify a young black female artist who's blowing up," Yungblud wrote. "welcome to your 30's i guess …"
Last year in an interview, Yungblud talked about how he doesn't relate to artists like the 1975 and Arctic Monkeys. "They're such a different generation to me," he said. "When they speak, they're profound now. I don't want to be profound yet, I want to be on the fucking tarmac, on the ground. I love Matty [Healy] and I love Alex [Turner] but I don't relate to them as much as I used to. They're older and it's all very serious."