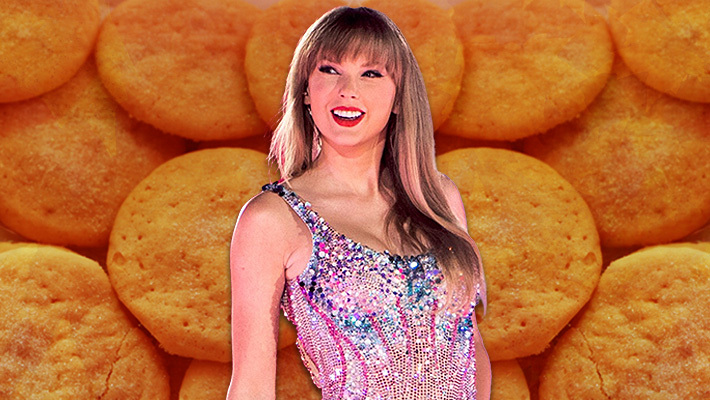 Windows swung right open, autumn air, cookie recipe is yours.
Back when she regularly posted on Tumblr, Taylor Swift shared the recipe for her now-infamous chai sugar cookies with cinnamon eggnog. "If you want to make the cookies from scratch (that's what I did for the 1989 Secret Sessions), you can use this recipe I found on a baking blog I like," she wrote before revealing her spin on the dessert. "I added the chai element to the recipe because I thought it would infuse cozy holiday vibez into the cookie and it really did." It hits different, in modern (and Taylor-endorsed) parlance.
With 1989 (Taylor's Version) — no secret sessions this time — coming out this month and cozy, red scarf-wearing weather around the corner, now's a good time to make Swift's cookies, with a recipe assist from Joy the Baker.
Here's what you need from the original recipe:
1/2 cup (1 stick) unsalted butter, at room temperature
1/2 cup vegetable oil
1/2 cup granulated sugar, plus extra sugar for topping
1/2 cup powdered sugar
1 large egg
2 teaspoons vanilla extract
2 cups all-purpose flour
1/2 teaspoon baking soda
1/4 teaspoon salt
To make it Sugar Cookies (Taylor's Version), you also need to buy one packet of chai tea, another cup of powdered sugar, 1/4 teaspoon of nutmeg, 1/4 teaspoon of cinnamon, and enough eggnog or milk for three tablespoons (or "TAYblespoons," as she wrote with enough self-awareness to refer to herself as "so annoying, it astounds me sometimes").
As per Taylor's handwritten instructions:
1. Preheat the oven to 350 degrees
2. Grease the cookie sheet
3. Beat together the butter and vegetable oil, then add the granulated sugar, powdered sugar, egg, and vanilla
4. Stir in the flour, baking soda, salt, and chai tea
5. Put the cookie dough in the fridge to chill for approximately an hour
6. Line the greased cookie sheet with 12 tablespoon "dough drops"
7. Press evenly and cover with sugar
8. Cook for "9-ish" minutes (love you, Taylor, but no recipe should have an "-ish"; exactly nine minutes will do)
Once the cookies have finished baking, mix together the powdered sugar, nutmeg, cinnamon, and eggnog in a bowl and spread the icing on top. Add an extra dash of cinnamon, and you're all set. If it all goes well, they'll look like they do here. It feels like a perfect night to make cookies at midnight, so enjoy!