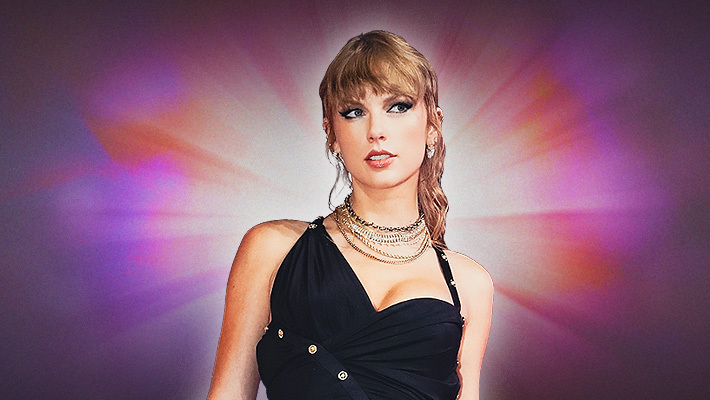 Pop stars are rarely at their cultural peak nearly two decades into their career. Take Justin Timberlake, for instance. He put out the quickly forgotten Man of the Woods 16 years after his solo debut (hence the NSYNC reunion). But Taylor Swift, who released her first album 17 years ago, has never been more popular. Especially this week. She's been a one-woman monoculture, a "did you see what Taylor did/wore/ate?" conversation starter among co-workers who otherwise have nothing else to talk about.
Let's recap her dominance over all aspects of pop culture, from music to television to film to celebrity gossip to sports.
-Swift, who frequently racks up more streams than anyone, became the only artist to have five albums with over six billion streams on Spotify. She's also the only female artist in Spotify history to reach 100 million monthly listeners.
-Chart Masters has Swift passing Bad Bunny to become the second most-streamed artist of all-time on Spotify behind only Drake. (This is a fascinating list: would you have guessed Coldplay is in the top 20? And can you name the only artist in the top 25 without a single stream coming from a song where they're the featured artist? Here's a hint: she's a Swiftie.)
–Midnights continued to be the best-selling album of 2023, even though it came out in 2022.
–Swift's appearance at the Kansas City Chiefs vs. Chicago Bears game to root for Chiefs tight end Travis Kelce was a huge ratings boost. It was the week's most-watched telecast on any network with 24.3 million viewers; the game did particularly well among female viewers ages 12 to 49. Normally ratings drop when a game is a blowout (the Chiefs won 41-10), but not here.
-The figures from Roku are staggering, too: the household reach for the game grew from 2.8 million to 4.4 million, an increase of 59 percent, with the largest demo increase (a whopping 63 percent) coming from women, ages 18-49.
-If Swift cheers, they will come (and buy): Travis Kelce jersey sales jumped 400 percent following the game. If Taylor wants to share this article on social media, that would be nice. I could use the clicks.
-The Chiefs play the New York Jets on Sunday. Swift is expected to be in attendance. If you don't already have tickets, you might be out of luck: according to numbers provided by StubHub, there was a 175 percent increase in sales in the three days after her appearance, while nearly 20 percent of all tickets sold for the matchup have been purchased since Sunday night.
-The governor of California called Swift and Kelce dating rumors a bigger deal than the GOP debate, which isn't great for the country, but it makes for tremendous content.
-The Empire State Building, one of the most iconic landmarks in the greatest city in da world (it's been waiting for you), changed its color because she ate stadium food one time.
-Speaking of, "ketchup and seemingly ranch" took over the internet. It started with a tweet from fan account @tswifterastour — "Taylor Swift was eating a piece of chicken with ketchup and seemingly ranch!" — and became a phenomenon. Heinz is selling a limited-time "Seemingly Ranch" bottle, Primal Kitchen is doing the same (with bonus friendship bracelets), and brand after brand made their own "seemingly ranch"-inspired jokes.
-This is just a good tweet:
-This happened earlier this month, but it's still worth mentioning: Swift was the star of the MTV VMAs 2023 (which had its best ratings in three years among the all-important 18-49 demo), even though she didn't perform. She danced and drank and was the life of the party. MTV wisely kept a camera on her all night, and let the fan accounts take it from there.
-Right-wing media is freaking out over everything she does.
–Taylor Swift: The Eras Tour, a concert film about her Ticketmaster-breaking tour, will be released in 100 countries worldwide. AMC projects that more than 7,500 theaters will play the movie. No wonder it's on pace for a $100 million opening weekend. That would immediately make it the highest-grossing concert film of all time, besting Justin Bieber: Never Say Never.