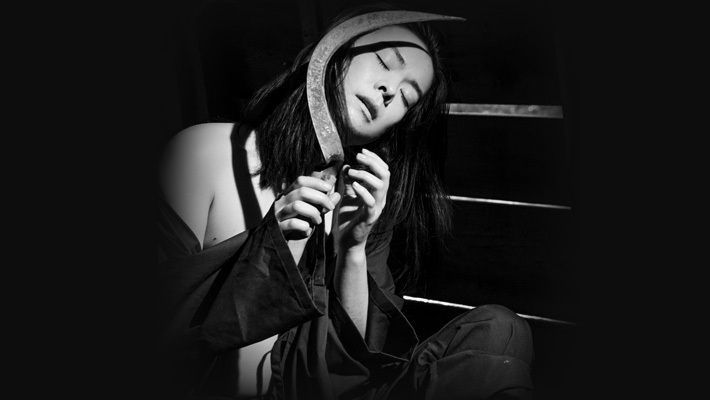 1. Mitski, "Bug Like An Angel"
At the risk of sounding like a horrible, narrow-minded rockist: It's cool to hear a Mitski song where she's playing guitar again. I have no idea if the rest of the forthcoming The Land Is Inhospitable And So Are We (due September 15) sounds like this, but given that she tends to write her albums in tandems, it seems like a safe bet that it won't emulate the synth-pop psychodrama of her previous two records, Be The Cowboy and Laurel Hell. Maybe we're about to behold Mitski's gospel period?
2. MJ Lenderman, "Rudolph"
He made my favorite album of 2022, and he plays on one of my favorite albums of 2023. Now MJ Lenderman has released one of my favorite singles of the year. Can I interest you in some lap steel, cowbell, a "Blowin' In The Wind" reference, a Lightning McQueen joke, and a ripping guitar solo? How about a music video loaded with muscle cars and cool mulleted guys smoking cigarettes? I'm telling you, MJ Lenderman simply does not miss.
3. Joanna Sternberg, I've Got Me
If this Brooklyn singer-songwriter were alive in the 1960s, they would have been like Harry Nilsson or Randy Newman — an eccentric original whose songs are covered by The Monkees and The Turtles. I actually wish we went back to that era, in which mainstream rock groups performed songs penned by songwriters who operate on the margins. I hear a lot of bands who are just okay are writing their own material, and they would be much better off transforming the loads of gems served up on I've Got Me.
4. Slow Pulp, "Doubt"
One of my most anticipated indie albums of the fall is Yard, the latest from this Chicago-by-way-of-Madison band. Actually, I'm not really "anticipating" it, since I have had the promo for a while now. I guess I am anticipating all of you hearing it, as I really think that Slow Pulp is one of the better young indie-pop groups around at the moment. "Doubt" showcases their hooky, zippy side, but the strength of Yard is that it displays a range of sounds, from spiky power pop to rustic alt-country.
5. Dusk, "Pissing In A Wishing Well"
My only criticism of Slow Pulp is that they left my home state of Wisconsin for the brighter lights of Illinois' biggest city. Of course, this makes me a hypocrite, since I also left Wisconsin for a neighboring state. Nevertheless, part of my affection for Dusk stems from their steadfast devotion to America's Dairyland. This country-rock outfit has the same unpretentious charm as our shared home. They favor group vocals, layers of keyboards and pedal steel, and beer-friendly, shout-along choruses. You can hear all of that in this single from the forthcoming Glass Pastures, out on October 20.
6. Being Dead, When Horses Would Run
Surf music is one of those genres, like rockabilly or psychedelic rock, that is never in fashion and always in style. Somewhere in your town right now, someone is playing those kinds of music and more people than you might expect are enjoying those kinds of music. Being Dead isn't a strict surf band, per se, but this Austin outfit does apply the conventions of the genre in the service of making irreverent and witty punk rock. This album is a hoot.
7. Palehound, Eye On The Bat
A million and one indie rock bands right now are trying to make heavy riffing rock songs that sound like they could have been released by Matador Records in 1994. Most of them fall short of the mark. Palehound does not. El Kempner brings the riffs as well as the diaristic lyrics about sex, bad relationships, and various other highs and lows. The result is an album that sounds like a long-treasured used CD.
As someone who liked but didn't last year's Chloe And The Next 20th Century, this fantastic live album feels like a reboot. What sometimes felt like affectations on the album — particularly the old-timey, soft shoe music — really come alive here, as Josh Tillman and his impressive band lend some needed muscle to his most insular set of songs. Of course, the songs that do work on Chloe — "Goodbye Mr. Blue," "(Everything But) Her Love" — are absolutely stunning here. As are the reliable favorites from past records. (The story he tells before "The Night Josh Tillman Came To Our Apt." reasserts his mastery of banter.)
9. Wham!
I've been listening to a lot of George Michael lately, and I have Chris Smith's Netflix documentary to thank for that. Though the real star of the film isn't Michael but rather his oft-dismissed former partner Andrew Ridgeley, the handsome and preternaturally self-assured other half of the 1980s teen pop phenomenon Wham! While George is rightly seen as the musical engine of the group — he wrote and produced all of their best work — we learn from the doc that Ridgeley was the one who teased all of that talent out of his best friend and then supported him when he came to dominate the group. Like so many of the best music documentaries, this is as much a study about a friendship as it is an exploration of a successful band's music. And after watching Wham! I couldn't help wishing that Andrew Ridgeley was my best friend, too.