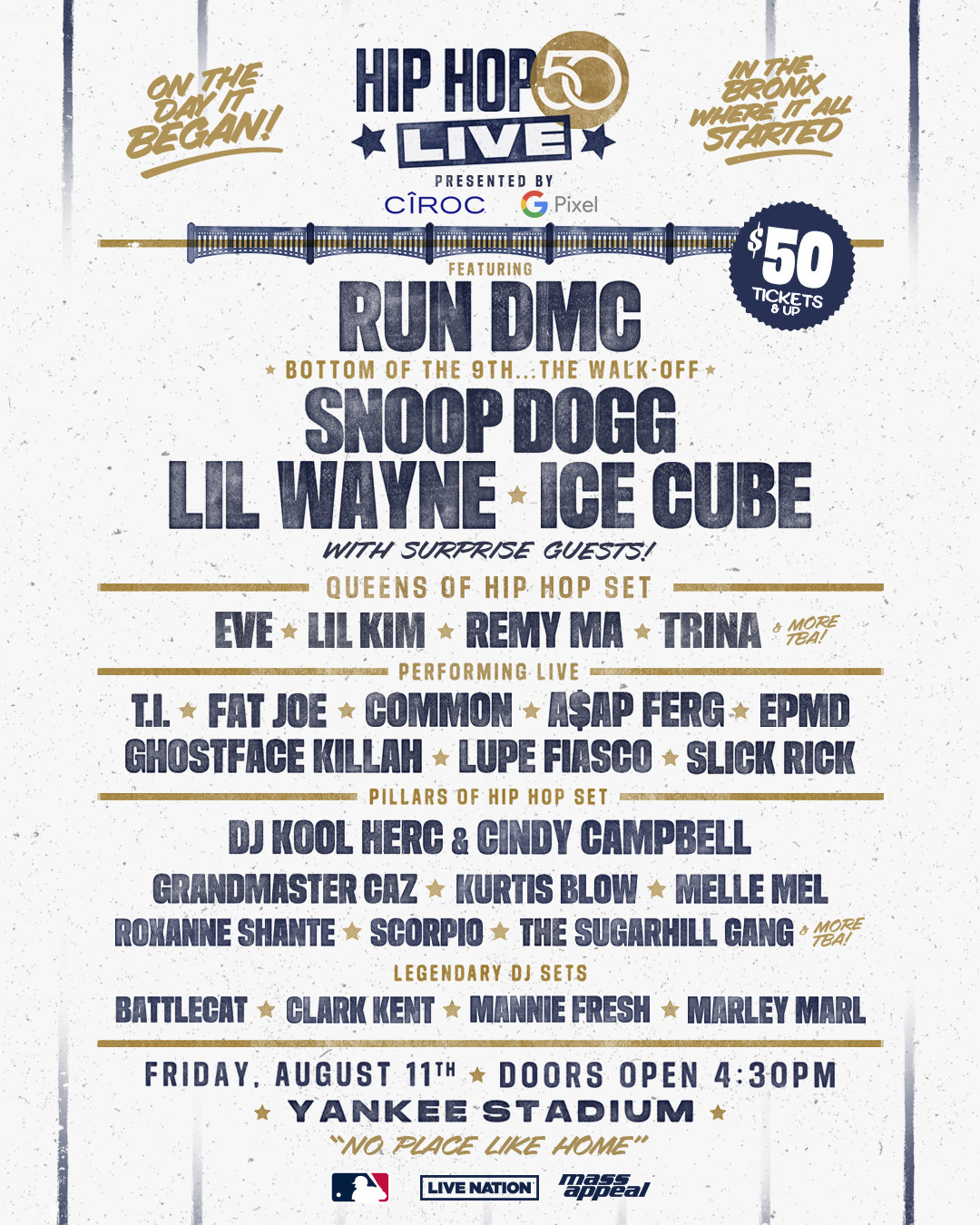 As celebrations of hip-hop's 50th anniversary go, I'm not sure anyone's beating that glorious Questlove-curated Grammys medley from earlier this year. But if any event has the chance to top that, it's the massive concert taking place in the Bronx's biggest venue this summer. On Aug. 11 — the eve of the genre's widely acknowledged 50th anniversary — Yankee Stadium will host Hip Hop 50 Live, an all-day event with a festival lineup's worth of rap talent, promoted by Mass Appeal and Live Nation.
Run-D.M.C. will headline the show in what's being framed as a farewell performance titled "Bottom Of The Ninth…The Walk-Off." Lil Wayne, Snoop Dogg, and Ice Cube are among the other headliners. Also on deck: T.I., Fat Joe, Common, A$AP Ferg, EPMD, Ghostface Killah, Lupe Fiasco, and Slick Rick. There are a few themed sections within the lineup. For instance, Eve, Lil Kim, Remy Ma, and Trina are among those participating in the "Queens Of Hip Hop" portion of the show, which seems a little reductive in 2023 but OK. There will also be a "Pillars Of Hip Hop" segment with Kool Herc & Cindy Campbell (who famously threw the basement rec-room party where hip-hop was born on Aug. 12, 1973), Grandmaster Caz, Kurtis Blow, Melle Mel, Roxanne Shante, Scorpio, and the Sugar Hill Gang. The "Legendary DJ" set has Clark Kent, Marley Marl, Mannie Fresh, and Battlecat.
More performers will be announced later. Ticket information is available at Ticketmaster, where the first presale begins this Thursday, June 8 at 10AM ET.