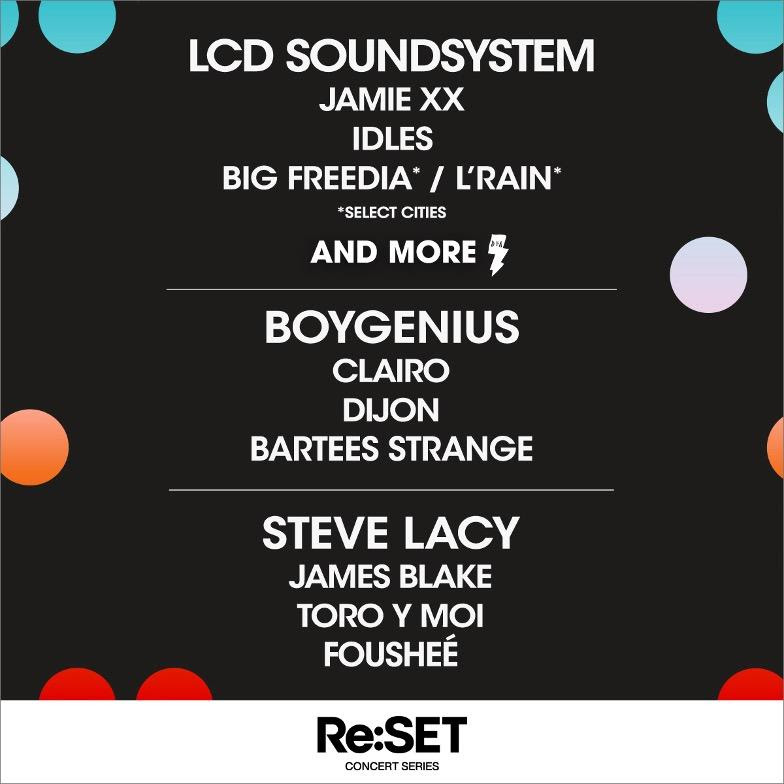 This month, the AEG-backed Re:SET traveling concert series is making its way around North America, boasting three headliner-opener packages that rotate between a group of geographically adjacent locations. The first weekend — which took place in Los Angeles, San Diego, and the Bay Area — seemingly went off without a hitch, but this past weekend's shows in the South (in New Orleans, Atlanta, and Dallas) were a mess thanks to a storm that rolled through the area.
On Sunday night, LCD Soundsystem and Jamie xx were not able to perform in Dallas at the Texas Trust CU Theatre Grounds, after the show was postponed and then canceled "due to severe weather." That same day, the boygenius show at Atlanta's Central Park experienced delays, also due to inclement weather. After first announcing an adjustment to the set times so that the openers played in the early afternoon, boygenius' set was then pushed back to its previously scheduled start time of 9PM. The day before, at the Re:SET concert in New Orleans, Bartees Strange and Dijon's opening sets were canceled due to weather, though Clairo and boygenius' sets went ahead as planned.
The Re:SET Festival will rotate between New York City, Boston, and Washington, DC next weekend; the following week, they'll be in Nashville, Columbus, and Chicago. As local publication Block Club Chicago reported last week, it's up in the air as to whether Riis Park — the venue where the Chicago events are set to take place — will actually host the festival. Though AEG's permit for Re:SET in the city is "conditionally approved," local politicians and community members have been protesting the fest, and representatives from the Chicago Park District has told Re:SET promotors to stop advertising the festival as if its been fully approved.
Thanks jrock16c in the Stereogum Discord for the tip!
https://twitter.com/ReSETConcerts/status/1667941863423348736