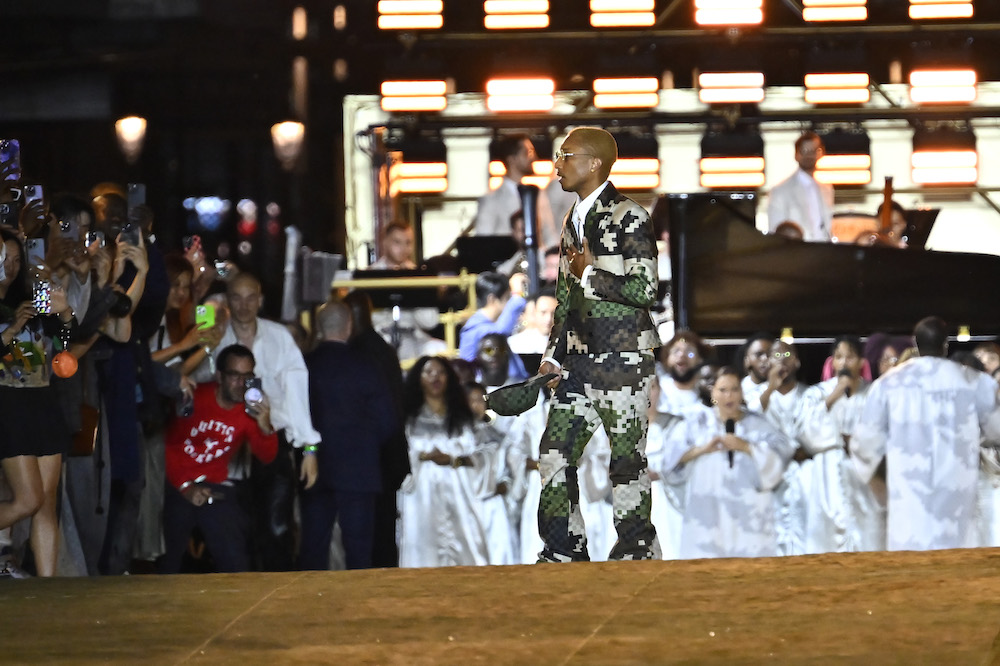 Tonight in Paris, Pharrell Williams launched his first show as Louis Vuitton Men's Creative Director; Williams succeeded the late designer Virgil Abloh in February. Set at the Pont Neuf, the show also debuted a new Clipse song, which is tentatively called "Chains 'N Whips" (it got a mention in a New York Times profile over the weekend). At the show's end, gospel choir Voices Of Fire performed their recent Pharrell collab "JOY (Unspeakable)," and Jay-Z hopped onstage to perform Neptunes classic "Frontin'" and "On To The Next One."
Naturally, a major crop of celebrities attended the Spring-Summer 2024 Collection, including (but not limited to) Anitta, Zendaya, Maluma, Offset, Coi Leray, Tyler, The Creator, Willow and Jaden Smith, LeBron James, Beyoncé, Rihanna and A$AP Rocky. In addition to featuring that aforementioned Clipse song, Pusha T and No Malice walked the runway.
Upon further inspection, the Clipse song appears to contain a dig at Dipset's Jim Jones: "You'd think there'd be honor amongst veterans/ I am watching your fame escape relevance/ We're all in the room, but here's the elephant/ You're chasing a feature out of your element."
Earlier this year, Jones guested on a RapCaviar Podcast episode, where he criticized Billboard placing Pusha T at No. 29 on their Top 50 Greatest Rapper of All Time list. Then, he doubled down on his take during an appearance on the Breakfast Club, where he asked the show's staff if they could rap along to five Pusha T records.
Watch some footage from the event below.