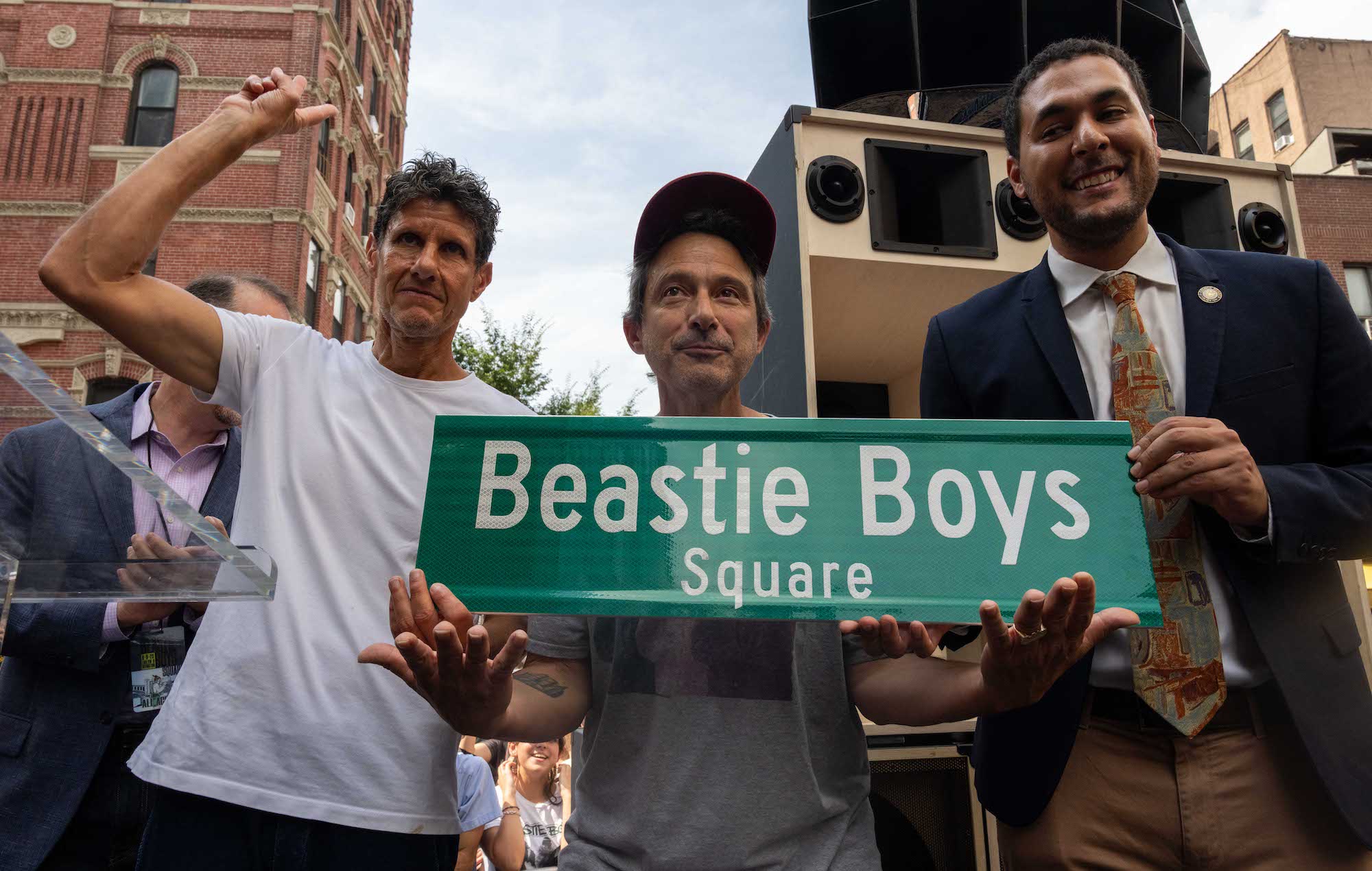 The Manhattan intersection immortalised on the cover of 'Paul's Boutique' has officially been renamed Beastie Boys Square.
The cover of the 1989 album features the intersection of Ludlow and Rivington on the Lower East Side.
A decade ago, a campaign was launched to name the area after the band, but it was rejected by a community board in New York.
Last year, it was then confirmed that the campaign was finally successful and Beastie Boys Square would become a reality.
On Saturday (September 8), the band were honoured at a ceremony at the location, and Ad-Rock and Mike D both spoke at the event.
"Thank you [to New York] for teaching us what to look at, what to listen to, what to wear, how to love, how to live," Ad-Rock said to the crowd. "It makes me really happy to know that some kid on the way to school 50 years from now is gonna look up and say, 'What the fuck is a Beastie Boy? Why do they get a square?'"
Mike D added: "We could not have become what we became without growing up in New York City."
Historic day in NYC!
Beastie Boys Square Unveiling! #BeastieBoys #BeastieBoysSquare
Wow! pic.twitter.com/22E09FLw3N

— Gili Getz #SaveMasaferYatta (@giligetz) September 9, 2023
Tune in now to the #BeastieBoys Square unveiling celebration in NYC on @YouTube: https://t.co/UBFCeYZrNV pic.twitter.com/mC62NKryga

— Beastie Boys (@beastieboys) September 9, 2023
Live at the Paul's Boutique party to celebrate the street naming of Beastie Boys Square…!! pic.twitter.com/VoGAnWJfXJ

— Marcus Baram (@mbaram) September 9, 2023
Ended up with the single greatest #BeastieBoys dedication spot of all time: My corner is now Beastie Boys Square 🙂 pic.twitter.com/CnovFuYZst

— Will (@WilllWhalen) September 9, 2023
Beastie Boys Square@beastieboys #beastieboys #hiphop #nyc pic.twitter.com/SnUg8dqDJx

— Adrian L. Childress (@ALChildress_) September 9, 2023
"As many of us know, once the Beastie Boys hit the scene, it really changed the hip-hop game," said council member Christopher Marte when confirming plans for Beastie Boys Square.
"I see it as a celebration. A celebration for the Lower East Side, a celebration for hip-hop, and especially a celebration for our community who has been organising for a really long time to make this happen."
Elsewhere, Beastie Boys this week released a special vinyl reissue of 'Hello, Nasty' to celebrate the album's 25th anniversary.
The album was originally released in 1998, with a 4LP box set then released in 2009 to celebrate the album's 10th birthday. The new box set features a book alongside 21 bonus tracks, featuring rarities, B-sides, remixes and more.