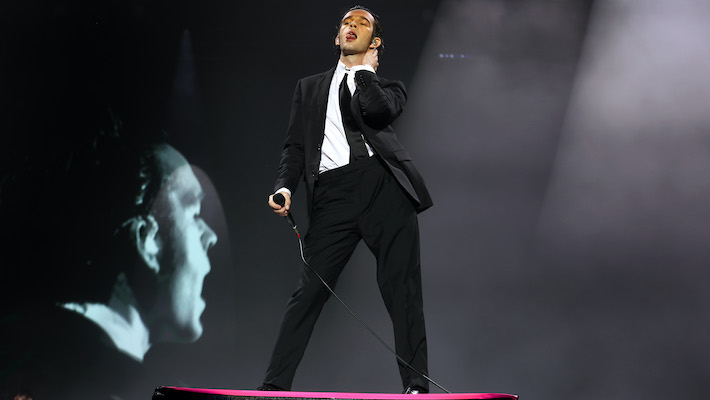 The 1975's concerts always make for an interesting time. Over the course of the past year, the band's lead vocalist Matty Healy has made headlines for his wild antics during tour stops. Whether he's making out with fans or eating raw meat on stage, concertgoers know they are in for a show.
But tonight (October 31), during a special Halloween-themed show at Little Caesar's Arena in Detroit, Michigan, Healy showed fans a side of them they hadn't seen before.
During the show, Healy recreated a moment from the cult classic The Blair Witch Project. A clip displayed onscreen, featuring Healy on a camcorder. After he hears a noise in a house, he moves the camera rapidly, briefly showing what appear to be his buttocks on-screen.
In another fan-recorded clip from the concert, Healy recreates a scene from American Psycho. As he is speaking to the audience, Healy walks behind the stage, in set resembling a home. He is seen through a window taking an axe to something indistinguishable, prompting screams from fans. When Healy returns to the stage, he is seen covered in blood, catalzying the screams to an even higher level. Also in the clip, a fan can be heard shouting "daddy."
You can see clips from the show above.