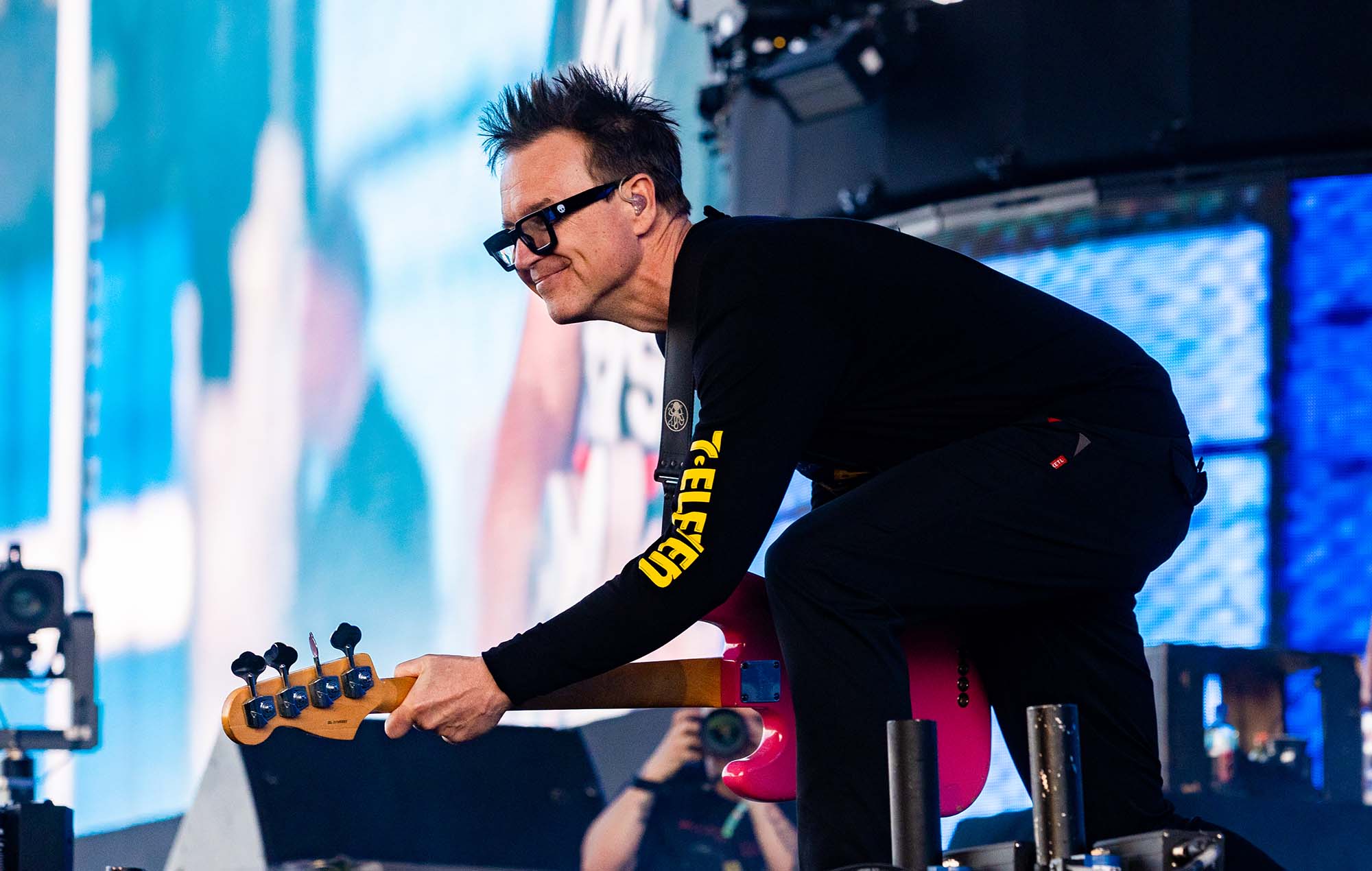 Mark Hoppus has teased Blink-182's upcoming new single 'One More Time', calling it one of the band's best songs yet.
As announced earlier this week, the trio are due to release the title track from their ninth studio album of the same name at 3pm BST today (September 21).
The song, which follows last year's 'Edging', was previously teased via a cryptic website and a series of promotional posters.
Taking to TikTok yesterday, Hoppus responded to a fan who asked what he thought was "the Mount Rushmore of Blink-182 songs".
"Lightning round – let's go," he said, before naming 'Feeling This', 'Dammit' and 'What's My Age Again?'.
To complete the list, Hoppus chose the forthcoming 'One More Time' – a snippet of which soundtracks the 13-second clip. Tune in here:
@blink182

@Mark answers your questions. Text 323-831-0182 for more. "ONE MORE TIME" the new song is out this Thursday Sept 21.
Blink-182 have shared numerous previews of the imminent single. In one post, Hoppus appears to make nods to his cancer diagnosis in 2021 and Travis Barker's 2008 plane crash: "I wish they told us/ It shouldn't take a sickness/ Or airplanes falling out the sky."
Tom DeLonge, who rejoined Blink-182 last year, has called the 'One More Time…' record the group's "best album of [their] career" as well as hailing it as their "most progressive".
The LP will mark the first time the classic Blink line-up – comprising Hoppus, DeLonge and Barker – have released a new full-length project together since 2011's 'Neighborhoods'.
DeLonge quit Blink-182 back in 2015 to focus on extraterrestrial research and his other band, Angels & Airwaves. During that time, Hoppus and Barker released 2016's 'California' and 2019's 'Nine' with guitarist Matt Skiba of Alkaline Trio.
'One More Time…' is scheduled for release on October 20 via Colombia Records. You can pre-order/ pre-save the album here and see its full tracklist below.
01. 'Anthem Part 3'
02. 'Dance With Me'
03. 'Fell In Love'
04. 'Terrified'
05. 'One More Time'
06. 'More Than You Know'
07. 'Turn This Off!'
08. 'When We Were Young'
09. 'Edging'
10. 'You Don't Know What You've Got'
11. 'Blink Wave'
12. 'Bad News'
13. 'Hurt (Interlude)'
14. 'Turpentine'
15. 'Fuck Face'
16. 'Other Side'
17. 'Childhood'
Blink-182 will be touring the UK next month with headline shows at London's O2 Arena, Birmingham's Utilita Arena and Manchester's AO Arena.
Check out the full itinerary below, and visit here for any remaining tickets.
OCTOBER
11 – London – The O2
12 – London – The O2
14 – Birmingham – Utilita Arena
15 – Manchester – AO Arena
16 – Manchester – AO Arena