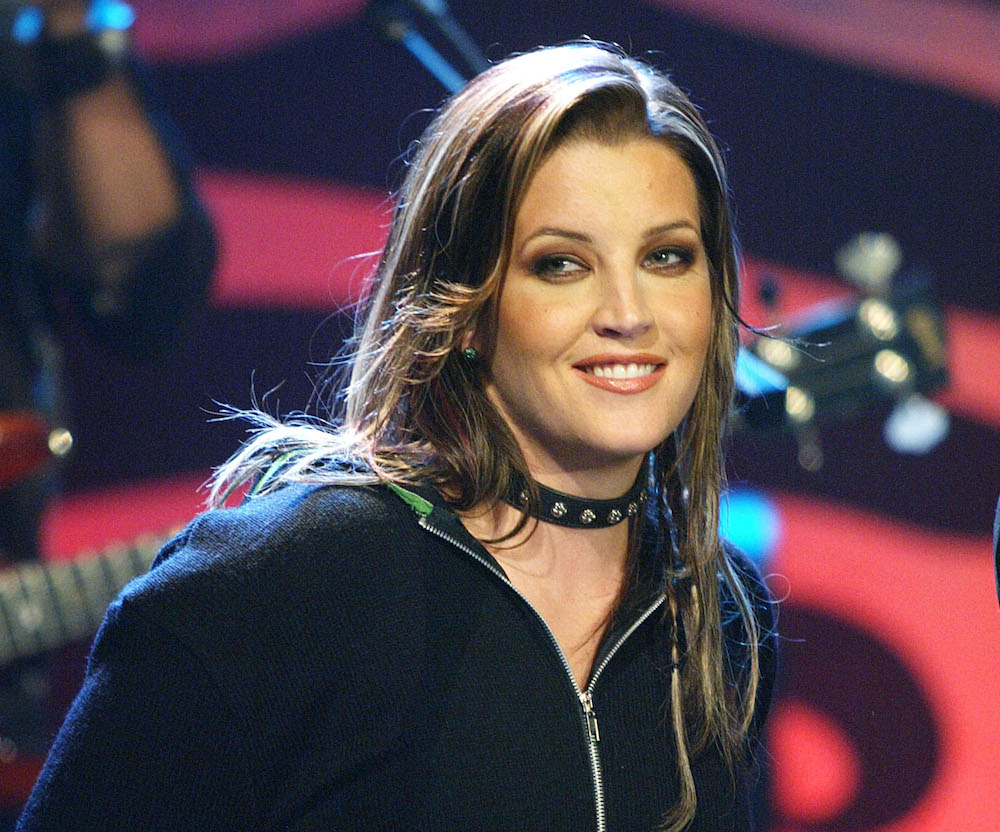 Lisa Marie Presley, the only child of Elvis Presley, has died. On Thursday morning, the singer and songwriter was rushed to the hospital after going into cardiac arrest. She recently attended Tuesday night's Golden Globe Awards with with her mother, Priscilla Presley, to support Baz Luhrmann's Elvis. Presley was 54.
Born in Memphis in 1968 to Elvis and Priscilla Presley, Lisa Marie became joint heir to Elvis' estate at just nine years old when her father died in 1977. She inherited Graceland upon her grandparents' deaths, though in 2004 she sold 85% of the estate to businessman Robert F.X. Sillerman, founder of music and sports promoter SFX Entertainment.
Taking after her father, Lisa Marie launched a music career; in 2003 she released her debut album, To Whom It May Concern, which reached #5 on the Billboard 200. Likewise, the album's first single, "Lights Out," reached #18 on the Billboard Hot Adult Top 40 chart and #16 in the UK charts. Included on the album was a co-write with Smashing Pumpkins' Billy Corgan, who wrote "Savior" with Presley as a B-side.
Lisa Marie released two more albums: 2005's Now What (which reached #9 and featured a guest spot from Pink on "Shine") and 2012's Storm & Grace, which was produced by T Bone Burnett.
In 2006, Lisa Marie participated in a video for Johnny Cash's "God's Gonna Cut You Down," which was directed by Tony Kaye and also featured Iggy Pop, Kanye West, Chris Martin, Kris Kristofferson, Dixie Chicks, Flea, Chris Rock, Kid Rock, Justin Timberlake, Sheryl Crow, Dennis Hopper, Bono, Shelby Lynne, Jay-Z, Amy Lee, Keith Richards, and Johnny Depp. That video won a 2008 Grammy for Best Short Form Music Video.
A well-documented philanthropist, Lisa Marie oversaw the Elvis Presley Charitable Foundation, which was formed in 1984 to honor the singer's memory. In 2001, the EPCF opened Presley Place, which provided up to one year of rent-free housing (among other services) for homeless families. The EPCF also created the Elvis Presley Endowed Scholarship Fund at the College of Communication & Fine Arts at the University of Memphis — that program assisted students majoring in areas of the arts.
In 2011, Lisa Marie was honored by the Governor of Tennessee, who proclaimed a day of recognition for her charitable efforts. That same week, she was also issued a Certificate Of Proclamation by the Mayor of New Orleans in recognition of her contributions to the city.
Lisa Marie was previously married to Michael Lockwood, Nicolas Cage, Michael Jackson, and Danny Keough. In 2020, her son Benjamin Keough died by suicide at age 27. She had three other children, actress Riley Keough, Finley Aaron Love Lockwood, and Harper Vivienne Ann Lockwood.
In September, Lisa Marie wrote an essay for National Grief Awareness Day, where she opened up about the loss of her son.
"My and my three daughters' lives as we knew it were completely detonated and destroyed by his death. We live in this every. Single. Day," she wrote. "Grief is something you will have to carry with you for the rest of your life, in spite of what certain people or our culture wants us to believe. You do not 'get over it,' you do not 'move on,' period."
"I keep going for my girls," she added. "I keep going because my son made it very clear in his final moments that taking care of his little sisters and looking out for them were on the forefront of his concerns and his mind. He absolutely adored them and they him."
Billy Corgan paid tribute to Lisa Marie Presley in a statement: "There is heartbreak and then there is sorrow. This would be sorrow and on more levels than I can count. Please send your prayers out for her family and children at this difficult time. I truly cannot find the words to express how sad this truly is."
Pink also paid tribute to Lisa Marie in a statement: "Oh, this one hurts my heart. Lisa Marie, you were one of a kind. Funny as shit, smart as a whip, sensitive, talented, witty, mean, loving, generous, judgmental but always right, loyal, and you adored your children. My heart breaks for you and your beautiful family and your children. The world lost a rare gem today. May your soul rest in peace, friend."
Priscilla Presley likewise shared a statement: "It is with a heavy heart that I must share the devastating news that my beautiful daughter Lisa Marie has left us," told People. "She was the most passionate strong and loving woman I have ever known. We ask for privacy as we try to deal with this profound loss. Thank you for the love and prayers. At this time there will be no further comment."
The Graceland estate also wrote on social media: "Priscilla Presley and the Presley family are shocked and devastated by the tragic death of their beloved Lisa Marie. They are profoundly grateful for the support, love and prayers of everyone, and ask for privacy during this very difficult time."