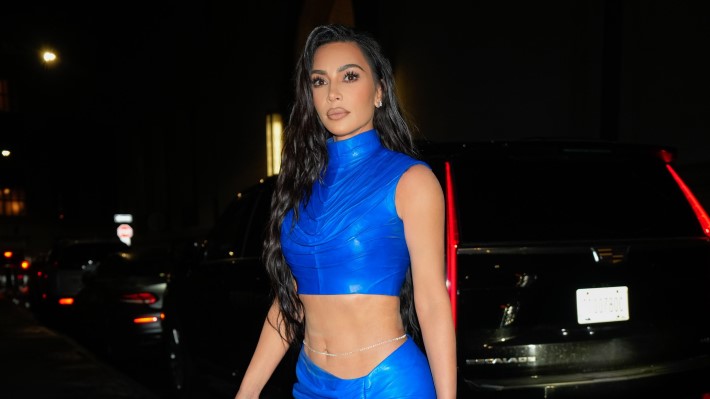 Steve Harwell, the co-founder and former lead singer of Smash Mouth, died on Monday, September 4, at 56 years old. The day before, TMZ reported that Harwell had "reached the final stage of liver failure" and was "in hospice at home." His passing sparked online tributes from the likes of Eve 6 and Guy Fieri. On Wednesday, Kim Kardashian seemed to join in on the tributes.
Kardashian posted two mirror selfies to Instagram and X (formerly known as Twitter) in which she's wearing nothing but a gold bikini. "All that glitters is gold," she captioned both posts.
Smash Mouth reposted the photos on X, writing, "only shooting stars." Of course, these are lyrics from the chorus of Smash Mouth's biggest hit "All Stars": "Hey now, you're an all star / Get your game on, go play / Hey now, you're a rock star / Get the show on, get paid / All that glitters is gold / Only shootin' stars break the mold."
On Monday, Smash Mouth posted a photo of Harwell alongside a shorter version of the statement that their manager, Robert Hayes, provided to various outlets, confirming Harwell had died at home in Boise, Idaho, while "surrounded by family and friends."
Steve Harwell was a true American Original. A larger than life character who shot up into the sky like a Roman candle. Steve will be remembered for his unwavering focus and impassioned determination to reach the heights of pop stardom.
Rest in peace knowing you aimed for the… pic.twitter.com/qZDliiIl30

— Smash Mouth (@smashmouth) September 4, 2023
Following a concerning performance in October 2021, Harwell announced his retirement from music.
"Ever since I was a kid, I dreamed of being a Rockstar performing in front of sold-out arenas and have been so fortunate to live out that dream," Harwell told TMZ at the time. "To my bandmates, it's been an honor performing with you all these years and I can't think of anyone else I would have rather gone on this wild journey with."
Within the same article, TMZ reported, "We're told he was diagnosed with cardiomyopathy eight years ago, which has led to other medical setbacks like heart failure and Wernicke's encephalopathy … a condition that impacts his motor functions, including speech and memory. He's also battled substance abuse over the years, which is further contributing to his health crisis."