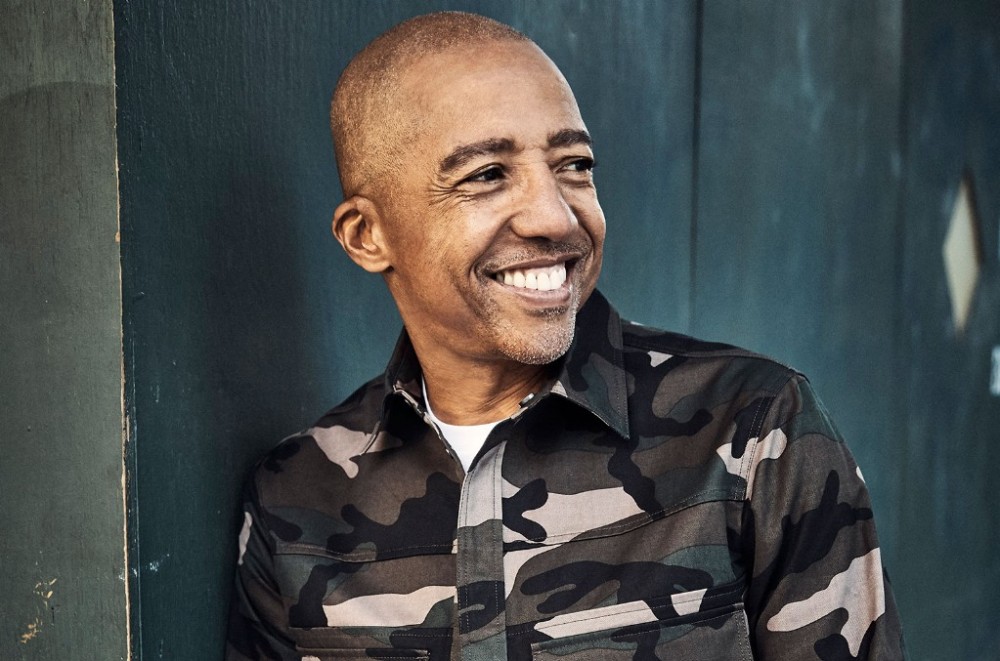 Even when his clients are in the midst of participating in an uprising, it's business as usual for Kevin Liles.
For much of 2020, the 300 Entertainment co-founder and former Def Jam president, has been working to ensure that his team has the tools they need to thrive amid the COVID-19 pandemic and recent racial reckonings that have spanned throughout the country. In some instances, this means making sure artists have the necessary equipment to record their next hits from home. In other instances, it means making sure his new client Bubba Wallace, whom he manages, feels supported as he works to add to his NASCAR achievements, while also speaking out about systemic racism in the sport.
Wallace, who The New York Times notes is the "first black driver in 50 years to win one of NASCAR's top three national touring series," successfully called for the Confederate Flag to be banned from NASCAR's events and properties in June. Less than two weeks later, the organization released a statement revealing that a noose had been found hanging in Wallace's garage stall. The Department of Justice later revealed that the "noose" was in the garage as early as Oct. 2019, before Wallace was assigned to the stall.
Some critics, most notably, President Trump, have accused NASCAR and Wallace of staging the event and say what they saw was simply a pull rope for the garage door — but both NASCAR and the Department of Justice referred to it as a "noose." NASCAR also released a photo showcasing the noose. 
"The rush to judgement by Confederate apologists after the FBI report buried many facts of the case," Liles tells Billboard post interview Monday (July 6) regarding the accusations against his client.
"For example, Bubba didn't report the noose, and never even saw the noose. It was reported by a white crew member. NASCAR President Steve Phelps informed Bubba about it, hours after it was found — shortly before telling the media in a statement. Afterwards, NASCAR searched all 1684 garages in all 29 tracks they race. There was only one "garage pull" tied like a noose in all of America, and it was found in Bubba's garage at Talladega. We appreciate NASCAR's swift action to protect one of their own when the discovery of the noose was first reported, and we stand by Bubba as he helps new fans discover NASCAR. He's a true ambassador for the sport."
Read Liles' discussion with Billboard below about offering free therapy to employees, the recent labeling of Wallace as an "activist" and more.
What are some of the initiatives you've put in place to help 300 Entertainment employees during the current pandemic?
I told everybody one thing I'm not going to do is get rid of anybody. I don't care how bad our business gets. I thought about the young lady who just moved from L.A., who is in New York by herself. Is she going to talk to herself? No, she might need therapy, knowing something that was not afforded to us. I didn't grow up knowing what therapy was, I didn't grow up knowing what a country club was. I said, "Guys, work it out with your department, but everyone should have a free day every week. That free day is for you to just cope with whatever is going on."
Think about when you have 30 million people applying for unemployment. That's going to affect somebody at 300. I said, "Why not create a COVID fund where it wasn't about anything other than [helping] if you needed a little extra something to get over the hump?"
What has this time been like for your artists?
We encouraged them to get home studios that we helped fund for them. People still listen to music so let's put out some music. "Oh, s–t, Megan Thee Stallion's 'Savage.' Oh, s–t, Gunna [has the] No. 1 album. Oh, s–t, Chris Brown and Thug [have their album Slime & B]." We didn't stop. I coined this phrase while we were doing "Unplugged" — another one of our creative initiatives — that "creativity cannot be quarantined."
You manage NASCAR driver Bubba Wallace, who successfully called for NASCAR to ban the confederate flag at its events. His mother said she was surprised to see her son be so outspoken about this. Some people have even called him an "activist." Were you surprised by his recent statements about the confederate flag?
I think what you've seen is Bubba, the human being. Kids of today, 16-26, they don't understand why the world has to be how the world has to be. They want to work to change it. All I think you saw [with] Bubba… it wasn't a frustrated Black person, it was a frustrated human being who said "I have to make a difference." I wouldn't call him an activist. I would call him one of the best sons, human beings and future leaders of NASCAR.
Some people have speculated that this is an opportunity for NASCAR to diversify its fanbase and specifically court Black fans. Do you see this happening? 
There are people of color who watch NASCAR. In the [past], they weren't courted by the sponsors. I think as [with] any corporation, NASCAR struggled with, "What does diversity look like?" Until they make the necessary changes — they're going in the right direction — but of leadership and funding of different people coming into the [sport], it's going to be challenging for them. I just think we have some growing to do and we have to put more light on it.
It feels like a lot of industries are reaching a breaking point when it comes to the ways in which Black employees are treated. Do you think the music industry will see real change as a result of The Show Must Be Paused and the current reckoning that's occurring throughout the country?  
I see an industry that we should hold accountable. [We should] also challenge our executives on our side to make sure they have the tools in their toolbox for the opportunities that are right in front of them. I think there's a lot of work to be done on all sides. I believe that when you are the best, you are rewarded as the best, even through racism. 
I told my company I don't want to be the chief executive officer: I want to be the chief equality officer, to make sure if you deserve the opportunity, you are afforded the opportunity. At 300, 50 percent of our leadership team are female. 50 percent of our leadership team are people of color.