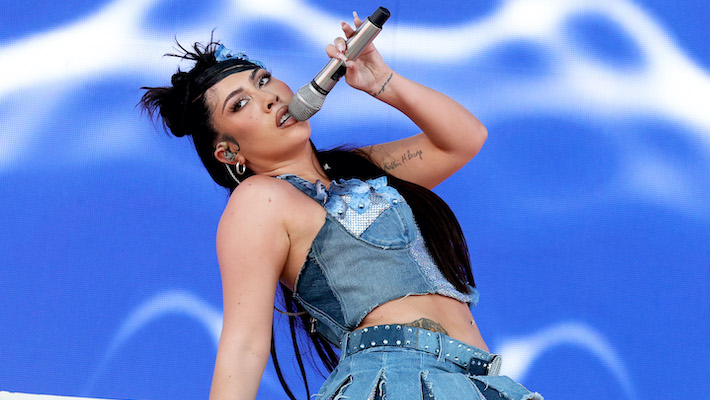 Los Angeles' Camp Flog Gnaw returned yesterday for 2023, with fans flocking to Dodger Stadium to watch their favorite acts perform for the first of the two-day annual music festival. One of those performers was Kali Uchis, who took the stage in the afternoon.
During Uchis' set, she brought out her "Worth The Wait" collaborator, Omar Apollo, as a surprise guest — and the crowd went wild. As she sang, Apollo sat in a chair, and the dancers started to twirl both around and on him. At one point, one of Uchis' background dancers started to give him a lap dance — and he looked thrilled.
Eventually, he then stood up with a microphone to deliver his vocals from the track. It appears on Uchis' Red Moon In Venus album that dropped earlier this year, the first of her two promised albums in two different languages.
The second is Orquídeas, which is set to arrive early in 2024. Uchis will be performing entirely in Spanish on it — as she had previously let fans decide what they'd hear first.
"The orchid is the national flower of Colombia, and we have more species of orchid than anywhere on earth," Uchis previously shared in a statement. "I always felt distinctly intrigued and magnetized by the flower. This album is inspired by the timeless, eerie, mystic, striking, graceful, and sensual allure of the orchid.
Check out Kali Uchis and Omar Apollo performing together at Camp Flog Gnaw below.
kali uchis brought out omar for her set at camp flog gnaw!

— all things omar apollo (@omarapollodaily) November 12, 2023
Omar Apollo is a Warner Music artist. Uproxx is an independent subsidiary of Warner Music Group.