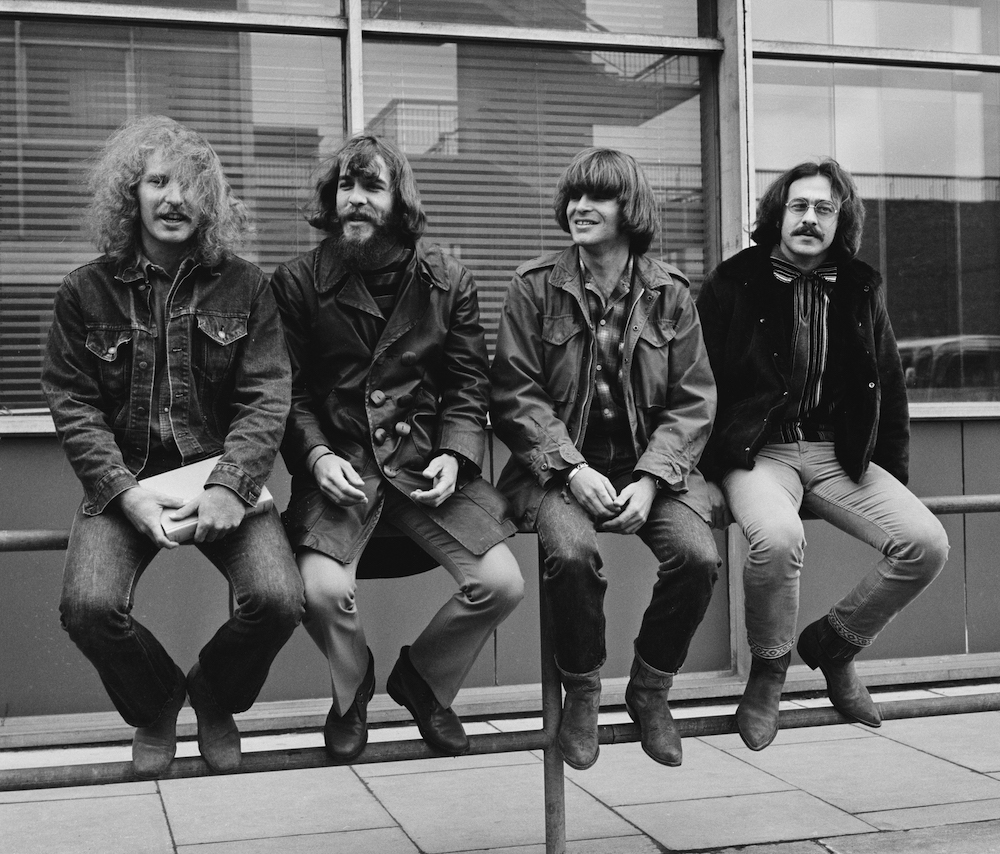 The beloved classic rock institution Creedence Clearwater Revival was only around for a few years, but in those few years, the band was busy. Between 1968 and 1972, CCR knocked out seven albums and added a whole pile of songs to the rock canon: "Fortunate Son," "Bad Moon Rising," "Have You Ever Seen The Rain?," "Proud Mary," "Lookin' Out My Back Door," "Run Through The Jungle," "Born On The Bayou." After the band's bitter 1972 breakup, former frontman John Fogerty was locked in a decades-long legal battle with his former label boss, and he hasn't had control over hugely valuable CCR catalog. But now, just over 50 years after the band's breakup, Fogerty has now gained control of the Creedence Clearwater Revival publishing rights.
Creedence Clearwater Revival started as a teenage rock 'n' roll band in the Bay Area in the late '50s, and they released a few '60s garage rock singles as the Golliwogs. They became Creedence when Saul Zaentz bought Fantasy Records and signed the band. Fogerty believed that Zaentz had the band under an onerous contract, and that contributed to the band's breakup. After that breakup, Zaentz claimed that Fogerty owed him multiple solo records, and Fogerty signed away his publishing rights and royalties in 1980 to get out of his Fantasy deal. Fogerty and Zaentz continued to sue each other for years, and Fogerty refused to perform CCR songs live for decades, even after starting a successful solo career. When CCR joined the Rock And Roll Hall Of Fame, Fogerty wouldn't rejoin his former bandmates to perform.
Saul Zaentz, who went on to become a successful film producer, died in 2014. In 2004, Concord Records bought Fantasy and reinstated Fogerty's royalties at a higher rate. Now, Billboard reports that Fogerty, now 77, has bought a majority share of his copyrights from Concord, which still owns the CCR master recordings. The high-powered music exec Irving Azoff helped Fogerty in the negotiations. Fogerty tells Billboard:
I'm the dad [of these songs]. I created them. They never should have been taken away in the first place. And that hijacking left such a massive hole in me… The happiest way to look at it is, yeah, it isn't everything. It's not a 100% win for me, but it's sure better than it was. I'm really kind of still in shock. I haven't allowed my brain to really, actually, start feeling it yet.
John Fogerty has actually bought that majority share in his catalog at a time when many of his classic-rock peers are selling their catalogs off for massive payoffs. Anyone who has ever watched a Vietnam movie knows that the Creedence catalog remains hugely lucrative, and it's cool that the man who wrote those songs now gets to say what will happen with them.