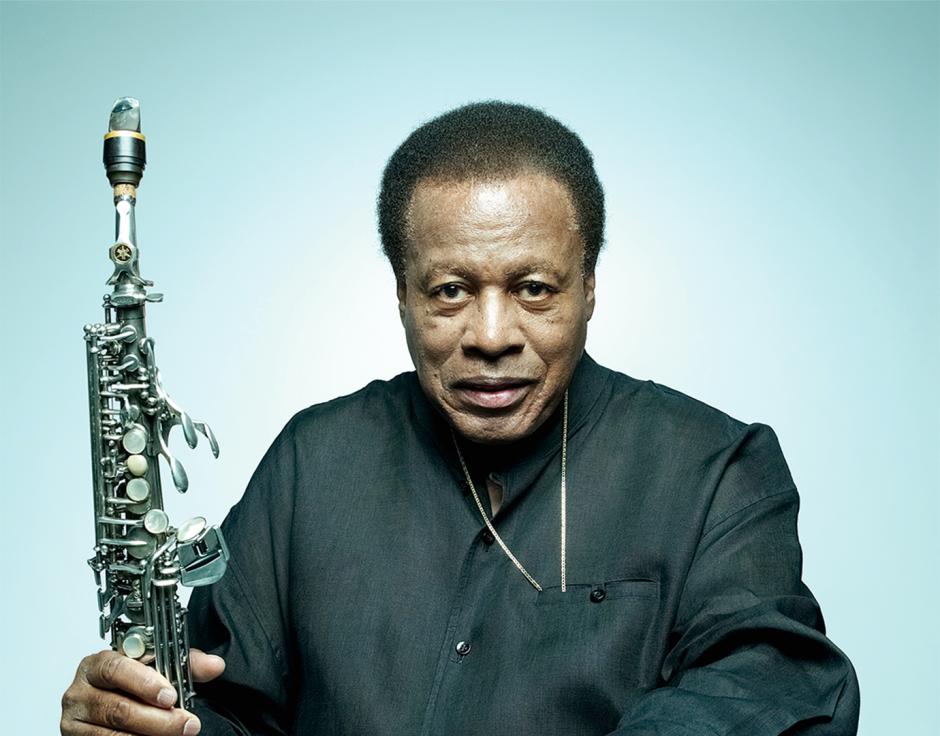 Wayne Shorter died this month at 89. Although he stopped playing live a few years ago due to health issues, he'd been doing some really fascinating work up until the end, including composing the opera (Iphigenia) in collaboration with Esperanza Spalding — with sets designed by Frank Gehry! He'd also been leading a quartet with pianist Danilo Perez, bassist John Patitucci, and drummer Brian Blade since the turn of the millennium, one of the longest-running bands in jazz.
I had been planning to write about Shorter this month even before he died, to celebrate the tenth anniversary of Without A Net, the live album he and his quartet released in February 2013. Most of it was recorded on tour in Europe in 2011, but one track, "Pegasus," was from a December 2010 performance at Walt Disney Concert Hall in LA. For that 23-minute piece, the quartet was joined by the five-piece Imani Winds, a group that included flute, French horn, clarinet, oboe, and bassoon.
The album marked Shorter's return to Blue Note, a label he'd last recorded for in 1970, and it pulls from throughout his history and far beyond. It opens with "Orbits," a piece he'd originally composed for the Miles Davis Quintet (it's on 1966's Miles Smiles) and also includes a version of "Plaza Real," from the 1983 Weather Report album Procession, and "Flying Down To Rio," a song from a 1933 musical starring Fred Astaire and Ginger Rogers. The band sounds charged-up but extremely attentive to each other at all times, with Perez and Blade bringing the music to one crashing crescendo after another. Shorter's playing is sharp and biting; he hits upper-register notes on the soprano sax like he's throwing darts into the audience. And although they pull the songs' melodies apart, the structure is still there; you can always hang on and trace your way back to where they started.
When Without A Net came out, I interviewed Brian Blade for Blue Note's website. When I asked him why Shorter seemed to prefer live recordings to studio work, he said his feeling was that "we play so many shows, and the way things progress in the living moment…I guess he perhaps has kind of brought us into his vision, and the way we've come to this collective compositional process, perhaps it's just been his preference, rather than going into the studio."
At the same time, he said Shorter was "constantly composing, and when he brings something to us, it's fully realized. It's all very much composed, or de-composed, as he would say. 'Cause really, our part is the de-composing, he says. But it comes so perfect, and to my mind, we could play it from the beginning to the end and I'd be fine with that. But he wants us to almost extract cells from it, to find windows, to come to the unknown together. But we as a trio — me, Danilo and John — try to be true to what he's written, because obviously he's dedicated a lot of time and passion into that writing and we don't want to discard all that genius. So it's interesting, that balance, for the rhythm section to try to honor his gift as a composer and an improviser and find that median between that and his vision of what the quartet is, off the page. It's quite a fragile balance, so we're always walking that line."
I saw that group live once, at Town Hall in NYC in 2011. The main set was a continuous 75-minute medley that began slowly, with ominous, heavy chords from Perez setting the mood. Shorter stood nestled in the curve of the grand piano's body, listening. Patitucci offered a melody of his own rather than pushing the music forward, and Blade's playing, too, was all accents. It felt like modern chamber music, neither swinging nor bluesy. Before long, though, Blade seemed determined to disrupt things, and began erupting in almost rock-like outbursts and using mallets to create a thunderous rumble like tympani.
Shorter took breathy and considered solos, mostly playing soprano sax (though there was some tenor here and there). He never seemed to be leading or even dominating the band, just joining in. One early, piercingly sharp and loud note came as a total surprise; it sounded like he was trying to blast something out of the horn.
As the lengthy performance moved from one briefly stated, then abstracted melody to the next, it started to feel like a series of semi-climaxes, almost-but-not-quite connections, and implied conclusions; there was always one member of the band who couldn't, or wouldn't, stop along with the others, so the music kept flowing, or resumed when you would have thought it would have stopped. At the very end, though, something fascinating happened. When Shorter and Perez seemed done for the night (the pianist had even stood up from the bench), Blade started a heavy groove, luring Patitucci in, and the whole band lurched back into motion, the saxophonist glancing at his drummer with a gleam in his eye. Eventually it all wound down again, and it came to what felt like an utterly natural finish that belied all the struggles and uphill climbs that had come before.
The music that band made together — not just that night at Town Hall, but for two decades — was suspenseful, frustrating, rigorous, intellectual, and often quite beautiful, but it defied just about every rule of jazz. It didn't swing, but it didn't make a point of not swinging. Only rarely did all four members truly play together, but it never devolved into a series of duos, trios or unaccompanied solos. It was aggressive and even harsh at times, but the nominal leader never seemed to truly lead. He wasn't even the loudest element in the mix. And when you heard these players in other contexts, you realized that they were all inspired to play this way by Wayne Shorter. Somehow, like Blade said, they had all become manifestations of his artistic personality.
It's really kind of mind-boggling to contemplate Wayne Shorter's career. Even in his earliest hard bop days, as a member of Art Blakey's Jazz Messengers, he was doing something different from anyone else. He could fit in with a conventional, hard-blowing group (his playing on the 1964 album Free For All is incredibly intense), but his compositions always offered an unexpected angle or a melodic twist that you didn't see coming, but which made perfect sense when it arrived. From late 1964 to early 1970, he was a member of Miles Davis' band, first the acoustic quintet and then the electric groups. Then he joined forces with keyboardist Joe Zawinul, who'd played on Davis' In A Silent Way and Bitches Brew, and they formed Weather Report. Zawinul once summed up that group's music, which pulled from jazz, rock, cutting-edge electronics, and rhythms from around the globe, with the words "No one solos, everyone solos." They made 16 albums in as many years, evolving from the dense jazz-rock experimentation of their self-titled debut and Live In Tokyo to the Fourth World funk of Mysterious Traveller and Tale Spinnin' to the catchy pop fusion of Heavy Weather, Mr. Gone, and everything after.
Outside of Weather Report, Shorter collaborated with Carlos Santana and Milton Nascimento and had an extended creative relationship with Joni Mitchell, playing on 10 of her studio albums between 1977 and 2002. He made a string of albums with the supergroup V.S.O.P., which included Herbie Hancock, Ron Carter, and Tony Williams, with Freddie Hubbard on trumpet. Every time you thought you had Wayne Shorter pegged, he made some kind of left turn, without ever disavowing anything he'd done before. He wrote and performed enough music for six or seven lifetimes, in a seemingly impossibly broad range of styles, and it was all one artistic journey for him. Wayne Shorter was always a name known primarily to jazz fans — he never had the crossover pop success of his former collaborators Miles Davis and Herbie Hancock — but he was an absolute titan, one of the greatest musicians America's ever produced. No matter what era of his work you choose to explore, you'll find something that will make you gasp in wonder.
TAKE 10