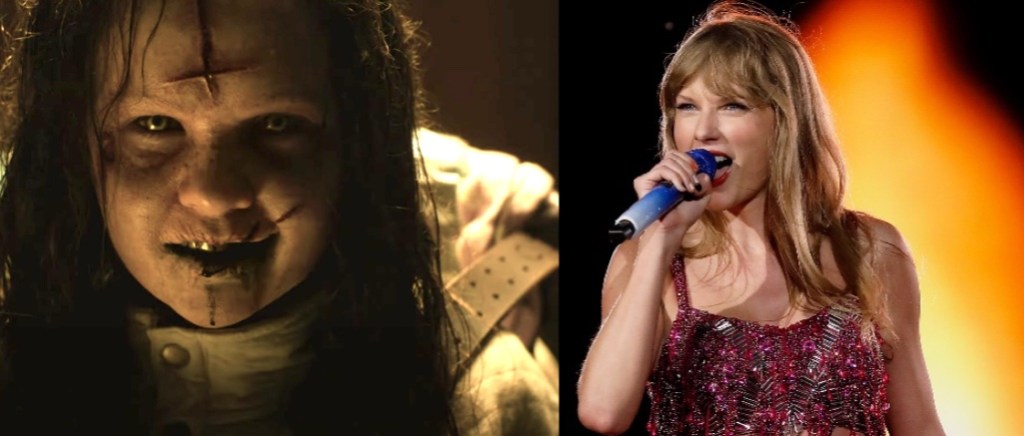 There aren't many things Taylor Swift can't do. She helped encourage Apple Music to pay artists more. She introduced Gen Z to the wonders of vinyl. One time she even released 8 seconds of static and it went No.1 on iTunes. And now? She has seemingly taken on the devil incarnate himself, on behalf of Jason Blum.
Swift's Eras Tour concert film is heading to theaters on Friday, October 13th, which is the perfect time for horror films (70k people screaming at once is horrible no matter what, even if they are singing the bridge to "Cruel Summer.") But the flock of swifties are so powerful, even the master of horror and all things paranormal himself had to back down. It really brings a new meaning to the lyric "he looks up grinning like a devil."
Producer Jason Blum announced that The Exorcist: Believer has been moved from its coveted Friday the 13th spot to a week earlier, on the much less spooky October 6th. Will people even be scared at that point? Probably not! It's not even unlucky.
Since being announced this morning, the Taylor Swift: Eras Tour concert film has already catapulted past $10M in ticket presales, which is honestly nothing compared to the actual tour itself. Does this make Swift eligible for an Oscar? You know she's going to try anyway!