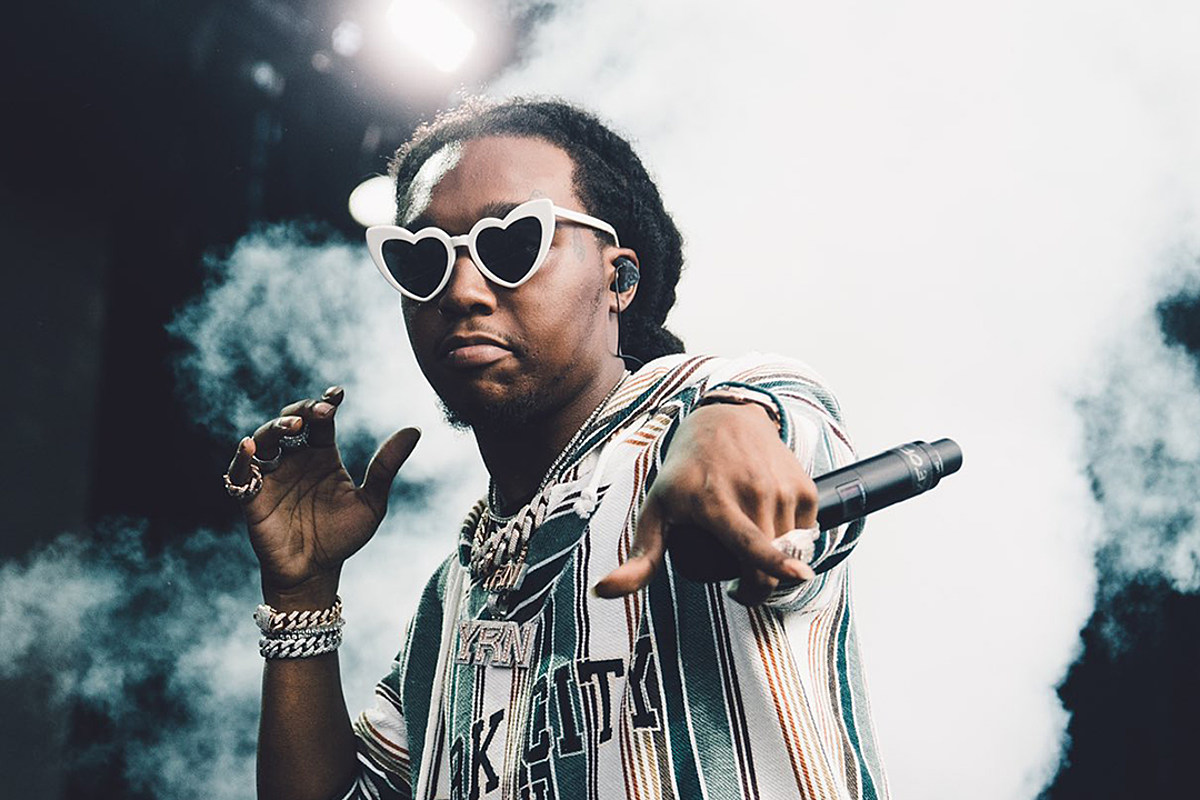 Takeoff was a sleeping giant in the rap game. Every time he hopped on the mic, greatness was actualized. The sphere of his artistry had many layers that play into that, many of which helped shift the sound of hip-hop and redefine what it looks like to be a young legend in this game. And though he's no longer on Earth, his name will forever be etched into hip-hop history.
Takeoff was called to God on Nov. 1, following a post-dice game shooting in Houston where he was allegedly hit with a stray bullet. His passing shook the industry and fans alike, with the entire world mourning his passing. Fellow rappers, athletes, actors, coveted brands and everything in between have been pouring in their condolences over the last week-and-a-half following the tragedy. While it's been hard to both accept and see, it's clear that in his decade-plus of rapping, Takeoff touched millions of spirits around the globe.
The fallen soldier will be remembered for many of his contributions to hip-hop. For starters, he played a pivotal role in the come-up of Migos, stamping himself as the group's most significant voice with an onslaught of double-taking bars and an untouchable flow to match. He also helped the group reach commercial heights, as he stayed in the lab with Quavo once Offset was locked up and got the formula right.
Elsewhere, Takeoff was a walking meme. He was confirmed to be quiet by his family and band members Quavo and Offset, who is Qua's nephew and 'Set's cousin, but his mysteriousness is what made him a favorite in the eyes of the internet. He wasn't the type to be too much in the public eye, rarely doing interviews and playing the role of a spectator on most occasions. But he was indeed a star, challenging the current climate's notion that an act has to play into the public perception at all times. In all actuality, his work on the mic did most of the talking.
As The Last Rocket is on its way to a better place, Takeoff will be laid to rest tomorrow (Nov. 11) at 12 p.m. in his hometown of Atlanta at the State Farm Arena, with doors opening at 11 a.m. According to 11 Alive, tickets to the memorial service for Takeoff were made available to fans via Ticketmaster on Tuesday (Nov. 8) and were sold out the following day as the venue had reached capacity. Tickets were free to Georgia residents who were allowed two per person. A strict no photo or video policy will also be enforced, with devices being placed inside of Yondr bags prior to entering the venue.
Alicia Keys and Justin Beiber are set to perform as well, in what will be a sad day. The day of mourning will also serve as an overall celebration of his life and the things that he accomplished since taking hip-hop by storm in the early 2010s. With that in mind, XXL has given Takeoff his well-deserved flowers and highlighted the very reasons that his name will live on forever. Check out the list below. May he rest in power.
Helped Cement the Migos and Trap Music on a Commercial Level

With mixtapes like No Label II, and as heard in records like "Contraband" and "First 48," Migos established themselves as the new faces of Southern gangsta rap. Their music was burning like wildfire in the streets, taking artists like Drake—who later hopped on "Versace"—by notice in the early 2010s. As their momentum started to balloon, Quavo, Offset and Takeoff were arrested in April of 2015, leaving Set behind bars for months after that.

Migos' debut album, Yung Rich Nation, came out in July of that year and showcased an early formula that made their street music resonate on a mainstream level. Tracks like "Pipe It Up" prove that point. But for some reason, the Migos had to keep striking the iron while it was hot for people to truly catch on.

Around this same time, everyone's role in the group was being further defined. Quavo was ascending as a hook God, adding seasoning to their music in the form of his crooning. And Offset was coming through with more cadences than Devin Miles in Drumline. But with one artistic assassin out of commission, that left Takeoff, known to play an important switch-hitting role, to carry most of the lyrical weight while 'Set was behind bars. Together, Unc and Phew, the newly formed duo that was comprised of Quavo and Takeoff, kept their foot on the gas and released Back to the Bando that fall. The effort was led by tracks like "Trap Problems," "Forrest Whitaker" and "Look at My Dab." All of those mentions contained a refined recipe of fun, catchy trap music that thrived while still allowing them to bar up in the midst and stay true to the concrete jungle that they were raised in.

Their finesse of taking street anthems to pop in this regard later paid off with platinum plaques for tracks like "Stir Fry." All in all, at a pivotal time back in the mid 2010s, Takeoff possessed the "next man up" mentality and put the group on his back at a time when they needed him to shine like the star he was. And that he did, as the youngest member of the group. These days, more artists from the hood are finding commercial success, too, while remaining true to who they are. This notion arguably started here, at least in terms of this generation.

Reinvigorated the Importance of an Elite Ad-Lib

Everyone knows that if done right, ad-libs are cheat codes. When people think of the best in the rap game, a lot of folks rightfully flash to Takeoff's. Take was said to be the quiet type, as confirmed by both Quavo and Offset. But his ad-libs would always find a way to pierce through the speaker, whether he was emphasizing his own verse or that of his group members. His most notable extempore moments are "Momma!" ("Fight Night"), "Splash!" ("Narcos") and even his growls, heard in records like "Avalanche."

Takeoff's ad-libs were so potent that they could stand on an instrumental alone and still create what feels like a full, head-cracking anthem. His gruff tone that he used to get them off also added to the emphasis that they've always created off rip. As a group that was influenced by the iconic supporting vocals of James Brown, Migos' ad-libs have always been in a lane of their own and that bar was arguably set by Takeoff.

Proved That an Inimitable Voice Is a Cheat Code in Music

When it comes to star power, certain things can't be taught and fabricated. Not someone's voice, though, which is one of the most significant attributes when it comes to musicians. Takeoff had one of the most notable rap voices in hip-hop history. It was husky, raspy and serrated, creating a holy trinity of elements that separated him from a group that thrived through their cohesiveness.

It didn't matter if the record leaned more towards introspective hymns or straight gutter smashes, Take's tone and pitch inflections created euphonious experiences whenever he hopped on a mic. It helped that once fans zeroed in on the lyrics, the substance matched the impact of his delivery. Takeoff's first and only solo album, The Last Rocket (2018), spoke to this notion, with records like "Casper" living as a glaring gem in his catalog.

Stood Tall as the "Secret Weapon" of the Migos

The three-headed dragon of Migos has been known over the last decade for creating fire. Each member contributed their own set of elements that played into the collective vision. Quavo was the melodic-based hook God. Offset was the king of cadences. And Takeoff was the introspective poet out of the three. Takeoff took pride in hitting people with bars, studying greats like Tupac Shakur and The Notorious B.I.G. as he was coming up. His love for those legends bled through in Take's commitment to substance.

For that reason, and keeping in mind that he was able to add a deep layer of depth to tracks that were used for people's amusement, Take was stamped as the secret weapon of the group. In fact, both Quavo and Offset agreed that he was the best Migo. "In my opinion, he the best one out of all of us," Quavo said during a 2018 interview with Ebro on Apple Music's Beats 1 Radio show. "I fuck with the North side, and that's the first thing they say," Offset added during the sit down.

Introduced the Iconic Migos Flow

This Migos flow is truly something serious. The cadences hail from an elite era of the triplet flow, previously popularized by other legendary rap groups like Three 6 Mafia and Bone Thugs-n-Harmony . Apparently, back in the day, Takeoff was the one to put the group onto that coveted delivery. ""He just played a song one day, and the flow was there. It was the triplets, and everyone went, what?," said Ray G, a Georgia native who used to run with the Migos in the early days, to The Guardian. That triplet flow was on full display in the group's breakthrough record "Versace" (also borrowed by Drake in that same instance) and it never left their arsenals.

Elsewhere, other acts such as Young Thug ("Get High"), Desiigner ("Panda"), 21 Savage ("Bank Account"), Kendrick Lamar ("DNA") and Chance The Rapper ("All We Got") have used the triplet flow in recent times. With that in mind, legends like Snoop Dogg have taken note as well. On Snoop's GGN talk show in 2014, he noted the sound's dominance in the music industry, saying, "Everybody's trying to rap with the same style. I don't know who created it, if it's Migos or Future, but all them niggas sound the same." Snoop added, "It's addictive, that shit will get you." It got the world for sure, so shout-out to Takeoff for his role in that. He helped make triplets and trap a match made in heaven.

Defied the Expected Publicity of an Artist

Rap stars these days are always in the public. Outside of things like interviews, social media allows artists to stay in front of and in touch with the masses, to the point where it's an unsaid requirement. Some acts that have been brewing for over a decade such as Kendrick Lamar and J. Cole can afford to stay quiet as kept. But they're rarities in that instance. So was Takeoff, who purposely kept himself out of the way. Even in interviews, he didn't talk much.

In a 2018 cover story with XXL featuring Migos, Takeoff noted that his distance was in fact intentional. "I'm the only one in the group that don't say too much, just to keep it low-key," he said. "You don't really know too much about me. Can't just give them the whole pot. I give it piece by piece and they want more—they want to hear from you."

Offset spoke on this in another 2018 story with Rolling Stone, explaining that Takeoff's silence was also his cheat code. "He is outspoken with the people he fuck with, he love, but he quiet to everyone else," Offset said. "He analyze a lot, that's why I think his raps be so strong." A star who rarely does press or offers a constant glimpse into their personality and personal life is slick unheard of these days. That was Takeoff, though, in his own lane per usual.

Was a Natural-Bred Viral Sensation

Rappers, record labels and camps alike implement plans to go viral every day. Takeoff had that ability naturally, thanks to his enigmatic yet charismatic personality. In many flashing moments throughout his decade-plus in the game, Takeoff was captured simply being himself. And those video clips, whether from interviews or through the lens of a spectator, created so many surefire moments on the internet. There are just some star qualities that can't be forced. So it's worth noting that Takeoff was a walking meme, effortlessly.