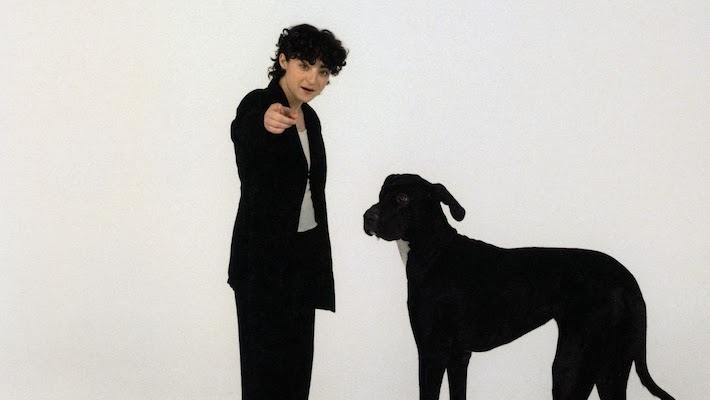 After becoming the first artist to signed to Phoebe Bridgers' label imprint Saddest Factory Records, Claud's music has taken them to some pretty cool places. They've shared the stage with the likes of Paramore, Bleachers, and boygenius, and with their latest album Supermodels, they even got the chance to film a video with Paul Rudd.
While unexpected, Rudd's cameo didn't come from nowhere. Supermodels, which dropped in July as Claud's second full-length release, features a song named after the actor. As a self-described shy person, Claud sings of attempting to emulate the kind of suave confidence his on-screen characters tend to project.
Like "Paul Rudd," many of the songs on Supermodels seem torn straight from a page in Claud's diary. The album tackles breakups, makeups, and relatable mid-20s identity crises. It pulls you in with lyrics about arguing at a bar about Regina Spektor or comparing yourself to photos of supermodels. Sweet, tender moments like the acoustic-driven ballad "Crumbs" or the earnest number "Every F*cking Time" add contrast to some of the album's more blown-out indie pop numbers like "A Good Thing" and "Wet."
To celebrate the release of Supermodels, Claud sits down with Uproxx to talk gender affirming health care, Justin Bieber, and burping the ABC's in our latest Q&A.
What are four words you would use to describe your music?
Yearning, mushy, gay, pointless.
It's 2050 and the world hasn't ended and people are still listening to your music. How would you like it to be remembered?
I hope people remember my music as something that helped them come a little closer to figuring themselves out.
Who's the person who has most inspired your work, and why?
It's hard to pick just one person.
Where did you eat the best meal of your life and what was it?
My grandma's holiday dinners are the greatest.
Tell us about the best concert you've ever attended.
Big Thief at a tiny venue in Ithaca, NY.
What song never fails to make you emotional?
"Basically" by STRFKR.
What's the last thing you Googled?
"Paris to London train."
Where's the weirdest place you've ever crashed while on tour?
One time I slept underneath the desk in a hotel room because there were six or seven people in one room.
What's your favorite city in the world to perform and what's the city you hope to perform in for the first time?
My favorite city to perform in is Chicago because I grew up there, and the place I hope to perform in for the first time is Tokyo.
What's one piece of advice you'd go back in time to give to your 18-year-old self?
Ask people more questions.
What's one of your hidden talents?
I can burp the ABCs.
If you had a million dollars to donate to charity, what cause would you support and why?
Accessible gender affirming health care because it is crucial and can save a lot of lives.
What are your thoughts about AI and the future of music?
I don't really know anything about AI, I'm a little afraid of it so I haven't looked too much into it. Like all technology, I'm sure it will take away jobs from musicians but hopefully people will understand the value of artists and musicianship.
You are throwing a music festival. Give us the dream lineup of 5 artists that will perform with you and the location it would be held.
The dream location of my hypothetical music festival is on a beach off of Lake Michigan in or near Chicago. Five artists playing would be a Jack Antonoff solo set.
Who's your favorite person to follow on Twitter, Instagram, or TikTok?
Grace Kuhlenschmidt is my favorite person to follow on the internet.
What's the story behind your first or favorite tattoo?
My first tattoo is an outline of a piece of toast that I have matching with my friend Josh Mehling. We got it when we created our duo "Toast" in 2018.
What is your pre-show ritual?
Before every show, my band and I put our hands together and on the count of three yell "gay!"
Who was your first celebrity crush?
My first celebrity crush was Justin Bieber, obviously.
You have a month off and the resources to take a dream vacation. Where are you going and who is coming with you?
All of my friends are flying first class to Porto, Portugal and staying on the beach.
What is your biggest fear?
My biggest fear is missing an important family event.
Supermodels is out now via Saddest Factory Records. Find more information here.