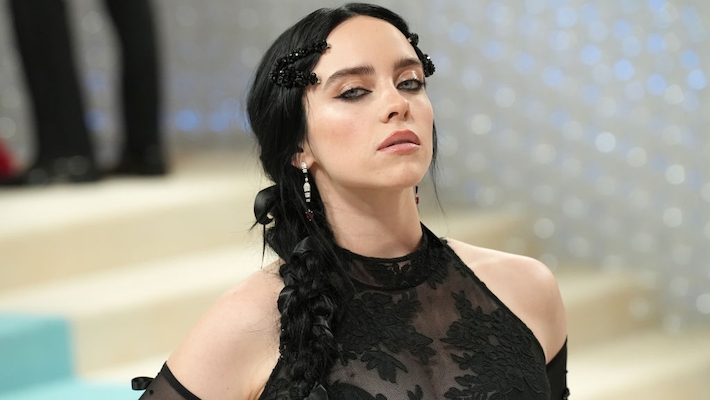 Billie Eilish recently posted an Instagram carousel, and it attracted over 2.3 million likes in seven hours. What else is new? Well, one thing that's new is the back tattoo she revealed. In the carousel's fourth photo, a topless Eilish is seen with very fresh ink from her neck's nape to her back's base. This reveal comes roughly four months after she sort of debuted a long-talked-about chest tattoo.
On October 18, 2021, for the fifth installment of her annual Vanity Fair "Same Interview," Eilish confirmed she had three tattoos and said, "I love tattoos. My mom has her hands on her head. […] My mom hates tattoos. No, I'm not gonna be all tatted up, but I have some more ideas."
Below are the tattoo ideas Eilish has made permanent so far.
"Eilish"
In the 2020 version of Eilish's Vanity Fair "Same Interview," she said, "I did get a tattoo, but you won't ever see it." In the 2021 iteration of the chat, Eilish shared that the hidden tattoo was "Eilish" inked somewhere on her chest. This June, the fourth photo in Annabel Zimmer's Instagram carousel gave a very abstract glimpse of it in the middle of her chest, made impossible to 100% decipher because of Eilish's bikini top.
Black Dragon
Eilish covered the June 2021 issue of British Vogue. The cover spread included a photo displaying a very large tattoo on Eilish's right thigh.
As the cover star for Rolling Stone's July/August 2021 issue, writer Brittany Spanos explained, "Eilish describes her life as 'normal as hell,' and at times, it is. She's watching Twilight. Going on first dates again, as discreetly as possible. Getting first tattoos (she got a giant black dragon on her right thigh in November [2020] and 'Eilish,' in an ornate, gothic font, in the middle of her chest the day after the 2020 Grammys)."
"Sweet Little Guardian Angel Fairies"
Again, we reference Eilish's 2021 "Same Interview." Around the 17-minute mark, Eilish explained, "I just got this a few weeks ago, which is some fairies that are from a book that I had growing up. A little fairy book called Fairyopolis. They're like my little guardian angel fairies."
As captured by Insider, Eilish's hand and wrist tattoo partially poked out of her sleeve while walking the red carpet at the No Time To Die world premiere in London on September 28, 2021. Shortly after her October 18, 2021 filming with Vanity Fair, Eilish posted a full photo of the hand tattoo to her Instagram Story in response to a follower's question about her favorite tattoo.
Back Tattoo
Following the same script as the fairies tattoo, Eilish gave her newest tattoo a soft launch. On September 20, Eilish posted an Instagram photo showing the tippy top of her back tattoo. We could only see an unidentifiable design on the skin between her hairline and her shirt's collar. On Wednesday, October 18, Eilish posted a photo of her bare back entirely covered down her spine. The design is still indistinguishable, but Eilish also posted to her Instagram Story that she was on set with Vanity Fair earlier today to film her seventh annual "Same Interview," so we'll almost certainly get a proper description soon enough.