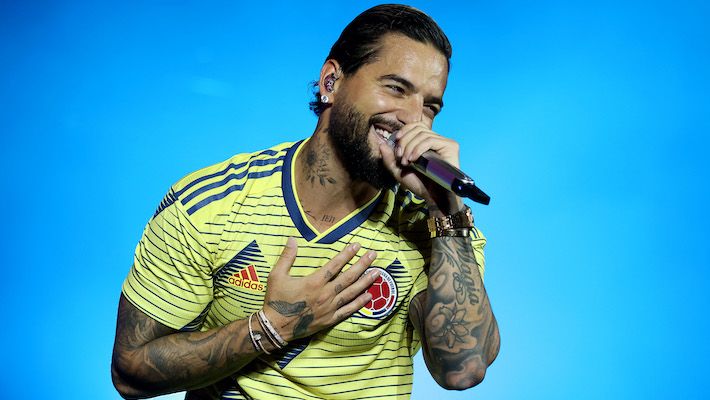 Maluma released his Don Juan album on August 25. One of its 25 tracks is "Trofeo" featuring Yandel, and Maluma described the song's accompanying video as "a tribute to the greatest," Lionel Messi, who made a blockbuster move to Major League Soccer's Inter Miami CF in July.
Maluma's Don Juan World Tour will go out with a bang in Miami on November 4 and 5. Depending on if Inter Miami makes the playoffs, Messi could be free to join his pal Maluma on stage at one of those dates, and if he is available, it should actually be mandated that Messi be present when Maluma performs "Trofeo."
The Don Juan World Tour began on August 31 in Sacramento, California and has since visited Portland, Oregon (on September 2), Seattle, Washington (September 3), and San Jose, California (September 6). Next up is Los Angeles on Saturday, September 9.
Below, study up on the rest of Maluma's tour setlist (as chronicled on setlist.fm from the Seattle show).
1. "COCO LOCO"
2. "Corazón"
3. "Tá OK" (Remix)
4. "Vente Pa' Ca" (Ricky Martin cover)
5. "Chantaje" (Shakira and Maluma cover)
6. "HP"
7. "Mala Mía"
8. "Junio"
9 . "Hawái"
10. "Felices Los 4"
11. "Felices Los 4 (Salsa)"
12. "Según Quién (Carin Leon)"
13. "Sobrio"
14. "11 PM"
15."La Temperatura"
16. "Carnaval"
17. "La Fórmula" Feat. Marc Anthony
18. "Borro Cassette"
19. "Nos Comemos Vivos" Feat. Chencho Corleone
20. "Madrid"
21. "Que Más Pues (Remix)"
22. "X (Remix)"
23. "Party Animal" (Charly Black cover)
24. "Mi Niña (Remix)"
25. "El Perdedor"
26. "Parce"
27. "FRESH KERIAS" (Feid cover)
28. "PORFA" (Feid cover)
29. "Ya No Es Niña"
30. "Mojando Asientos"
31. "La Playa" (Myke Towers cover)
32. "Djadja" (Aya Nakamura cover)
33. "Trofeo" Feat. Yandel
34. "Cuatro Babys"