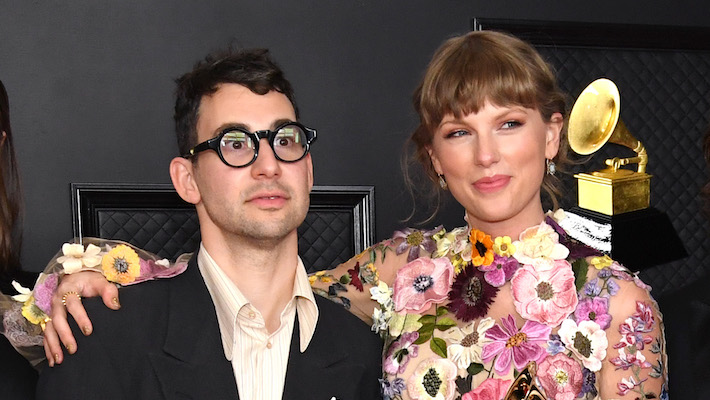 1989 (Taylor's Version) will be her latest re-recorded release on October 27, arriving precisely nine years after her 2014 Grammy-winning 1989 album. The premise of Taylor Swift's quest to re-record her first six albums is her determination to reclaim full ownership of her masters sold to Scooter Braun in 2019. But that does not mean she's going it totally alone.
The original 1989 was the first Swift record with production from Jack Antonoff, now her closest collaborator. Though 1989 was co-executive produced by Swift and Max Martin, Antonoff was a credited producer and co-writer on "I Wish You Would," "Out Of The Woods," and "You Are In Love."
The only thing more shocking than Swift dating Travis Kelce would be if Antonoff wasn't involved in 1989 (Taylor's Version). Antonoff is a credited producer on April 2021's Fearless (Taylor's Version), November 2021's Red (Taylor's Version), and this July's Speak Now (Taylor's Version), despite being absent from all three of those albums' original versions. Christopher Rowe has also produced all three of Swift's re-recorded albums to this point.
In addition to Antonoff and Martin, the original 1989 co-producers were Ali Payami, Imogen Heap, Mattman & Robin, Nathan Chapman, Noel Zancanella, Ryan Tedder, Shellback, and Swift (per Genius). Tedder is the only one to have explicitly confirmed his involvement with 1989 (Taylor's Version).
"I don't know a damn thing," Tedder said on 104.3 MYfm's Valentine In The Morning, only willing to state he was involved with the re-recording process and enjoyed it. "I found out when it was happening just the same time everybody else did, which was when she posted on Twitter or whatever. […] My manager was like, 'That's gonna be a big day!' And I was like, 'Yeah! That's gonna be a big day.' I might take that day off. I might just go get some fish tacos and, like, hang out by the beach."
Tedder co-produced "Welcome To New York" and "I Know Places" with Swift and Zancanella.
1989 (Taylor's Version) is out 10/27 via Republic Records. Find more information here.