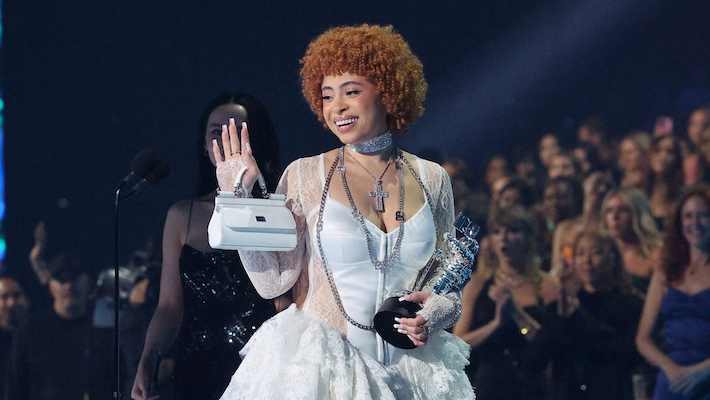 Throughout the past week, some of the biggest artists have taken over various television shows to deliver incredible performances. Some of those might have been missed in the day-to-day shuffle, so continue scrolling for a roundup of some of this week's best.
Ice Spice
Over the weekend, Ice Spice appeared as the musical guest for Saturday Night Live's return episode. Not only was Pete Davidson the host, but she was also introduced by none other than her "Karma" collaborator, Taylor Swift. The Bronx rapper went on to perform "In Ha Mood" and her latest single, "Pretty Girl," with Rema.
Kelly Clarkson
Although Kelly Clarkson has her own show, that doesn't stop her from popping up on other ones. She dropped by The Tonight Show Starring Jimmy Fallon to deliver a mesmerizing "Lighthouse" performance, from her recent album, Chemistry.
Raye
Raye was also among The Tonight Show musical guests this past week, as she had to cancel a concert to take the opportunity. Her debut album, My 21st Century Blues, dropped earlier this year, and she played a mashup of her hit, "Escapism," and "Worth It."
Wilco
Over at Jimmy Kimmel Live!, Wilco dropped by to play "Evicted," bringing the chill, psychedelic vibes to the excited crowd. The track is featured on the band's new album, Cousin.
Måneskin
Måneskin honored the upcoming deluxe version of their album, Rush!, by also joining Jimmy Kimmel's musical lineup this past week. They played one of the additions, "Honey (Are U Coming)."
Metric
Moving over to The Late Show With Stephen Colbert, Metric performed "Just The Once" from their forthcoming Formentera II album.
Lovejoy
Lovejoy's "Call Me What You Like" rendition aired on The Late Show this past week. While the video wasn't live, as it was filmed in Poland earlier this year, it still gives new viewers an introduction to the band — as they rock out under blue lighting.
Some artists covered here are Warner Music artists. Uproxx is an independent subsidiary of Warner Music Group.