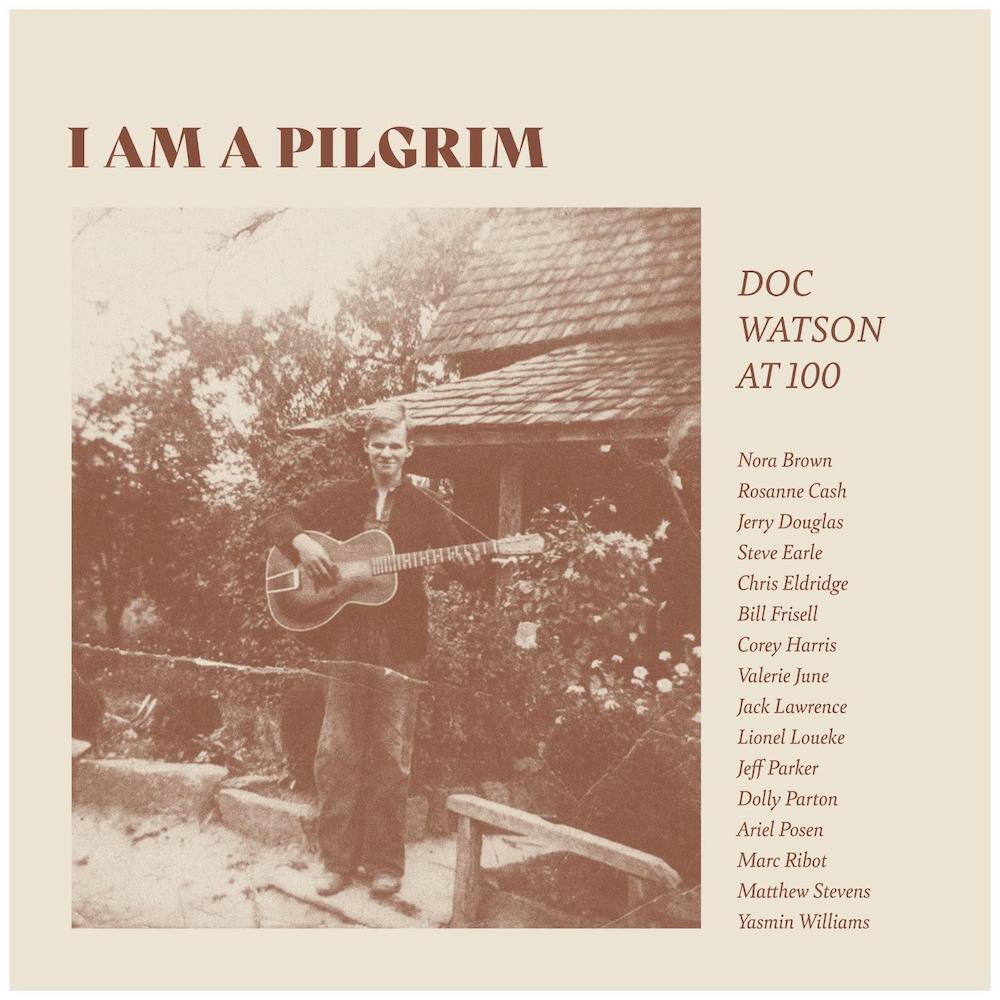 In celebration of what would have been guitarist and folk singer Doc Watson's 100th birthday, a new covers compilation is coming in April called I Am A Pilgrim: Doc Watson At 100. The stacked compilation features contributions from the following artists: Jerry Douglas, Dolly Parton, Nora Brown, Jeff Parker and Matthew Stevens, Steve Earle, Rosanne Cash, Jack Lawrence, Corey Harris, Ariel Posen, Valerie June and Bill Frisell, Yasmin Williams, Chris Eldridge, Lionel Loueke, and Marc Ribot. Today, we get to hear Dolly Parton's rendition of "The Last Thing On My Mind."
"Doc Watson is everyone's hero and a great guitar player. Some say he is the absolute best, and I was honored to get to work with him a few times in my career," says Dolly Parton of Watson (who died in 2012) and "The Last Thing On My Mind," which was written by Tom Paxton in the early 1960s. Though it was a staple of Watson's catalog, "The Last Thing On My Mind" was also part of Parton's repertoire; she released a recording of it in 1967 with Porter Wagoner, and Watson and Parton performed it together in 2001 at MerleFest.
Listen to Parton singing "The Last Thing On My Mind" below.
TRACKLIST:
01 "Shady Grove" – Jerry Douglas
02 "The Last Thing On My Mind" – Dolly Parton
03 "Am I Born To Die" – Nora Brown
04 "Alberta" – Jeff Parker & Matthew Stevens
05 "Make Me A Pallet" – Steve Earle
06 "I Am A Pilgrim" – Rosanne Cash
07 "Florida Blues" – Jack Lawrence
08 "How Long Blues" – Corey Harris
09 "Will The Circle Be Unbroken" – Ariel Posen
10 "Handsome Molly" – Valerie June & Bill Frisell
11 "Doc's Guitar" – Yasmin Williams
12 "Little Sadie" – Chris Eldridge
13 "Reuben's Train" – Lionel Loueke
14 "The Lost Soul" – Marc Ribot
15 "Your Lone Journey" – Bill Frisell
I Am A Pilgrim: Doc Watson At 100 will be out 4/28 via FLi Records/Budde Music.