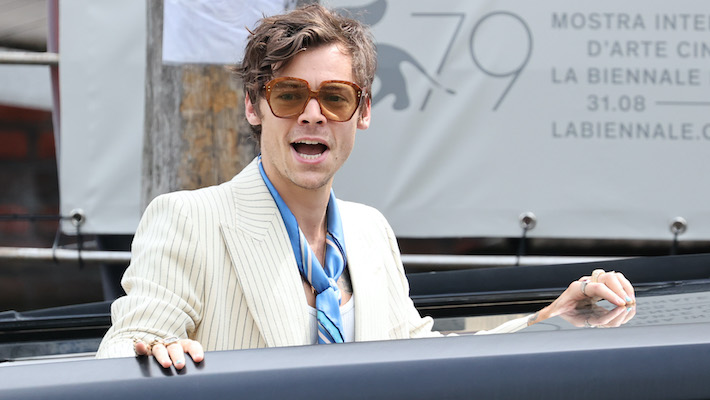 Harry Styles can do whatever he wants… except shave his head, it would seem. That sentiment is presumably at the top of the agenda for this month's meeting of the Harry Styles Fan Club, considering how many people were distraught when Styles incidentally debuted a buzzcut while watching U2 perform at the Las Vegas Sphere last week. A video of Styles and his rumored girlfriend Taylor Russell (and his shocking lack of hair) were captured by TMZ, setting off an internet firestorm.
This week, Pleasing, Styles' beauty and apparel brand, hard-launched his buzzcut by posting a portrait (taken by Lloyd Wakefield) to Instagram alongside the caption, "Our Founder, Harry Styles, toasts the launch of Pleasing Fragrance with friends in London. November, 2023." And this morning, November 17, Styles' mother, Anne Twist, chimed in with an Instagram post of her own.
"When you consider that H has a legacy of kindness and inclusion, has always made every effort to make everyone feel seen and appreciated for exactly who they are … there's an irony in the negativity he's been shown for having a haircut," Twist captioned the same portrait from Pleasing's Instagram. "Sorry but I don't get it [shrugging emoji] #TPWK [Treat People With Kindness]."
The second slide of Twist's Instagram carousel shows off her impeccable photoshopping skills, as she clipped this New York Post headline and sarcastically reframed it. The original headline reads, "Harry Styles fans shocked over shaved head reveal: 'Ruined my entire life.'" Twist hilariously wrote above it, "Let's uncrap that," with three doodle arrows pointed toward Twist's reinvented headline of, "Breaking news: It's hair! It's his! Also it will grow back. If he wants."
Suddenly, there's legitimate reason to wonder whether Styles really is the most creatively prolific person in his family.