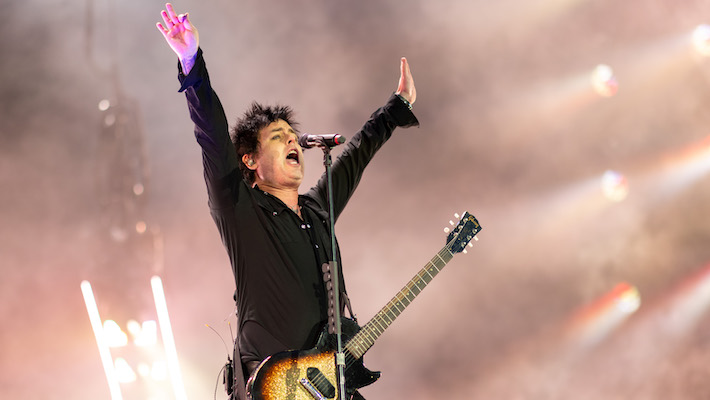 It's been a wild week for mugshots, as both Rudy Giuliani and Trump's have both surfaced.
Because of this, Green Day decided to get in on the joke — never one to shy away from political statements. Taking a more comedic tone on it all, the band replaced their classic Nimrod cover with Trump's mugshot behind the word instead.
Fans can now buy the shirts, as the band revealed on Instagram. And they're going to a good cause in the wake of other recent news. n
"Good Riddance. The ultimate Nimrod shirt is available for 72 hours only. Limited edition shirt proceeds will be donated to T̶h̶e̶ ̶G̶i̶u̶l̶i̶a̶n̶i̶ ̶L̶e̶g̶a̶l̶ ̶D̶e̶f̶e̶n̶s̶e̶ ̶F̶u̶n̶d̶ [crossed out] @greatergoodmusiccharity, which brings food to those affected by the Maui wildfires," they captioned.
However, despite the band literally having an album called American Idiot, people in the replies were (somehow) surprised by the move. "Stay out of politics Green Day," one user wrote.
Meanwhile, fans had thoughts as well. "Everyone in the comments shocked that Green Day dislikes Trump," another person added, in response to the comments that were against the move.
Check out Green Day's post above.
Green Day is a Warner Music artist. Uproxx is an independent subsidiary of Warner Music Group.