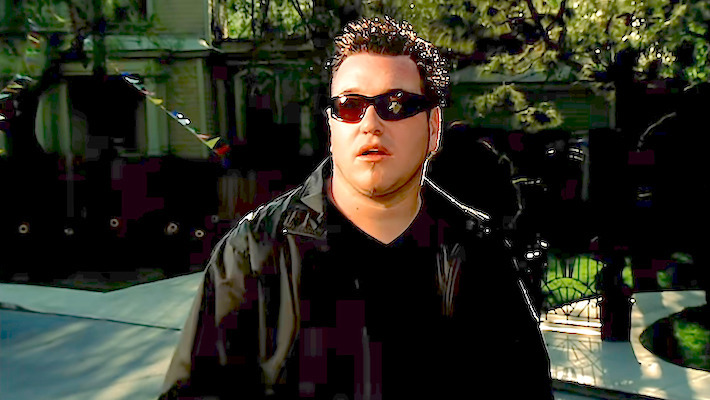 Steve Harwell died at 56 years old on Monday, September 4, while "surrounded by family and friends," according to a statement distributed to various publications by Smash Mouth's manager, Robert Hayes. The band's co-founder and former lead singer had "reached the final stage of liver failure" and was "in hospice at home," as TMZ reported the day before his passing.
Eve 6's X (formerly known as Twitter) account was among the first to honor Harwell after the news broke on Monday, writing in a since-deleted post, "RIP Steve Harwell. You brought a lotta joy to a lotta people. You were so much more than a meme."
Eve 6's Max Collins expounded on that with a lengthy Patreon post on Wednesday, September 6. He posted to X, "I wrote about Steve Harwell, Smash Mouth, and alcoholism. RIP to a legend. Edited by @lukeoneil47." Another post stated, "It's important to me that people remember their best song."
The Patreon post is titled, "Walkin' On The Sun," the same title as Smash Mouth's standout track from their 1997 debut album, Fush Yu Mang. Most people, including Kim Kardashian, peg 1999's "All Star" as Smash Mouth's best song, but Collins explained the reasoning behind his choice.
"The power of a great pop song is such that it grabs you by the sleeve and says 'you're coming with me. Whatever you were just thinking or worrying about is no longer your concern. You're in my dream now, b*tch,'" he wrote. "I maintain that 'Walkin On The Sun' is a perfect pop song, but even more importantly it's a perfect pop song recording. Every production element impeccably forged for maximum entertainment value."
The post then delves into having empathy for Harwell's reported years-long battle with alcoholism, which we've excerpted below:
"He was a founding member and had ownership of the band and couldn't as such be fired. A week or so later though he announced that he was leaving and I was hopeful that he would be able to get clean.

Not to be.

Alcoholism is a gnarly f*cking disease. A slow, remorseless killer. And it also has the distinction of being totally socially acceptable and incentivized by our culture. A steady stream of messaging that begins in adolescence, and changes in form as we age up, but the content remains the same: You are a loser if you don't get wasted. Being drunk is living. You want to live don't you? Enough people have reached out to tell me they've been helped by my talking about this stuff for me to think it worthwhile to briefly drop my experience here even if it scans to some as a 'making it about you' moment. I was extremely lucky in that I was able to become miserable enough at 26 to be willing to try the thing that scared me most which was living without alcohol."
Harwell announced his retirement from music in October 2021. He confirmed to TMZ that he could no longer perform through his "health challenges."
The outlet additionally reported, "We're told he was diagnosed with cardiomyopathy eight years ago, which has led to other medical setbacks like heart failure and Wernicke's encephalopathy … a condition that impacts his motor functions, including speech and memory. He's also battled substance abuse over the years, which is further contributing to his health crisis."