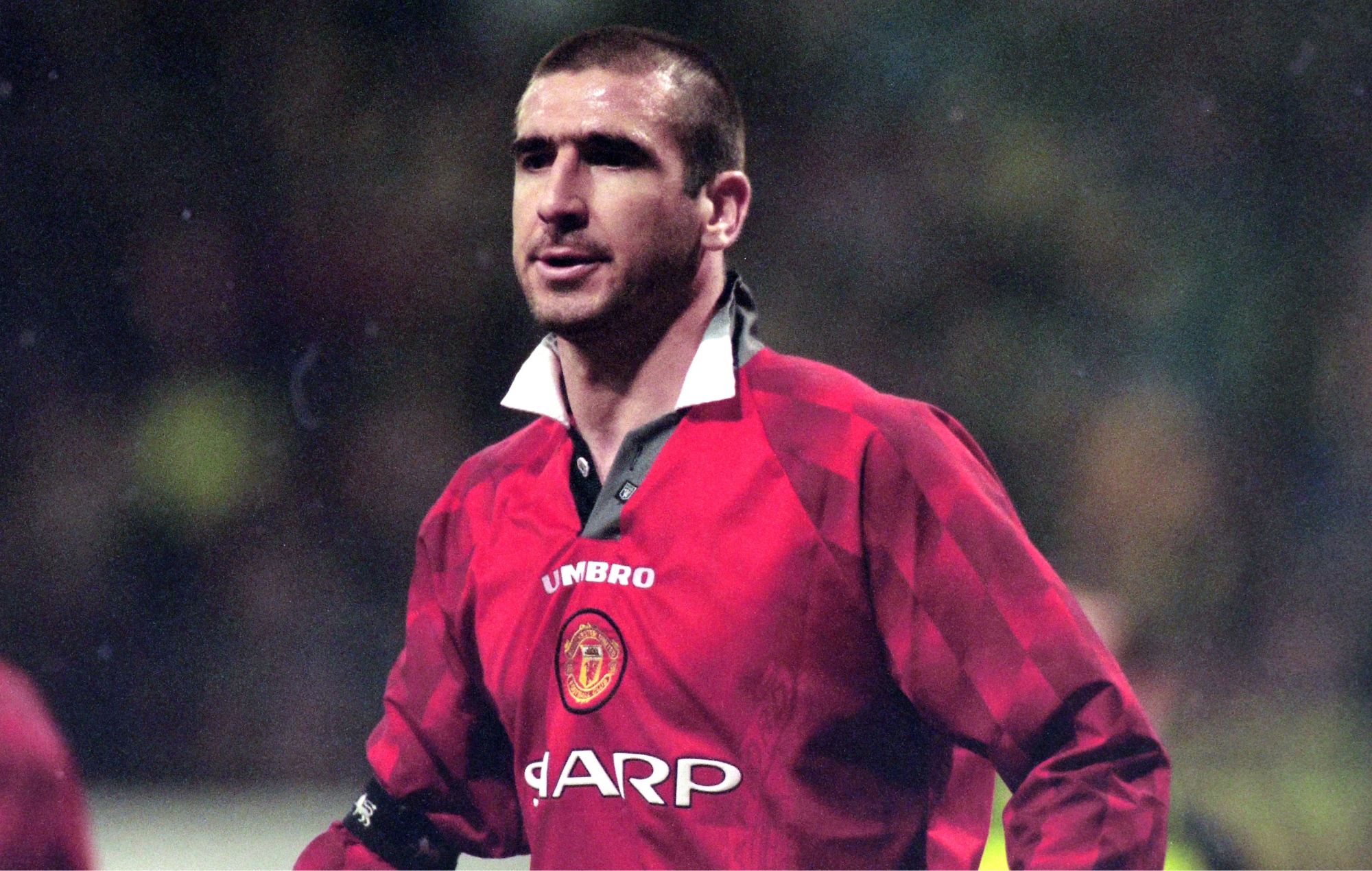 Eric Cantona has described his newly launched music career as being the "closest thing" that comes to his time on the football pitch.
The retired Manchester United legend discussed the new route in light of his upcoming debut EP, 'I'll Make My Own Heaven' – a four-track release set to arrive next Friday (October 20).
He first teased a career in music earlier this year via a post on Instagram, which shared a preview of the music video for his lead single, 'The Friends We Lost'. The clip showed him in a Shakespearean pose, holding a model of his own head and singing: "Watch yourself in the mirror – someone you hate, someone you love."
Now, with the EP set to arrive next week, he has described the new venture as the next best thing from being on the football pitch.
"If you have a dream it should be a big dream. I've done sport, cinema, but I think after sport the closest thing is singing live on stage," he is quoted as saying by the Daily Star's Wired column (via Music News). "I did the live shows first. After people came they were like, 'You should release one or two pieces'.
"When I was young, all the albums I bought were live albums. There is an energy and imperfection, there are accidents that can be beautiful – hopefully not too many accidents."
The French athlete-turned-singer previously told the Irish Times that the new tracks were inspired by artists including "Nick Cave, Leonard Cohen and Daniel Johnston", as well as the classic rock icons he listened to when he was a child.
As well as releasing the four tracks, Cantona will also be embarking on a select number of live shows later this month. Set to kick off on October 26, the four UK shows will start with two back-to-back nights at the Stoller Hall in Manchester, and will include with two shows at London's Bloomsbury Theatre (October 28 – 29). A show at Dublin's Liberty Hall is also set for October 31, and you can find any remaining tickets to all dates here.
Elsewhere in the interview, the singer and football star also showed his disdain for social media, and shared his hopes for people to keep their phones in their pockets at his forthcoming live dates.
"There are drugs, there are alcohol and today, there are social networks. We need to realise that… Maybe I come across as an old fool, but I don't care," he said, giving an example of when he saw a couple not look up from their phones once during a train journey from Paris to Avignon.
"They didn't see one village they passed, not one prairie or animal running in the fields, not one bird, not one person who was working. These guys were on Instagram looking at rubbish," he explained. "The more we advance, the less room for silence in the media. It's very important to be bored. Boredom is important to feed the imagination."
While the upcoming EP will be the first official music to be released by the Manchester United star, it isn't the first time that he has openly shown his love of music.
Back at the beginning of 2020, Cantona took the starring role in the video for Liam Gallagher's song, 'Once'. The footage saw the cult football hero living up to his nickname – The King. His appearance in the music video came after he uploaded a video of himself singing along to the track by the former Oasis frontman, and hailed the song to be his favourite of 2019.
The year prior, he also joined The Libertines and Patti Smith on stage at a benefit concert for Palestine.