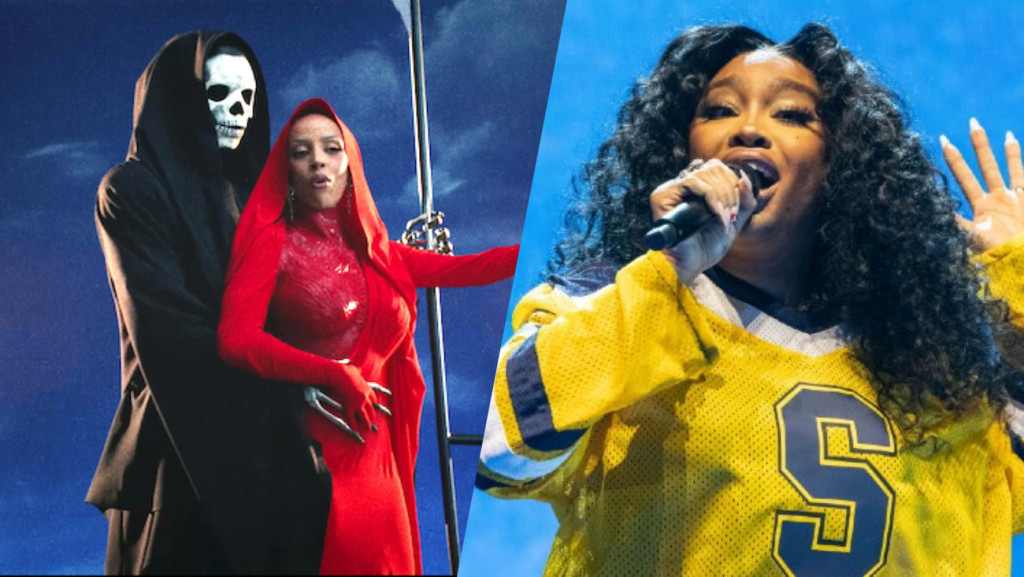 Every Monday, Billboard unveils the top 10 songs on the latest Hot 100 chart. The most recent rankings, for the chart dated October 7, are out now, so let's run down who had this week's biggest hits.
10. Dua Lipa — "Dance The Night"
Lipa may have moved on to new movie project (the Argylle trailer just dropped last week), but her Barbie hit still has legs as it rounds out this week's top 10.
9. Rema and Selena Gomez — "Calm Down"
Rema and Selena find themselves back in the top 10 this week after spending last week at No. 11. The song is also killing it on the US Afrobeats chart, where it's No. 1 for a record-extending 57th week.
8. Gunna — "F*kumean"
In addition to "F*kumean" sticking around in the top 10, Gunna also recently put on a heck of a show at Brooklyn's Barclays Center, as Uproxx's Wongo Okon notes.
7. Olivia Rodrigo — "Vampire"
After returning to No. 1 recently, "Vampire" is sitting comfortably at No. 7, the same position as last week.
6. Morgan Wallen — "Last Night"
"Last Night" just won't go away: It was No. 8 last week, but now the 16-week No. 1 hit rises slightly to No. 6.
5. Zach Bryan — "I Remember Everything" Feat. Kacey Musgraves
After debuting at No. 1 four weeks ago, Bryan and Musgraves hold steady at No. 5, while the song is No. 1 on the Hot Rock & Alternative Songs and Hot Rock Songs charts for a fifth week.
4. Taylor Swift — "Cruel Summer"
After reaching as high as No. 3 and living at No. 6 last week, Swift's "Cruel Summer" returns to the top 5 at No. 4, which is pretty good for a song that originally came out in 2019.
3. Luke Combs — "Fast Car"
Combs' Tracy Chapman cover continues to be a consistent top-10 presence on the Hot 100 as it spends its second week at No. 1 on the Hot Country Songs chart.
2. SZA — "Snooze"
"Snooze" was No. 3 last week, and while it didn't claim the top spot, it did reach a new high at No. 2 this week.
1. Doja Cat — "Paint The Town Red"
"Paint The Town Red" previously spent a single week back at No. 1, but after a spell away, the song is back on top, making it Doja's first song to spend multiple weeks at No. 1.
Some artists covered here are Warner Music artists. Uproxx is an independent subsidiary of Warner Music Group.