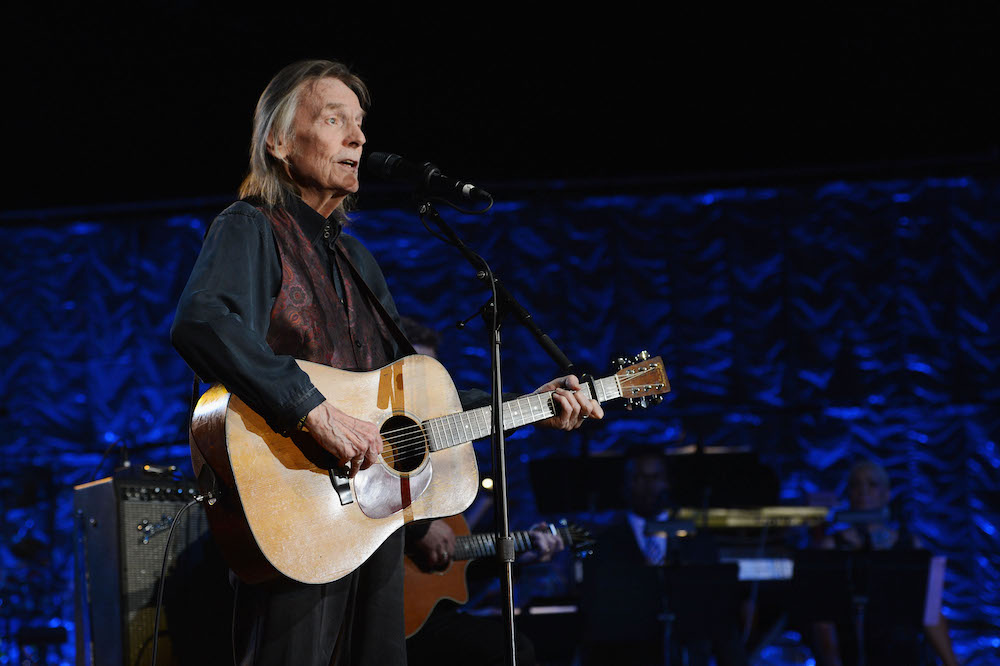 Gordon Lightfoot, the Canadian folk and country icon, has died. The news was confirmed by Lightfoot's publicist, Victoria Lord, and first reported by CBC. Known as one of Canada's greatest songwriters, Gordon Lightfoot climbed the US charts with hits such as 1970's "If You Could Read My Mind," 1974's "Sundown" and "Carefree Highway," 1975's "Rainy Day People," and 1976's "The Wreck Of The Edmund Fitzgerald." He was 84.
Born in Orillia, Ontario in 1938, Lightfoot started singing as a child in church. As a teenager, he learned piano and taught himself how to play percussion. His first live appearance was at 12 when he performed at Massey Hall in Toronto after winning a local contest. When his voice changed (Lightfoot was a soprano), he taught himself guitar and began performing with a barbershop quartet, as well as a folk group called the Teen Timers.
In 1958, Lightfoot moved to California to study jazz composition and orchestration at Westlake College Of Music. To support himself, he wrote commercial jingles and sang on demo recordings. After living in Los Angeles, Lightfoot moved back to Canada in 1960. He performed with the Singin' Swingin' Eight, a group featured on CBC TV's Country Hoedown, and formed a duo with Terry Whalen called the Two Tones. He was also a fixture at Toronto coffee houses.
In the '60s, Lightfoot moved to the UK, where he hosted a BBC-TV series The Country & Western Show. He was also playing some solo dates and had scored a regional hit in Canada with the single "Remember Me (I'm the One)." In 1963, Lightfoot discovered Bob Dylan and started to evolve his own musical approach. Canadian folk duo Ian & Sylvia Tyson heard some of Lightfoot's new material and added his songs to their repertoire. The duo also introduced Lightfoot to their manager, Albert Grossman.
Around this time, major artists such as Peter, Paul & Mary and Marty Robbins began recording Lightfoot's material. In 1966, Lightfoot signed a recording contract with United Artists Records, and his first solo album — Lightfoot! — did reasonably well. Lightfoot recorded three more albums between 1967 and 1969, becoming a star in Canada, where he began headlining annually at Massey Hall.
In 1970, Lightfoot signed a new record deal with Reprise and released the album Sit Down Young Stranger, which hosted his first US hit, "If You Could Read My Mind." In 1971, he released another album, Summer Side Of Life, which was followed by two more albums in 1972: Don Quixote and Old Dan's Records.
In the mid-'70s, Lightfoot was diagnosed with Bell's Palsy and was forced to cut back on his touring. He returned in 1974 with the album Sundown, which featured the #1 hit title track and "Carefree Highway." Later, albums like 1976's Summertime Dream included the hit track "The Wreck Of The Edmund Fitzgerald," and 1975's Cold On The Shoulder included "Rainy Day People."
Though his hits slowed down in the 1980s, Lightfoot dedicated more of his time to charitable causes, performing at benefits raising money for world hunger and the environment. He also appeared in films — 1982's Harry Tracy and Desperado. He also played a country singer on the short-lived series Hotel in 1988. In 1986, Lightfoot was inducted into the Canadian Music Hall Of Fame.
In the '90s, Lightfoot had a creative revival, releasing the critically acclaimed albums Waiting For You (1993) and A Painter Passing Through (1998). However, in 2002 Lightfoot experienced a major health setback, suffering an abdominal aortic aneurysm. He was in a coma for six weeks, but survived.
In 2003, Lightfoot received Canada's highest civilian honor; he was named a Companion Of The Order Of Canada. The next year, he released Harmony, an album he'd been working on before his illness. In 2006, Lightfoot experienced another setback — he suffered a stroke, which limited his mobility in his right hand. He recovered within months and got back to performing.
In February 2010, an unfounded rumor swept the Internet that Lightfoot had died. The singer actually heard a news report of his death and called a Winnipeg radio station to confirm that he was still very much alive. Two years later, Lightfoot released a collection of recordings from his Massey Hall appearances called All Live.
Lightfoot toured regularly throughout the 2010s and released a double-disc collection called The Complete Singles 1970-1980 in 2019. The next year, Lightfoot released Solo, an acoustic collection of demos and unreleased songs written between 2001 and 2002.
Lightfoot was the subject the 2019 documentary Gordon Lightfoot: If You Could Read My Mind, and in 2022, he received the Golden Plate Award of the American Academy of Achievement. Weeks before his death, Lightfoot canceled upcoming tour dates, citing his declining health.