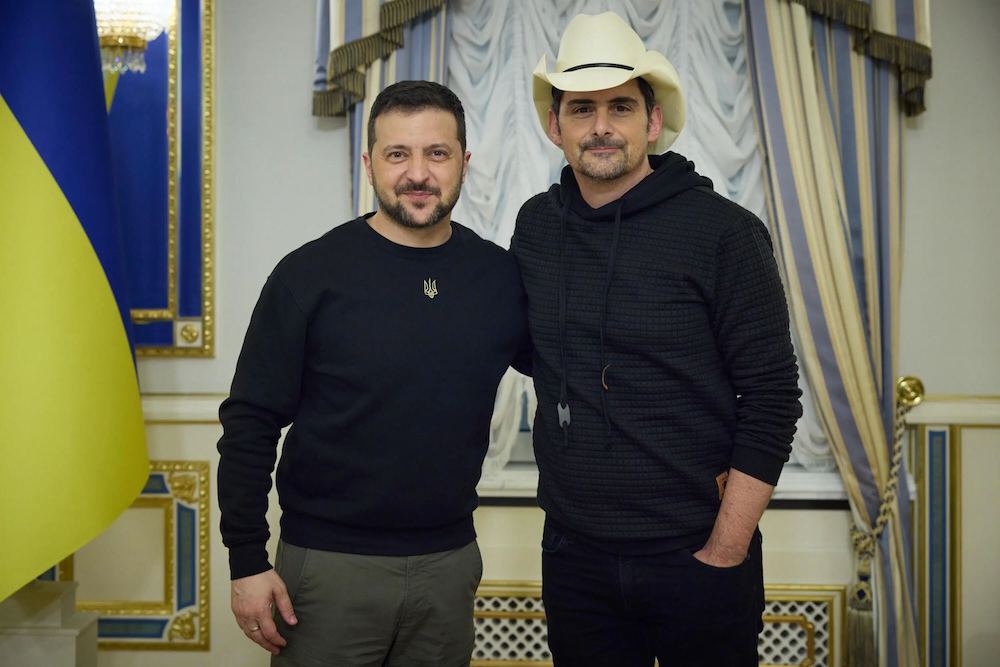 Brad Paisley was part of a bipartisan trip to Ukraine this week with Democratic senator Mark Kelly of Arizona, Republican Lisa Murkowski of Alaska, and Democrat Joe Manchin of West Virginia. During a news conference in Kyiv's Mikhailovsky Square, Paisley sang an acoustic version of his Ukraine-themed single "Same Here" as well as a Ukrainian-language folk song.
Paisley also took photos with Ukrainian president Volodymyr Zelensky, who appears as a spoken-word guest on the "Same Here" recording. As Variety notes, it was the first in-person meeting between the two of them. Paisley has also been an ambassador for Ukraine's United24 fundraising campaign. Meanwhile, Manchin and Paisley (who are both from West Virginia) gave Zelensky a University Of West Virginia ballcap.
"It's an emotional experience seeing all of this firsthand," Paisley said at the press conference. "For me looking around this city and being here for the first time, I'm absolutely struck by the resilience of life and the beautiful nature of the way this city is trying to thrive in the middle of conflict. And also trying to be as free as they can be in this hard time. I think as an American, it is one of the most inspiring things I've ever seen, and I'm absolutely honored to be here."
Watch part of Paisley's performance below.