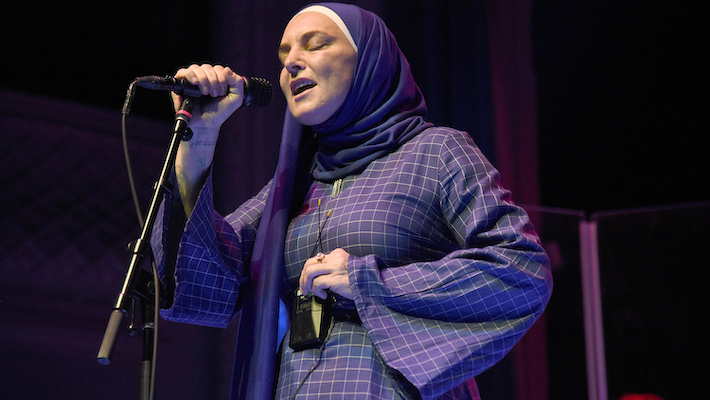 Sinéad O'Connor is dead at 56 year old, according to a report from The Irish Times. The publication shared a statement attributed to O'Connor's family that reads, "It is with great sadness that we announce the passing of our beloved Sinéad. Her family and friends are devastated and have requested privacy at this very difficult time."
The Dublin-born singer's debut album was 1987's The Lion And The Cobra, and overall, she released ten albums, the latest being 2014's I'm Not Bossy, I'm The Boss. She was best known for her No. 1 single, 1990's "Nothing Compares 2 U," which was originally written by Prince for his side project The Family. O'Connor stirred up controversy as the musical guest on Saturday Night Live on October 3, 1992, when she protested the Catholic Church by tearing a photo of Pope John Paul II live on air.
In 2021, she flip-flopped about retiring from music a few times. She tweeted that June, "This is to announce my retirement from touring and from working in the record business. I've gotten older and I'm tired. So it's time for me to hang up my nipple tassels, having truly given my all." She quickly changed her mind, though, tweeting, "Good news. F*ck retiring. I retract. Am not retiring." Days after that, though, she again changed her mind. That month, she released Rememberings, a memoir.
In January 2022, she revealed that her 17-year-old son Shane O'Connor died. Shortly after that, O'Connor was hospitalized. In a tweet from a few days ago on July 17 (via a personal account linked to from her professional account), she wrote, "[crying emojis] #lostmy17yrOldSonToSuicidein2022. Been living as undead night creature since. . He was the love of my life, the lamp of my soul. We were one soul in two halves. He was the only person who ever loved me unconditionally. I am lost in the bardo without him."
??????????#lostmy17yrOldSonToSuicidein2022.
Been living as undead night creature since. . He was the love of my life, the lamp of my soul. We were one soul in two halves. He was the only person who ever loved me unconditionally. I am lost in the bardo without him pic.twitter.com/aC8BOmLQ9N

— Sinead Marie-Bernarde Aoibheann O'Connor (@786OmShahid) July 17, 2023