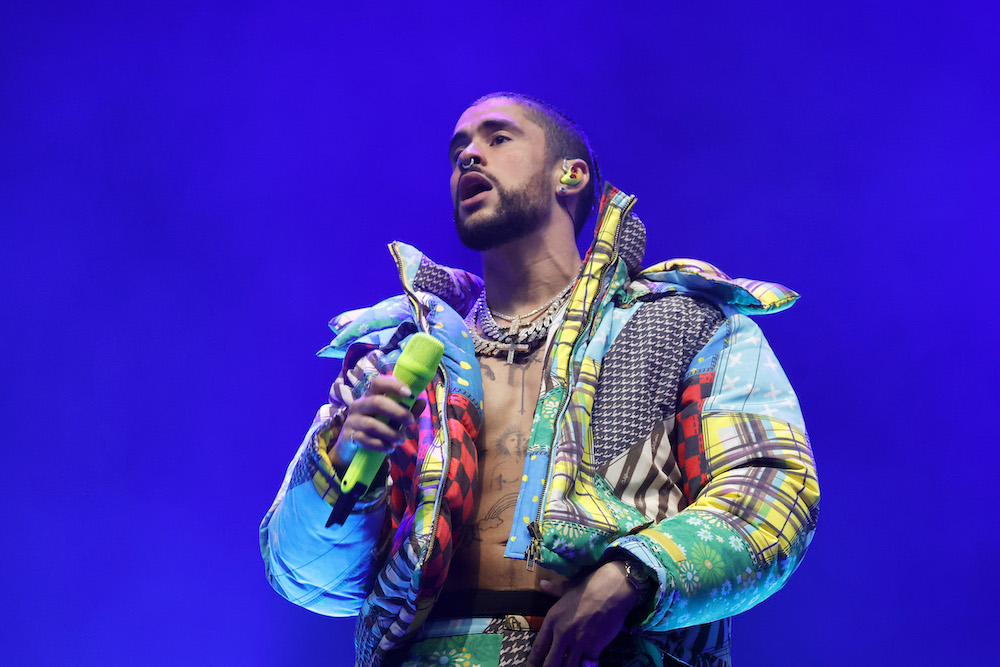 On Coachella's opening night, headliner Bad Bunny appeared to throw shade at Harry Styles during his set. As the singer performed "El Apagón," a screen behind him showed a tweet about Styles that read "goodnight benito could do as it was but harry could never do el apagon." Soon, fans assumed Bad Bunny was implying that he was the better artist. (Bad Bunny's 2022 album Un Verano Sin Ti and Styles' Harry's House were nominated for Album Of The Year at the Grammys, and Harry's House won.) Now Bad Bunny (via a rep) is denying he approved the image and the tweet. According to Rolling Stone, the visual content company behind the set also confirmed that Bad Bunny did not approve the tweet.
That company, Sturdy.Co, released a statement on their Instagram story on Monday: "Our intention is to create light hearted designs that embody Bad Bunny's personality and amplify the experience he presents as a performer. The request from the artist during the visuals for 'El Apagón' performance was to use the image only and not text from the tweet, which we take responsibility for and correct it for Friday's performance. These visuals are a celebration of Bad Bunny and his dedication to empowering his native island, Puerto Rico."
Meanwhile, fans walked away displeased with the audio quality of Bad Bunny's set including during a special-guest moment with Post Malone (the duo was attempting an acoustic duet of "La Canción").
Jon Hamm liked it, though.