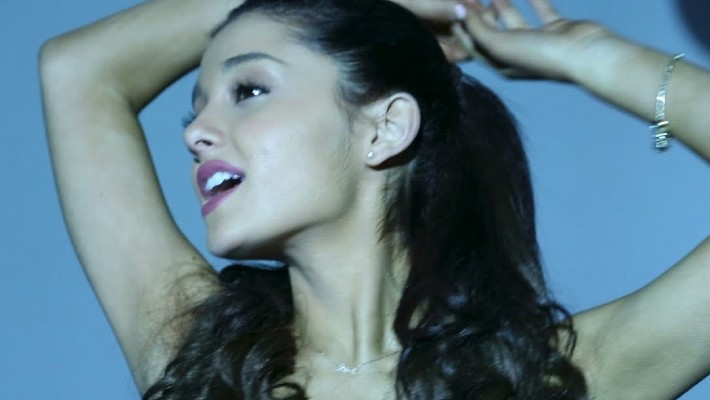 Ariana Grande is celebrating a big career milestone. Over the course of the past week, Grande has been honoring her debut album, Yours Truly on its 10th anniversary, with special live performances. Today, in the first of two Q&As she has planned as part of the anniversary celebration, she revealed a secret about the video for "The Way."
"The Way" dropped in 2013, marked a breakthrough single for Grande, and served as the lead for Yours Truly. But no one could predict the success of the song or the impact of its accompanying visual.
A fan asked Grande which of the album's videos was the most fun to film, to which she responded, "The Way."
In the video, she and Mac Miller, who is featured on the song, are seen dancing in front of a projector, as images appear on a back wall and balloons descend from the ceiling.
"We had no budget," said Grande, responding to the fan. "Didn't even tell the label we were gonna do it. Made it ourselves, and we said, 'Listen, we have a camera, we have a projector, we have music, we have balloons, we got dancers…[The label] brought it up to me, they were like, 'We need to shoot a music video.' And I was like, 'Oh, we already did it.'"
Grande will hold a second Q&A for fans this coming Monday (August 28), and fans will also be able to purchase a special vinyl edition of Yours Truly. Grande's live performances of Yours Truly cuts will continue until Wednesday (August 30).