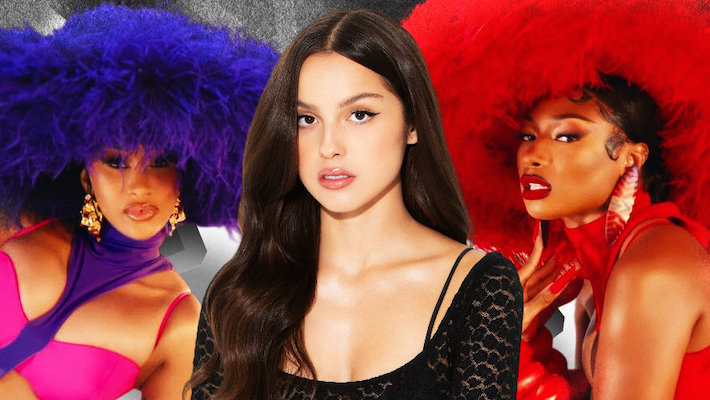 Keeping up with new music can be exhausting, even impossible. From the weekly album releases to standalone singles dropping on a daily basis, the amount of music is so vast it's easy for something to slip through the cracks. Even following along with the Uproxx recommendations on a daily basis can be a lot to ask, so every Monday we're offering up this rundown of the best new music this week.
This week saw Olivia Rodrigo add to her growing legacy and the "WAP" duo make their return. Yeah, it was a great week for new music. Check out the highlights below.
For more music recommendations, check out our Listen To This section, as well as our Indie Mixtape and Pop Life newsletters.
Olivia Rodrigo — "All-American B*tch"
Rodrigo has proven herself to be more than a one-album wonder with Guts, which, like its predecessor, is off to a scorching start. She continues to be the leading pop star inhabiting the rock space, like on "All-American B*tch," which has Avril Lavigne-like pop-punk hooks sandwiched between more delicate verses.
Cardi B — "Bongos" Feat. Megan Thee Stallion
Three years after "WAP," Cardi and Meg have reunited for "Bongos." Cardi thinks it's not exactly a "WAP" repeat when it comes to lyrical raunchiness, but it's not exactly PG either, with lines like, "N****, eat this ass like a plum / This p*ssy tight like a nun / Better chew it up like it's gum / Then wipe your mouth when you done."
James Blake — "Tell Me"
Blake recently said of his new album Playing Robots Into Heaven, "I know this sounds weird, but this album was easy to make. It's like I'm picking up where I left off years ago." Indeed, the album is a return to Blake's electronic roots and less so indebted to the piano-balled balladry he's gotten into in recent years.
Young Nudy — "Peaches & Eggplants (Remix)" Feat. Latto and Sexyy Red
Young Nudy had himself a summer hit with "Peaches & Eggplants," and now he's keeping the momentum going into fall with a new remix. He got Latto and Sexyy Red to hop on the just-unveiled version, and they grab onto the title's theme with some raunchy verses.
Sampha — "Only"
Sampha has been around for years now, and yet he's only on his sophomore album. That project is highly anticipated and now it's officially announced. Lahai, as the LP is called, was previewed last week with "Only," which shows off his distinctive and smooth vocals on a dynamic track.
Tinashe — "Uh Huh"
Tinashe kept it short and sweet on her latest project, BB/ANG3L, which features a mere seven tracks. What it doesn't feature are… features, as Tinashe goes it alone here, like on the slow-burning "Uh Huh."
Goose — "Travelers I"
These days, jam bands are something of a lost art, but Goose are one of the leaders of the contemporary scene. They just gave fans an unexpected treat last week with Autumn Crossing, which features a 17-minute trio of songs dubbed the "Travelers-Elmeg Suite."
Allison Russell — "Eve Was Black"
After establishing herself as an Americana favorite with 2021's Outside Child, Russell is back with her second solo album, The Returner. Included in the tracklist are exemplary cuts like the jaunty and thought-provoking "Eve Was Black."
Flyana Boss — "You Wish (Remix)" with Missy Elliott and Kaliii
"You Wish" has dominated feeds lately and now it's been given a facelift courtesy of a remix featuring Kaliii and Missy Elliott. Uproxx's Aaron Williams notes of the social media favorite, "Just when it seemed like the hit had run its course — literally — the self-proclaimed 'weird Black girl' duo finds their second wind, taking a victory lap with a remix featuring both a peer in fellow Atlanta hitmaker Kaliii and the original weird Black girl, Missy Elliott."
d4vd — "Rehab"
d4vd just dropped The Lost Petals, but in a recent Uproxx interview, he indicated he's already looking ahead, saying, "I'm not very sentimental, but I really do enjoy the evolution of self rather than the fruits that come from it. I feel like the best goal for me is just to be a better me. So, 2024 is all about evolution. I feel like it's gonna be very evident in the music, the visuals, and the creative surrounding everything. It's going to be next level."
Some artists covered here are Warner Music artists. Uproxx is an independent subsidiary of Warner Music Group.