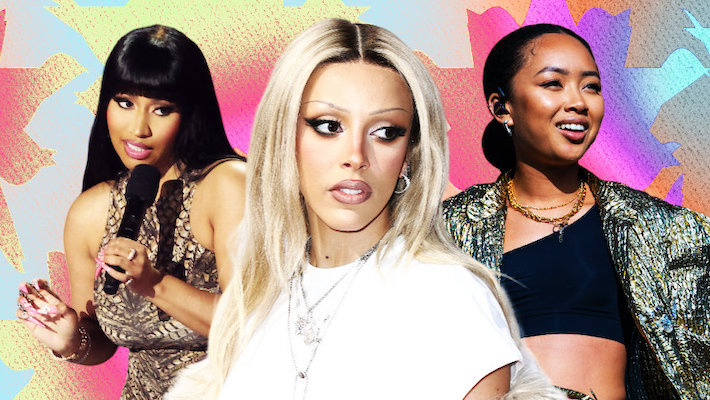 Keeping up with new music can be exhausting, even impossible. From the weekly album releases to standalone singles dropping on a daily basis, the amount of music is so vast it's easy for something to slip through the cracks. Even following along with the Uproxx recommendations on a daily basis can be a lot to ask, so every Monday we're offering up this rundown of the best new music this week.
This week saw two of modern hip-hop's biggest icons, Doja Cat and Nicki Minaj, come through with some newness. Yeah, it was a great week for new music. Check out the highlights below.
For more music recommendations, check out our Listen To This section, as well as our Indie Mixtape and Pop Life newsletters.
Doja Cat — "Demons"
There's certainly been a lot of drama when it comes to the rollout of Doja Cat's new album Scarlet, but through it all, the actual music has been on point. Doja continued that trend last week with "Demons," which even came with a creepy video starring Christina Ricci.
Nicki Minaj — "Last Time I Saw You"
While Doja's leaning more into rap with her new work, Nicki lets her pop side shine through on her new single, "Last Time I Saw You." Uproxx's Alex Gonzalez notes that on the song, "Nicki taps into her vocals, delivering a pop and R&B-influenced hit with a painfully relatable message."
Timbaland, Nelly Furtado, and Justin Timberlake — "Keep Going Up"
Timbaland just brought a slice of 2006 to present day. That year, he worked on Furtado's Loose album and Timberlake's FutureSex/LoveSounds, and last week, the three linked up for "Keep Going Up," an upbeat number that boasts a '00s-inspired sound without sounding dated.
JID and Lil Yachty — "Van Gogh"
JID and Yachty made a little something together… literally little, as it's a two-track EP called BlakkBoyz Present Half Doin Dope/Van Gogh. The two-minute "Van Gogh" is swimming in bass as the two rappers swap verses, with their disparate vocal styles playing well off each other.
Griff — "Vertigo"
Former Uproxx cover star Griff made waves with her 2021 mixtape One Foot In Front Of The Other, and now the UK star is at "the beginning of a new creative chapter" (her words). It starts with "Vertigo," last week's slow-burning single that sees Griff dealing with uncertainty.
Lauren Mayberry — "Are You Awake?"
Mayberry is stepping outside of her duties with Chvrches for a new solo project, and indeed, "Are You Awake?" doesn't sound like anything she's made with her band. Instead of electro-pop, Mayberry delivers a piano ballad here that lets her vocals shine (the track's co-written by inaugural Grammy Songwriter Of The Year winner Tobias Jesso Jr., by the way).
Petey — "The Freedom To F*ck Off"
F*cking off is terrific, but it's not always easy or even possible. That's what TikTok favorite Petey laments on his new song "The Freedom To F*ck Off," which, like many of his other songs, shares Petey's uniquely presented perspective on life via dynamic indie rock.
Troye Sivan — "Rush" Feat. PinkPantheress and Hyunjin
Sivan's "Rush" is one of the summer's best bangers and now he's brought it to a new plane by introducing a couple guests on a new remix. PinkPantheress and Stray Kids' Hyunjin enter the mix and aside from increasing the track's star power, they contribute verses that give the track some new rhythms.
Teezo Touchdown — "You Thought" Feat. Janelle Monáe
Teezo's debut major-label album How Do You Sleep At Night? is coming right up and he's kicking things off with a big-time assist from Janelle Monáe. The Age Of Pleasure star guests on "You Thought," which packs a lot of artistic variety into three minutes.
Lil Wayne — "Kat Food"
On the surface, it may seem Lil Wayne is rapping about feline meals on "Kat Food" (he namedrops Purina, even), but a closer look at the lyrics is telling. What Wayne's actually doing here is utilizing his clever wordplay on a song that is all about eating… well, something else, something more feminine and anatomical.
Some artists covered here are Warner Music artists. Uproxx is an independent subsidiary of Warner Music Group.