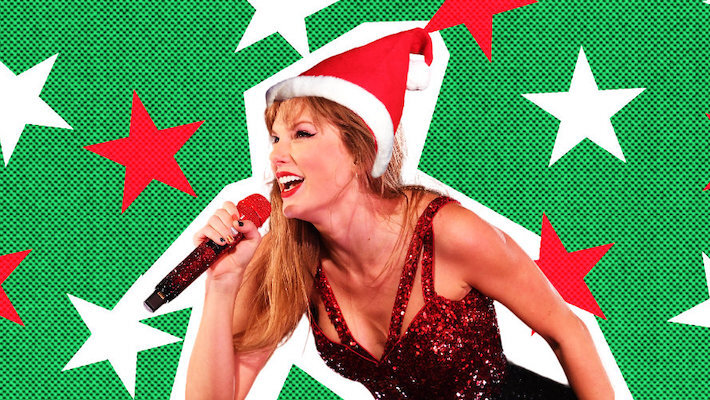 The holidays are right around the corner, and considering just how many Taylor Swift fans there are, it might come in handy to know what to gift the Swiftie in your life. Christmas was a tradition in the fandom, with Swift herself even delivering special gifts for fans — as it was previously dubbed Swiftmas. While she likely won't be knocking on any doors this year, Santa can still carry the surprises in her place.
While there has not been a Black Friday announcement for deals on Swift's store items, it is worth continuing to monitor in the coming days — as the sales tend to pop up.
Here's Uproxx's Taylor Swift-themed Holiday Gift Guide.
Taylor Swift's Folklore, Speak Now, And 1989 Cardigan
A staple in any Swiftie's wardrobe is the coveted cardigan. The item was first released in 2020 as merch for Swift's Folklore era. Since then, she has also made themed cardigans in purple for Speak Now (Taylor's Version) and blue for 1989 (Taylor's Version). While these aren't currently on Swift's official website, they can easily be found on resale sites. Plus, it will keep a fan warm through the winter, and who wouldn't want that?
You can find these for purchase on spots like Poshmark.
Taylor Swift's 1989 (Taylor's Version), Fearless (Taylor's Version), Red (Taylor's Version), Speak Now (Taylor's Version), And Midnights On Vinyl
Speaking of Swift's albums, another great gift idea (for those who don't already own a copy) is any of the Taylor's Version records on vinyl. Swift currently has a vinyl-dedicated section on her official store, which has four albums currently available on vinyl: 1989 (Taylor's Version), Fearless (Taylor's Version), Red (Taylor's Version), and several variants of her 2022 record, Midnights. You can buy these here.
The only Taylor's Version vinyl missing from the shop is Speak Now (Taylor's Version), but that can be found with a simple Google search of other retailers.
Tickets To See Taylor Swift's The Eras Tour In Concert (Or In Theaters)
What better gift could there be than tickets to see Taylor Swift on The Eras Tour? While these might be the most expensive out of the recommended items, there is truly nothing like being able to experience one of Swift's concerts, even if you're in the nosebleeds — it still is a special time. Tickets can be found on resale sites like StubHub, as she will be playing shows around the globe through next year. Or, as a cheaper option, the Eras Tour movie is still playing in theaters.
You can buy the tour tickets here, or find the Eras Tour movie tickets here.
Taylor Swift's Album Eras As Holiday Ornaments
Swift's site has a complete collection of holiday ornaments, allowing fans to add a personal touch to the tree. You can purchase the ball ornaments that feature Swift in each of her eras, depending on your favorite. This year, it appears there are new additions, too, like a guitar for her debut album, or the ghosts from the "Anti-Hero" music video, and many more.
You can find all the ornaments for purchase here.
Taylor Swift's Speak Now (Taylor's Version) Snow Globe
Earlier this week, Swift dropped her annual holiday capsule. In typical fashion, there is currently an Easter egg item on the site: a Speak Now (Taylor's Version) snow globe. It features the album cover inside, with purple glitter floating throughout when shaken. The base of the globe has a lyric from "Enchanted (Taylor's Version)," which she performs on tour. As Swift has put out snow globes for past albums as merch, this would be a nice addition for a Swiftie who has a collection going.
You can find the snow globe for purchase here.