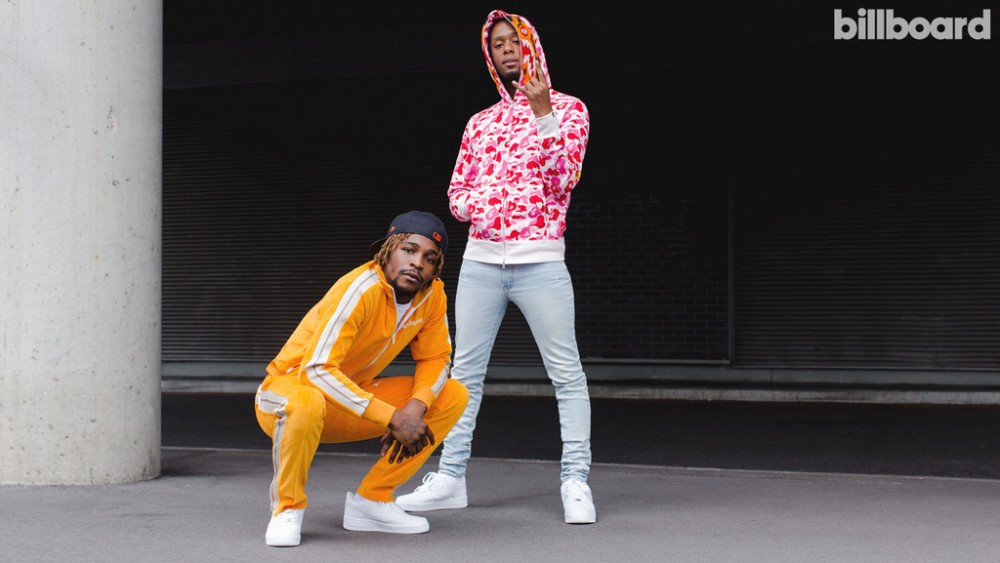 The Nottingham rap duo's "Don't Rush" has taken off during lockdown as they plan to continue their patient approach.
It took six years for U.K. rap duo Young T & Bugsey to have a breakout U.S. hit — but their current single, "Don't Rush," aptly sums up the journey of their global ascent.
Since releasing their first official track, "Poppa Bear," back in 2014, the pair never stopped trying to make waves outside of their hometown of Nottingham. And now, not only have they entered the mainstream in London, but around the world, too.
Young T & Bugsey (born Ra'chard Tucker and Doyin Julius, respectively) first met through a mutual friend in 2013 in Nottingham; Tucker was born and raised in the city, and Julius moved there at 11 after growing up in Nigeria and later London. Since, the pair have become nearly inseparable; today, while speaking over Zoom during a break from a recording session in London, they frequently interrupt one another to complete a thought.
They initially created music within a larger group, primarily through off-the-cuff freestyles rather than recorded material, but as their friends began to pursue other careers, they became the last two willing to make music a full-time commitment. A period of trial and error followed as the duo tried to figure out how to best complement one another's skill sets.
"We grew up musically understanding each other's strengths," says Bugsey, the more animated of the two. "The way each other makes music, the way each other writes. We looked at it like we were just growing together."
Young T developed his passion for music at 8 years old and started writing original songs at 10, inspired both by the artists his older cousin introduced him to as well as music videos by artists like 50 Cent, Snoop Dogg, Pharrell Williams and Kanye West, which he watched on British TV channel MTV Base.
"I was infatuated with what I'd seen on television," Young T recalls. "There were a lot of different types of music that were getting fed to me. At 12, I had my first computer in my room. I downloaded the software Audacity, figured out how to record, and I was gassed. I've always wanted to do music since then."
Following the release of "Poppa Bear," the two continued to build an early fan base through various one-off drops on SoundCloud: Young T delivered production help and what Bugsey refers to as "clinical" verses, while Bugsey specialized in hooks and bouncier lyricism. But it wasn't until they uploaded "Don't Know," a track tied together by a sing-songy chorus and loaded with trap hi-hats, in April 2015 that they really started to find their stride. Soon enough, Stormzy had co-signed the group.
"It just showed our flavor and hook-writing abilities," remembers Bugsey. "After that, we realized that we can make beats ourselves, write the verses, write hooks and make songs. When you realize that at an early age, you have it in the back of your mind."
In March 2016, following the release of a music video for the hypnotic "Glistenin'," Sony-owned record label Black Butter Records reached out to the duo over email, quickly leading to a phone call. Young T & Bugsey were deliberate in making sure it was the right home for them, but say once they saw how much Black Butter co-founders Joe Gossa and Henry Village, as well as A&R Cian Cooper Davies, believed in their vision, they signed a recording contract that September. Shortly after, Black Butter Records put the duo on tour opening for labelmate J Hus. Once the tour finished, they signed to 2K Management, led by brothers Kilo Jalloh and Moe Bah (who also manage J Hus).
"We knew that they could make very good, different types of songs and hooks," Bah says. "If they could do it once or twice, they could definitely do it again — and they just looked like superstars."
With a team intact, Young T & Bugsey went on to hit new milestones each year: in 2017, they dropped the warped "4×4," a certified Silver record in the U.K.; the Stay Flee Get Lizzy and Fredo-assisted track "Ay Caramba" arrived in 2018, later going Gold; and 2019 single "Strike a Pose," which got a lift from Manchester rapper Aitch, cracked the top 10 in England and is now a Platinum-certified hit. But despite the numerous successes from the duo, they steered clear of releasing a full body of work.
"When you're on the come up, you have to keep hitting them," Jalloh says. "You can't just come with one single, work it for six months, then maybe another single two months later. You need to flood the streets with good music until it gets to a point where even if they're not listening to you, they're seeing or hearing the name."
In April 2019, the duo attended a recording session with producer GRADES (Dua Lipa, H.E.R., Khalid) in London. Given his background in pop and R&B, they weren't sure what to expect, but once they heard the rattling, thumping drum beat for what would later become "Don't Rush," they knew they had a hit on their hands. The club-ready song was completed by the end of the day, and aside from adding a feature verse from Headie One and making a few minor changes to production, "Don't Rush" otherwise went unchanged until its release last November.
"Don't Rush" performed well initially in England, spending 15 weeks on the U.K singles chart, starting with a No. 28 debut. But it didn't gain global traction until 20-year-old University of Hull student Toluwalase Asolo tweeted out a video on March 22 of herself and seven friends transforming from loungewear to fully glammed getups, with the track serving as the backdrop.
The tweet (which has since been removed from the social media platform due to copyright infringement) came just two days after Young T & Bugsey dropped their debut mixtape, Plead the 5th, and provided the kind of promotional boost that they never could have planned. Within weeks, celebrities like Skai Jackson, Marsai Martin and Tia Lowry were doing the #DontRushChallenge, ultimately buoying the trend's explosion chiefly on TikTok, where videos using the hashtag have raked in more than 765 million views to date. The song started gaining traction in Africa, then the United States, leading to a U.S. label partnership with Epic Records, who started working with the duo at the end of March.
"The entire world on pause is what really helped spark the success of the #DontRushChallenge," says Epic Records chairman/CEO Syl Rhone. "Our strategy was to react quickly and go to radio immediately, breaking from the traditional set up associated with taking a song to radio. We serviced the song on a Friday, impacted the following Monday, resulting in [it being] most added at urban mainstream and rhythm crossover."
The track made its debut on the Hot 100 — Young T & Bugsey's first entry on the chart — at No. 100 on May 16, and set a new peak at No. 56 on the chart dated June 27. Its success has also spawned remixes in several different markets, with a Latin-tinged spin featuring Rauw Alejandro coming in late May, a DaBaby-assisted version (which Bugsey notes he completed in one day) dropping in mid-June and a Busta Rhymes dancehall-influenced remix arriving last Friday. And though Bah says that the team is moving forward in the U.K., he teases a few other potential remixes for "Don't Rush" stateside, saying that a song's "cycle [and] longevity" runs longer in America.
"The song keeps changing our plans," Bugsey adds with a laugh. "We might say, 'In three weeks, we're going to do [something else],' and then it gets close to that time, and the song does a whole 'nother leap."
That said, Young T & Bugsey have been hard at work in the studio in recent weeks, and have compiled four or five new singles that are nearly ready for release. Bugsey even starts to say that they're hoping to drop another project before the end of the year, but then hedges a bit, admitting that it might not surface until the top of 2021 — given their current success, they're in no rush.
Young T & Bugsey feel especially proud to be making noise from their own lesser-known region. And now, thanks to their long-awaited breakout moment, Bugsey views the ever-growing popularity of U.K. rappers on a global scale as something of an inevitability.
"I think what was happening in America in the late '80s and '90s is what's happening now in the U.K.: that golden period where rap has become the real thing," Bugsey says. "You can be a rapper and change your life. We've got big artists [like] Adele and Ed Sheeran that are massive around the world, so eventually, there had to be rappers as well. It was only a matter of time."
A version of this article will appear in the July 25, 2020 issue of Billboard.