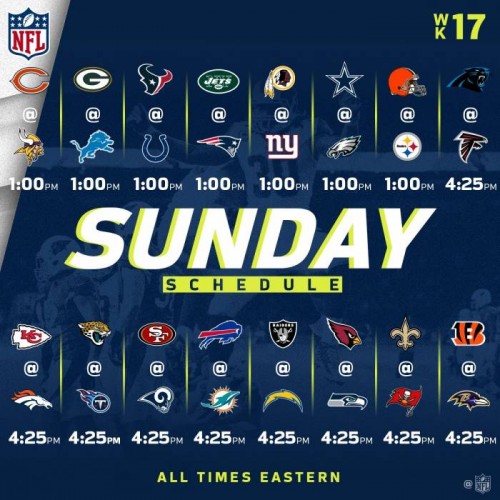 How quickly time flies. It seems that the 2017 NFL was just kicking f last week and Today we're already at the final week the regular season. 12 teams will begin their journey next week destine for Super Bowl 52 in Minnesota but a few will need to win today to stamp their tickets to the postseason.
We'll get a chance to see some good football today as teams look to make their final push. In the NFC, the Atlanta Falcons and Seattle Seahawks are hanging on to their hopes that wins today will keep their season alive. In the AFC, the Los Angeles Chargers, Buffalo Bills and Tennessee Titans are on all on similar missions. Win and hope the dominos fall in order to make the postseason.
As We gear up for the New Year on Monday, checkout My 2017 NFL Week 17 predictions. Stay tuned to HHS1987. Follow @eldorado2452 on Twitter and Instagram for all your sports news.
NFL Week 17 Predictions
Panthers 20 vs. Falcons 23
Bengals 24 vs. Ravens 27
Jaguars 17 vs. Titans 24
Saints 30 vs. Buccaneers 17
Browns 24 vs. Steelers 21
Packers 19 vs. Lions 23
Texans 10 vs. Colts 13
Bills 27 vs. Dolphins 28
Bears 20 vs. Vikings 22
Jets 23 vs. Patriots 21
Washington 17 vs. Giants 27
Cowboys 17 vs. Eagles 24
Raiders 20 vs. Chargers 24
Chiefs 17 vs. Broncos 14
49ers 20 vs. Rams 16
Cardinals 26 vs. Seahawks 31