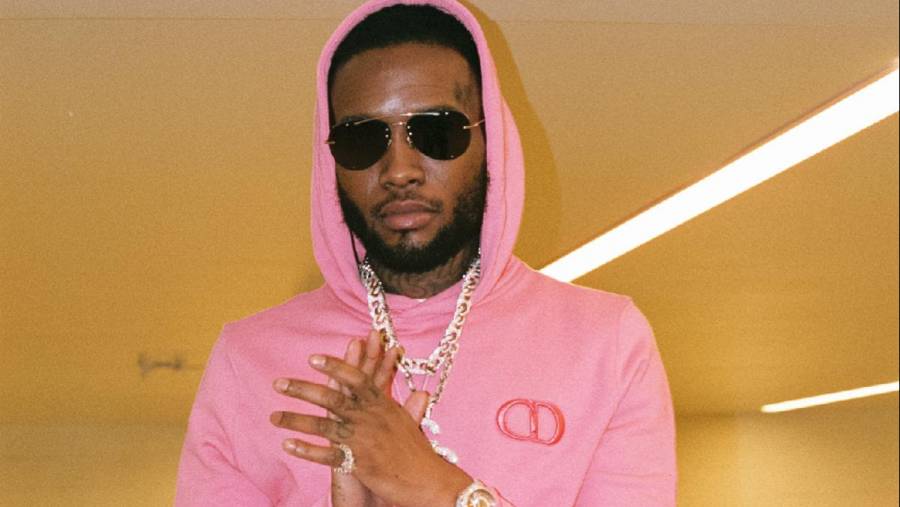 The explosion of the DMV rap scene has been an exciting moment in regional Hip Hop that continues to gain steam as more artists from the area expand their profile. But just over a decade ago, rap was not something the area was known for. However, two rappers came along and helped change the perception of the heights rap music in D.C. could reach.
The first was Northwest D.C.'s Wale, a force in the late '00s and early 2010s, with multiple Top 40 hits, who appealed to pop music fans just as much as DatPiff aficionados. The second rapper took a different approach, speaking on what went on around the 37th street projects in Southeast D.C., across the Anacostia River, away from the quickly gentrifying northside of the District. That man was Shy Glizzy.
The 27-year-old rapper has been in the game for close to a decade now, a staple in his city whose tales from the streets can be heard blasting out of car windows zipping past H Street, and playing from phone speakers by the basketball courts near Fort DuPont Park. His accolades stack up: several street mixtape classics, a minor mainstream hit with "Awwsome," a Grammy nomination for his electric verse on Goldlink's "Crew," and songs with some of the most prominent rappers of the 2010s.
It's evident Glizzy has gotten over the hump as a regional rap star, leading to the obvious question — what's next?
"I'm trying to go to the moon," he tells GroovyTracks over the phone. "I want to be at the top of the game, top of the world, the furthest I can take this thing."
Despite some mainstream success, it seems like Glizzy has been on the cusp of greatness and widespread recognition for years. His newest mixtape, Young Jefe 3, is supposed to aid in pushing him to the next level. He's made numerous critically acclaimed projects like Fully Loaded, Quiet Storm and the original Young Jefe, but he's adamant this is his best body of work to date.
"I was getting into a different zone with this tape," he says. "I was always using different flows, crazy flows, everybody knows how I originated a lot of these flows out here. But now, in this one, it's like it can't be duplicated. It's a whole different Shy Glizzy: the evolution of Shy Glizzy."
While Glizzy is focused on advancing his career, he's also looking to become a young CEO and build his brand, Glizzy Gang. He's been impressed by the burgeoning talent coming out of the DMV area, name dropping MoneyMarr, No Savage, Baby Fifty, Lil Gray, JG Riff and 3 Glizzy as just some of the young rappers on the come up.
But Shy's not just keeping up with the new blood because he's a fan. He wants to work with younger artists and bring them under his Glizzy Gang umbrella. Glizzy has already signed an artist he's excited about (though he declined to reveal their identity during the interview) and dreams of bringing in enough quality spittas to make Glizzy Gang the DMV's version of No Limit at its peak.
It's not a far-fetched possibility. The DMV has plenty of prospects. Part of that is from the conjoining of the regions. Just D.C. rap alone, or just Baltimore rap by itself, while excellent, never had a chance to compete with LA, Chicago, New York, or Atlanta. By banding Maryland, D.C. and Virginia together, it has allowed buzzing artists from above and below the beltway to collaborate.
At first, Glizzy was not about it. He previously said in an interview with Complex back in 2014 when asked about the DMV music scene that he was a "D.C. [artist], that's all," rejecting the DMV rap scene idea (though he contested in a profile with the Washington Post that his comments were taken out of context.) Whatever the case, he admits that it took him (and other rappers from D.C.) a little while to see why it was important for the scene to come together.
"Us being from D.C., we were sort of stuck in our ways," he says. " 'It was like: We ain't from Maryland, we ain't from Virginia.' That's the mindset we used to have, and we didn't want to be connected. But after a year or two, that DMV name was sticking. And the connection we were making with these artists like Q Da Fool and Rico Nasty, they're from Maryland. A majority of these artists were from Maryland, so it became a thing where it was like 'ight, maybe we do need to branch it together,' because we're going all around the world, out to LA, and it made us stronger to say 'we are from the DMV.'"
Glizzy says the transition came down to strength in numbers, lamenting that D.C.'s rap scene is fractured because of the internal problems in rival neighborhoods. It's clear this bothers Glizzy, so he's making moves to help D.C. get on the same page, and it starts with a change in his priorities. Outside of his artist development contributions, Shy has been assisting local families afflicted by the dreadful COVID-19 Pandemic. He donated $10,000 to Martha's Table, a charity based in D.C. that allows underserved families access to financial resources and groceries.
Now, Glizzy isn't as concerned about putting himself over. Despite several offers from major labels, he's maintained his status as an independent artist. He says it was imperative for him to preserve his freedom and set an example as someone at the forefront of his city.
"I had to be in a boss position to break the door down," he says. "I ain't coming with the mindset like, 'Yo, I need to be a big artist,' I need to be a big artist and also a big boss at the same time; that's always been my vision."
Check back for part two of GroovyTracks's conversation with Shy Glizzy coming soon.