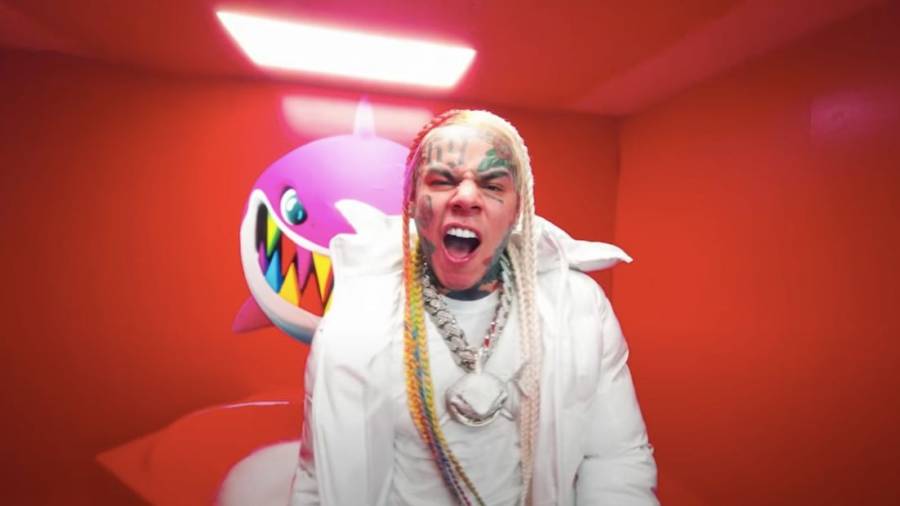 New York, NY – Tekashi 6ix9ine decided to give fans a peek inside how he managed to shoot music videos while on house arrest.
The "YAYA" rapper took to Instagram on Saturday (July 4) to showcase how he managed to film videos for "GOOBA," "TROLLZ," with Nicki Minaj and "YAYA," all while finishing the terms of his release from prison in April. After he was granted permission by a federal judge to shoot videos, 6ix9ine wasted no time putting together colorful sets for his three released singles.
"SO HOUSE ARREST IS COMING TO AN END," he wrote. "AND I WANT TO SAY THANK YOU TO ALL MY FANS….I CREATED AND BROKE A WHOLE BUNCH OF RECORDS FROM MY LIVING ROOM…..YAYA WAS THE LAST OF THE HOUSE ARREST SAGA …… I LOVE YOU TO ALL MY FANS..YOU GUYS ARE THE BEST I MADE THE BEST OF WHAT I HAD FROM MY LIVING ROOM AND WE STILL WENT NUMBER 1 WE STILL WENT PLATINUM COMING HOME FROM JAIL I LOVE YOU."
The BTS footage shows various clips of 6ix9ine changing out the various vinyl wallpapers in the room from rainbow to white to all red, putting together a makeshift tunnel and more. It closes with the visual set up for "YAYA," where 6ix9ine's dog makes an appearance casually walking into the frame.
6ix9ine's three releases post-prison have all come with the rainbow-haired rapper's usual antics in regards to beef and controversy. He feuded with YouTube and Billboard following the release of "GOOBA," only for "TROLLZ" to set a record for single-day viewership and eventually become 6ix9ine's first No. 1 record on the Billboard Hot 100 chart.
"YAYA" was the final song of the three that 6ix9ine announced he would be releasing while on house arrest. He pledged following the release of the song that he would be ready to raise hell and counted down the days until he was officially rid of his ankle monitor.
"So I have about 34 more days until house arrest is over," he says in a since deleted video. "About 34 more days and the ankle monitor comes off and the King of New York is back on the streets."