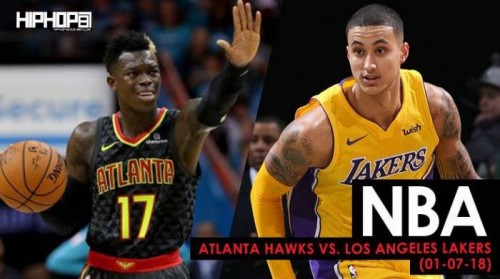 The Atlanta Hawks west coast road trip continued tonight in Los Angeles at the Hawks faced Lonzo Ball and the Los Angeles Lakers. The Lakers ended their recent losing streak defeating the Hawks (132-113). Despite this game featuring the two teams with the worst two records in the NBA, there were flashes greatest for both teams at times. It seems to just be more flashes success for the team from Hollywood, not the team from the Dirty South.
The first quarter was very competitive for both as the Lakers finished the quarter with a (29-27) lead. Things were south for the Hawks after that. For the Atlanta Hawks, Dennis Schroder lead the night scoring finishing with 27 points on (10-23) from the field. Kent Bazemore and John Collins both following with 15 points a piece. Collins shot (5-7) from the field along with 4 rebounds and 2 assist. Bazemore was (6-15) from the field along with 3 assist.
Two the Hawks best fensive weapons struggled tonight and that key in the Hawks lost. Hawks swingman Taurean Prince finished the night with just 6 points on (2-7) shooting. Big man/ sharp shooter Ersan Ilyasova shot (3-10) finishing with 8 points and 9 rebounds.
For the Los Angeles Lakers, they ended their 9 game losing streak tonight with their victory against the Hawks. Brandon Ingram was on a roll tonight fensively. Ingram finished the night wit 20 points on (6-7) shooting from the field. Ingram also dished out 7 assist on the night. Off the bench, Jordan Clarkson led the way with 18 points on (7-10) shooting from the field. Kyle Kuzma and Kentavious Caldwell-Pope both finished the night with 14 points. Kuzma shot (6-12) from the field, while KCP shot (5-8).
The Atlanta Hawks will get a chance to rebound quickly at they face Lou Williams and the Los Angeles Clippers tomorrow night at 8 PT. Stay tuned to HHS1987.com. Follow @eldorado2452 on Twitter and Instagram for all your Atlanta Hawks, NBA and sports news.