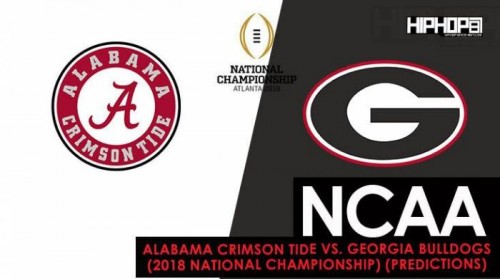 The day is finally here. College Football fans across america will get the chance to see the best two college teams in the country go toe to toe for a chance to leave a legacy that will last forever. One a champion.
Tonight in Atlanta, GA at the newly built mega venue that is the Mercedes Benz Stadium, Nick Saban's (#4) ranked Alabama Crimson Tide will face Kirby Smart's (#3) ranked Georgia Bullsdogs for the 2018 National Championship. This a classic SEC matchup that features a former teacher vs. a former student in Saban and Smart. Saban is (11-0) in his matchups vs. his former coaches.
The matchup against features to the best defense in the nation with Alabama and Georgia. Georgia's Roquan Smith and Alabama's Minkah Fitzpatrick are both Top 5 talents in the 2018 NFL draft if they decide to enter the draft and I believe both with have huge impacts on both their teams tonight.
Look for Georgia to keep the ball on the ground early but to get Alabama in uncomfortable defensive sets and matchups. Georgia quarterback Jake Fromm will need to take advantage his outside weapons and make the passing game a threat so that Alabama can't just sit on the run. The Bulldogs running back  Sony Michel, D'Andre Swift and Nick Chubb will rush for a combined 220 yards and 3 touchdowns.
Alabama's fense isn't what it has been in the past however running back Bo Scarborough can be very dangerous. I expect Alabama to what to play the ground game as well. Look for Scarborugh and Alabama quarterback Jalen Hurts to use a lot option plays tonight looking to confuse the Georgia defense. Alabama will rush for 250 yards total and 3 touchdowns.
Tonight I expect the surprise to be the play Georgia quarterback Jake Fromm. Despite Fromm being a freshman, staying cool and managing the game with a few big plays stretching the field, will put Georgia out the top. I like the Bulldogs in this one.
Georgia 31  Alabama 24