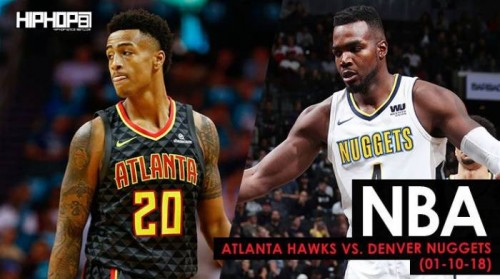 The Atlanta Hawks ended their 5 game West Coast road trip tonight against the Nuggets in style. After dropping the previous 4 on this road trip, the Atlanta Hawks picked up a (110-97) victory against Denver moving to a record (11-30).
The Hawks controlled this game from start to finish tonight. It was a complete team effort to pull away with this victory. Both the Hawks starters and bench players played their parts on the fensive and defensive sides the ball and the pro was in the pudding.
Hawks point guard Dennis Schroder put up a double-double in Wednesday night's game finishing with 19 points and 10 assist. Hawks swingman Taurean Prince was on fire in the first quarter from behind the arch hitting three straight three pointers. Prince finished with 16 points going (4-9) from three point land. Point guard Malcolm Delaney was the player the night the bench. Delaney controlled the pace and a few key baskets in the second half were key to picking up the win.
The Hawks had strong scoring efforts from the entire team. Kent Bazemore finished with 14 points while Ersan Ilyosova and Marco Belinelli both added 10 points.
The Denver Nuggets shot just 40% from the field struggling in both the first and forth quarters. Nuggets star Nikola Jokic struggled all night long shooting (4-21) from the floor finishing with 9 points. Nuggets guard Gary Harris had a great night shooting (11-14) from the field for 25 points but it want enough to get the win.
The Atlanta Hawks are f until Friday night when they return home to Philips Arena to face the Brooklyn Nets. Stay tuned to HHS1987.com. Follow @eldorado2452 on Twitter and Instagram for all your Atlanta Hawks, NBA and sports news.