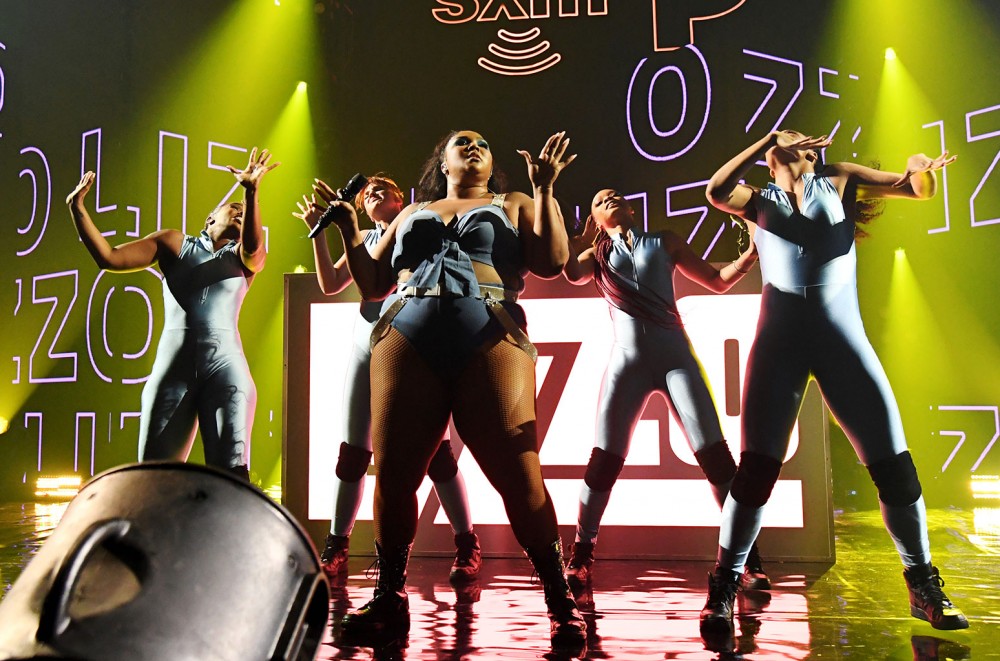 Celebrating self-love, the Super Bowl and Kobe Bryant's legacy, Lizzo took the stage Thursday night (Jan. 30) in her first post-Grammy concert at The Fillmore in Miami Beach.
Lizzo, who nabbed the 2020 Grammy for best urban contemporary album, came out at 10:15 p.m., wearing a pale blue two-piece number encrusted with diamond straps. After opening the set with her single "Worship," the Detroit-born singer greeted her fans. "What's up, Miami? My name is Lizzo," she said, introducing her "big girls" dance crew and her DJ Sophia Eris. "Close your eyes and say 'I love me' because tonight's a big love fest in here!"
Flaunting her powerhouse vocals, flute-playing skills, and on-point twerk moves, Lizzo kept the packed house on their feet to songs such as "Cuz I Love You," "Exactly How I Feel," "Like A Girl," and "Water."
In the exclusive show, presented by SiriusXM and Pandora as part of their Super Bowl Opening Drive Super Concert Series, Lizzo also empowered her fans in between songs with inspiring affirmations. "This 2020 I'm f–k boy free! In this new decade, you deserve self-love. Don't settle for anything less," she told her fans before singing her track "Jerome."
Towards the end of her show, Lizzo took time to honor the late Kobe Bryant, who passed away on Jan. 26 with eight others in a helicopter crash in Calif. "I'm excited to be here for the Super Bowl but we can't be in this event without our hearts being Kobe and his daughter Gianna. I didn't know him personally but it just hurts because we all feel connected. We don't know if tomorrow is promised," she said. "This song is dedicated to Kobe Bryant, his family and anyone who has lost a loved one," she noted ahead of singing "Good As Hell."
She then performed "Truth Hurts" and thanked her fans for joining her last night. "I'm proud of you and I love you very much. I want you to know that and believe it."
The highlight of the night, however, was when she opted to close of her show "on a high note" and invited surprise guest Harry Styles on stage to sing "Juice."
In front of an ecstatic crowd, the two artists sang the song together and even had a matching choreography down-packed. Both Lizzo and Styles big their farewells as confetti filled up the room.
Super Bowl LIV takes place Feb. 2 at the Hard Rock Stadium in Miami, where the San Francisco 49ers will play the Kansas City Chiefs.
---