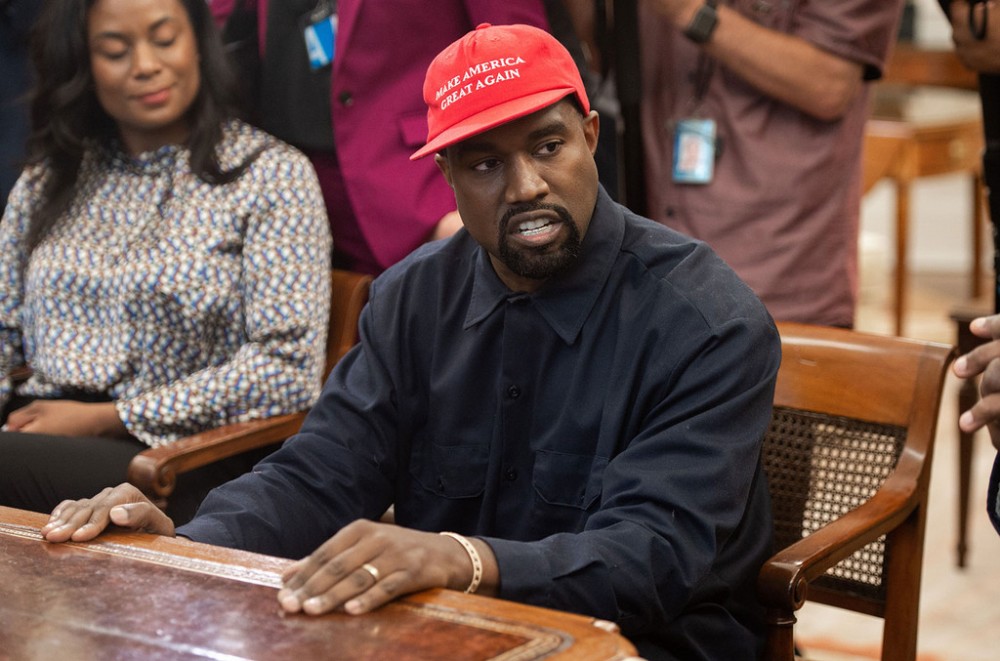 There are, however, what appear to be at least two fake filings using West's name.

Kanye West has shared the catchy slogan for his purported presidential run: #2020Vision. But as of Monday (July 6), what he didn't have was any proof that the 11th-hour bid to unseat his MAGA friend, President Donald Trump, was anything more than a clever catchphrase.
A spokesperson for the Federal Election Commission confirmed on Tuesday (July 8) that at press time, West did not appear to have filed the necessary paperwork to make his bid official.
"Candidates who've won the presidency tend to have gotten into the race much sooner than this," an FEC spokesperson tells Billboard, adding that, historically, 119 days out from the Nov. 3 presidential election is quite late for an announcement. According to FEC rules, when a candidate has raised or spent more than $5,000, they can officially file to be on the ballot, though they are welcome to file before that even if they haven't raised any money. "If you're running for any federal office, four months out seems pretty late based on my experience," adds the official, who has been with the FEC since 2005.
A dig into recent Form 2 filings, did, however, uncover what another FEC official suspected was a bogus statement of candidacy credited to a "Ye West" from Monday, whose address is listed as 1600 Pennsylvania Ave., aka the White House. According to the form, the candidate is using their own money to run on the Libertarian party ticket, with VISION2020 listed as the principal campaign committee (same address) for the self-funded effort; the Libertarian party's official candidate for 2020 is Jo Jorgensen.
The FEC spokesperson says the fact that the rapper's full name — Kanye Omari West — is not listed on the form and that the mailing address is the White House will lead to an FEC probe into whether the form contains "false or fictitious information."
"Just because you see a candidate's name on a filing doesn't mean that person filed the form … we get lots of false and fictitious filings," the spokesperson said, noting that if the information is incorrect, the FEC will send a notice to the filer. There is also another seemingly bogus filing the FEC was processing at press time, credited to a Mr. Kenye Omari West.
In 2016, the FEC implemented an "interim verification procedure" authorizing staff to send letters to filers listing "fictional characters, obscene language, sexual references, celebrities (where there is no indication that the named celebrity submitted the filing), animals, or similarly implausible entries as the name or contact information." This was an effort to root out fictitious candidate registration forms after a notable uptick in the filing of "patently false candidate [names]" in the 2016 presidential election cycle.
For example, in August 2015, a 15-year-old Iowa teen named Brady Olson hopped into the 2016 presidential race after filing as Kanye Deez Nutz West, with a purported Chicago address of 1977 Gold Digger Ave., Suite Yeezus. Nutz's Form 2 filing with the FEC identified him as a Green Party presidential candidate, listing the "Back Dat Azz Up Committee" as his principal campaign designee, with the "Get Crunk Committee" as a secondary proxy.
On July 4, West, who has teased a White House run before, tweeted, "We must now realize the promise of America by trusting God, unifying our vision and building our future. I am running for president of the United States! #2020VISION." The rapper, who has been a vocal supporter of Trump in the past, has not commented further on his presidential ambitions so far. A spokesperson has not responded to multiple requests from Billboard seeking proof that the announcement is legitimate.
The considerable paperwork mountain to climb to get on the ballot in all 50 states as an independent candidate with no experience in political organizing, not to mention no apparent infrastructure or ground staff in place, is daunting at best. Ye has already missed the filing deadline to appear on the ballot as an independent candidate in at least six states, according to Ballotpedia.
Among those are such crucial states as New York and Texas. There are also deadlines in the next few weeks to make it on the ballot in Arkansas, California, Colorado, Florida, Georgia, Ye's home state of Illinois, his adopted third home state of Wyoming, Ohio, Iowa, Kansas, Maryland, Michigan, Missouri, Utah, Pennsylvania and a handful of others.
On Monday, John Mark Hansen, a political science professor at the University of Chicago, told Billboard, "If West were serious about this, he would have had to have started a long time ago." He added that many states require petitions with thousands of signature to get on the ballot.