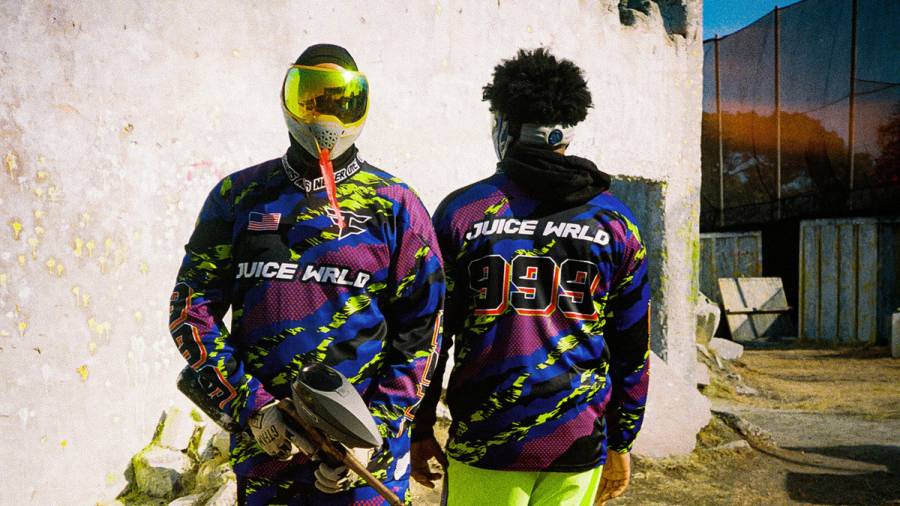 Gaming organization FaZe Clan has released limited-edition merchandise in honor of the late Juice Wrld. The capsule collection was created to coincide with the multi-platinum selling artist's posthumous album Legends Never Die, which is scheduled to drop on Friday (July 10).
"Juice really loved gaming and loved the FaZe guys," his manager Peter Jideonwo said in a press release. "They did an amazing job on this merch line, and we are so glad to see this collaboration is coming out in honor of Legends Never Die."
The LP's bundles feature merch designed by Quantum PFS, the in-house design team for FaZe. The collection includes a paintball jersey and matching mesh shorts, which were inspired by memories of a paintball game the FaZe crew had with Juice.
"Juice had a huge impact on my life personally, and the fact that we get the chance to work with this team on this drop for his posthumous album is really, really special," owner FaZe Adapt stated. "We hung out and went paintballing once last summer. After that, we talked a couple times over the phone, thru text, and we made plans about hanging out again: playing Call of Duty, going paintballing again. I was really looking forward to it."
Adapt added, "What I miss most about Juice is his presence. He said a lot of things that a lot of people were afraid to address in his music. He made people feel like they weren't alone, which is one thing I always hold close to me. From the moment I found out who he was, he was almost exclusively what I listened to because I could relate to what he was saying and he made me feel like I wasn't alone. I hope our fans and Juice's fans are happy with this drop and really like it. It was something we've wanted for a while and we are so happy it's finally here."
Fans can purchase items from FaZe's Legends Never Die capsule here. Graphic tees, hoodies, paintball gear and vinyl all come with digital copies of Juice's posthumous album.
View some of the clothing below.