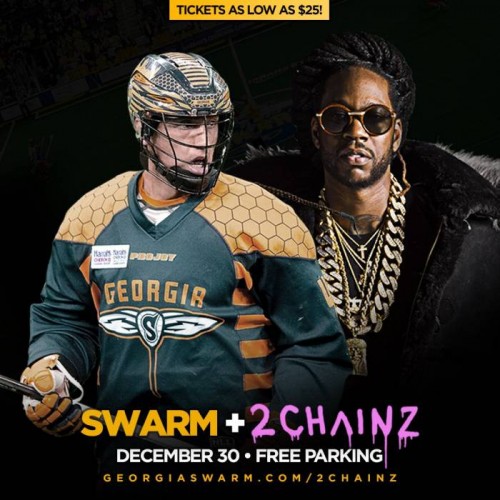 TRUUUUU! It all goes down tomorrow night! GRAMMY® Award-winning artist 2 Chainz will perform at halftime during the Georgia Swarm's Championship Banner-Raising Night on Saturday, Dec. 30. at Harrah's Cherokee Casino Field inside Infinite Energy Arena. Prior to facing the Rochester Knighthawks at 7:05 p.m., the Swarm will unveil their 2017 NLL World Championship banner and receive their Championship rings.
Lower Level Tickets to see the Swarm's Home Opener featuring 2 Chainz start as low as $25 and can be purchased online at GeorgiaSwarm.com or by calling 844-4-GASWARM.
"We wanted to celebrate our 2017 NLL World Championship in a big way," Swarm Co-Owner and President Andy Arlotta said. "Having a prominent local artist like 2 Chainz perform at halftime certainly raises our gameday experience to another level. 2 Chainz is a passionate Atlanta sports fan and is a great fit as we raise the first championship banner in Atlanta in 22 years. Fans will not want to miss this one. Last season's success, along with the banner-raising and ring ceremony, has already created a nice uptick and adding 2 Chainz will create even more buzz amongst our fans."
"I am excited to be amongst the champs and perform at the Home Opener," 2 Chainz added.
Prior to the Dec. 30 Halftime Performance, the Swarm and 2 Chainz will host a series grassroots "pop-up" events across the metro Atlanta area to give back during the Holidays. Together, the two parties plan on hosting a free lacrosse clinic to underprivileged youth, donating Swarm tickets and 2 Chainz merchandise to local charities, and providing Holiday meals to families in need. Fans will also have the opportunity to participate in several social media scavenger hunts and weekly "pop-up" events to win Swarm Home Opener tickets and other prizes as part T.R.U. Tuesdays.
2 Chainz is the first three artists that will perform at The Hive this season as part the team's 2017-18 Concert Series. The Swarm will also feature halftime performances during Country Night on Saturday, February 17 at 7:05 p.m. vs. the Rochester Knighthawks and Faith and Family Night on Sunday, April 8 at 4:05 p.m. vs. the Toronto Rock.