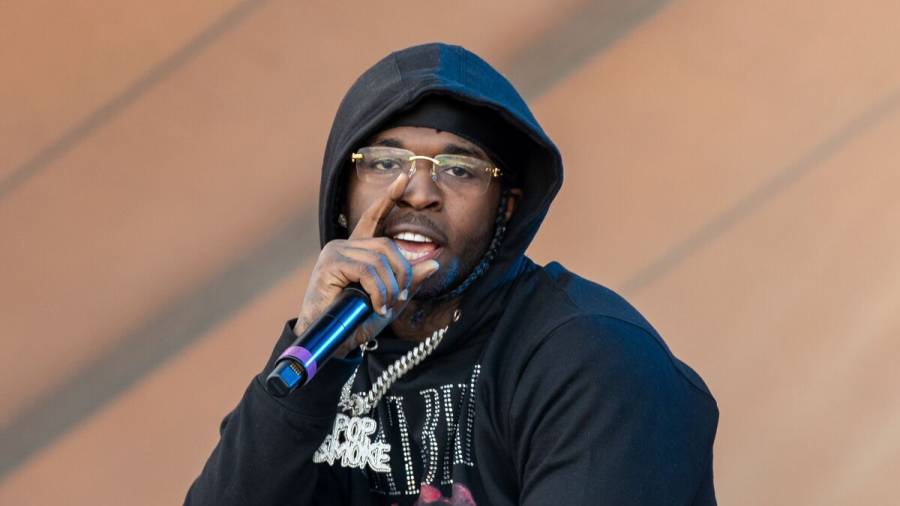 GroovyTracks – This week in Hip Hop brought the bittersweet release of Pop Smoke's first posthumous album, Shoot For The Stars Aim For The Moon. Also, Kanye West returned with his first single of the year, "Wash Us In The Blood" featuring Travis Scott, which is also the first offering from his upcoming album, God's Country. Finally, Freddie Gibbs and Akademiks traded virtual fire in a week-long feud that spiraled to involve Teletubby disses, Tekashi 6ix9ine and more.
Pop Smoke's Posthumous Album Shoot For The Stars Aim For The Moon Arrives
After months of anticipation, Pop Smoke's first posthumous album, Shoot For The Stars Aim for The Moon, is here. The record's arrival wasn't without its fair share of controversy, though, which stemmed from the Virgil Abloh-designed/quickly scrapped cover art.
The artwork was unveiled by Pop's manager Steven Victor on Monday (June 29) and was immediately roasted on Twitter. Fans even called the digitized portrait of Pop "disrespectful," prompting executive producer 50 Cent and Victor to swap the image for the album's current artwork — a chrome rose in front of a black background.
Although there were a few rumblings about questionable features, which were answered with receipts, the album's music was generally praised by fans on social media.
Read more about Shoot For The Stars Aim For The Moon here.
Kanye West Drops Travis Scott-Collaborated "Wash Us In The Blood"
This week, Kanye West returned with his new Travis Scott-assisted single "Wash Us In The Blood" and Arthur Jafa-helmed music video. Mixed by Dr. Dre, the track is the first offering from Ye's upcoming album, God's Country. The Chicago-bred spitter also hopped on Ty Dolla $ign's new song, "Ego Death," alongside FKA twigs and Skrillex.
"Wash Us In The Blood" arrives amidst some heavy social media teasing from Kanye, which included studio shots with both Snoop Dogg and Dre. Shortly after releasing Jesus Is King last October, Kanye announced that a sequel project, in collaboration with the N.W.A. legend, would be arriving "soon."
After sharing the news of his Gap and Yeezy partnership on June 26, Ye again confirmed that a Jesus Is King "Dr. Dre version" is on his list of current projects.
Read more about Kanye's new single and video here.
Freddie Gibbs & Akademiks' Beef Spirals Out Of Control
Freddie Gibbs and Akademiks pulled all the stops for their viral beef this week. The conflict began after Gibbs called Jeezy musically irrelevant during a recent interview with Bootleg Kev.
Then, on an episode of Everyday Struggle, Aks said that if Jeezy has fallen off, then the Alfredo crafter is "absolutely irrelevant." This led to several back-and-forth jabs between Gibbs and Aks, spiraling to include Teletubby t-shirts, oral sex claims involving Tekashi 6ix9ine and more.
The feud was seemingly capped off after Akademics went on a late-night Twitch rant about John Legend and his wife Chrissy Teigan, referring to the supermodel as a "bitch" several times. The media personality was subsequently suspended from Complex News and Twitch, to which Gibbs triumphantly responded, "RIP."
Read more about Gibbs and Akademiks' virtual war here.
Reviews
— Tee Grizzley — The Smartest
#DXCLUSIVES: Problem, Lord Finesse & Twan Mack
Childish Gambino & Problem Didn't Know Who Each Other Were When They Recorded "Sweatpants"
In a sit-down conversation with GroovyTracks, Problem reminisced on the funny way he came to meet multi-hyphen Childish Gambino — in the studio recording Because The Internet cut, "Sweatpants." During the story, Problem admitted that he didn't even know who Childish was before their 2013 collaboration.
"We get in the room and we chill for like three hours, just laughing at shit. We were so similar in our thinking about game the way it moves and he was fucking funny and we was bagging on each other a lil bit," the West Coast native reflected.
"So I left and said, 'Man that dude cool as fuck!' They said, 'Wait, you don't know who that is?' I said, 'Nah, I'm not hip,'" he continued. "[DJ] Reflex started breaking it down, showed me the shows he had written… We ended up doing that shit a few times and then I looked up, I was on the project."
Check out the rest of DX's conversation with Problem here.
Lord Finesse Says Ditch The "Old-School" Label & Go Back To Substance-Driven Music
Lord Finesse discussed the state of substance-driven music in Hip Hop in an interview with GroovyTracks, which was published a few days after the release of his new album, Lord Finesse Presents — Motown State of Mind.
The Diggin' In The Crates veteran also shared what's kept him inspired, as he gears up to drop his first solo album in 24 years, The Inevitable.
"You dig, you look for different sounds, you had dope interludes, you got dope scratch hooks. Where did all that go?" he reflected. "It's like people are so worried about being relevant and staying with what's going on that I think they lose who they are. I think as soon as you looking around for somebody to tell you you relevant, you're already lost."
Catch some more gems from Lord Finesse — like what he thinks of the term "old school" — here.
Twan Mack Owns "Adult Contemporary Hip Hop" Genre With "Born 4 This" Video
Twan Mack spoke with GroovyTracks upon the release of his new single and video, "Born 4 This." Both the laidback track and visual include strong ties to Hip Hop greats and pay homage to police brutality victims George Floyd and Breonna Taylor.
"When I wrote and produced 'Born 4 This,' I sought to drop jewels without being preachy," the MC/producer shared. "There were actually a few other videos I planned to drop, but my conscience told me this needed to come out instead. I kept it short and to the point, but made sure I adequately got things off my chest.
Read more about how Twan plans to dominate the "Adult Contemporary Hip Hop" genre here.